1/11/16
Home Tour: Jewel Box Townhome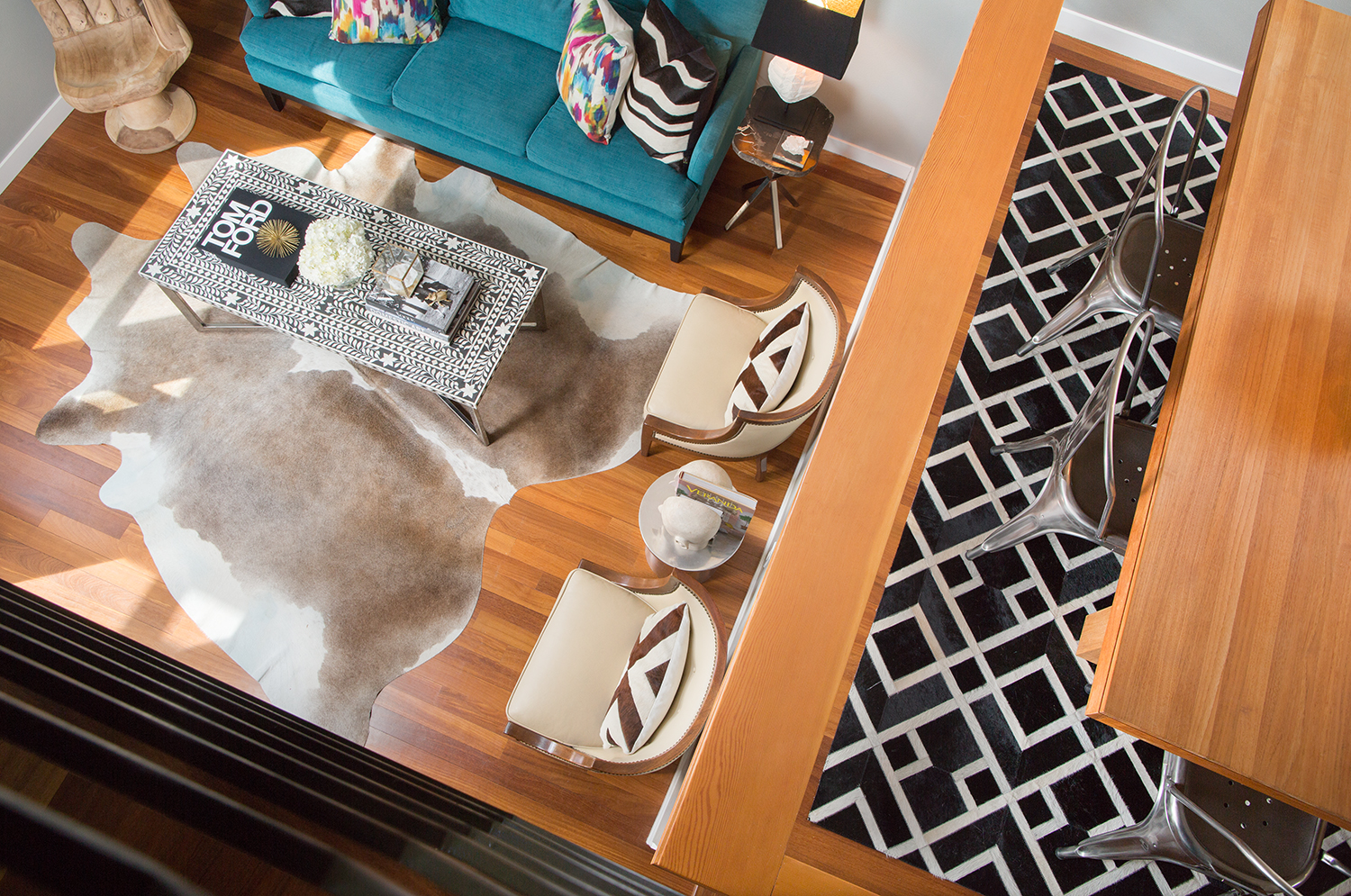 Not too long ago we completed a great project in West Seattle! This project was featured in Domino and the Today Show!  We wanted to take you on our own little tour of this project and share some of the background and the project challenges…
Q. Who is our client and how did they find us?
A. Our clients, a busy working couple, had recently purchased a townhouse in West Seattle. They moved from Dallas to Seattle, and being from Dallas they knew Pulp well and wanted the opportunity to work with us. One of our homeowners is actually a writer for many magazines specializing in home and garden, so she knows what she's talking about when it comes to design!
They wanted a new look that reflected their personal style and they were finally ready to invest in themselves to create a space they could be proud of and show off to their friends.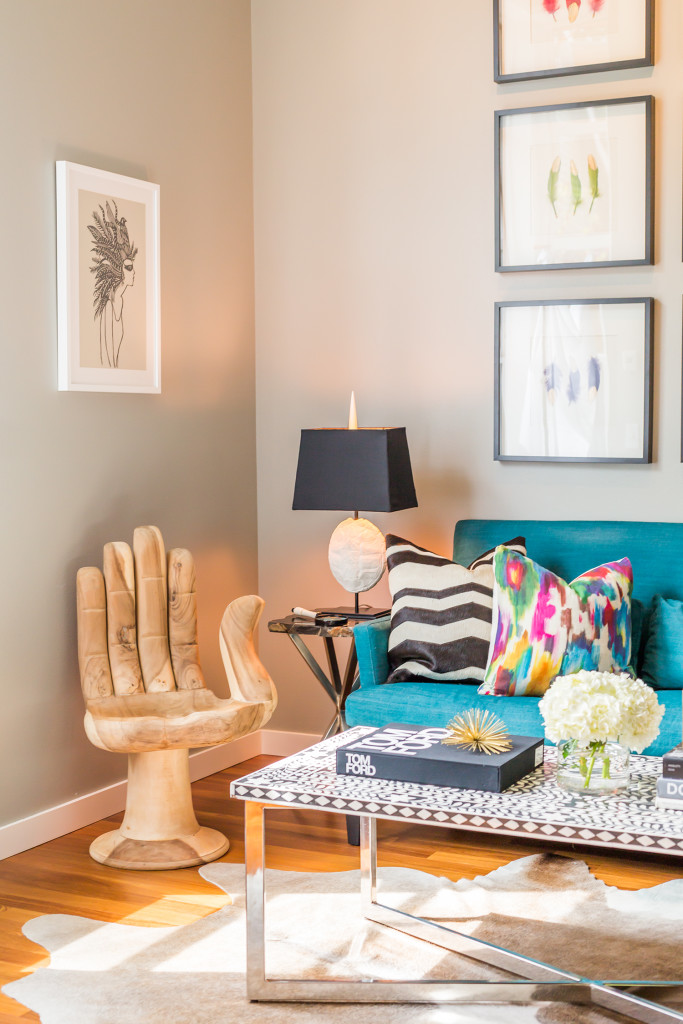 Q. What was the client's project scope and why did they seek out a designer rather than attempting it on their own?
A. Our clients wanted to refresh the Living Room, Dining Room, and Powder Bath- with a plan for renovating the kitchen at a later date. They are an incredibly stylish couple and knew they wanted something high on style, but didn't know how to pull it together on their own. They also needed help articulating their style, in how personal style translates to the home. This project in particular was fun for us because we were given full control to create a concept that was within budget, but had a dynamic yet livable feel.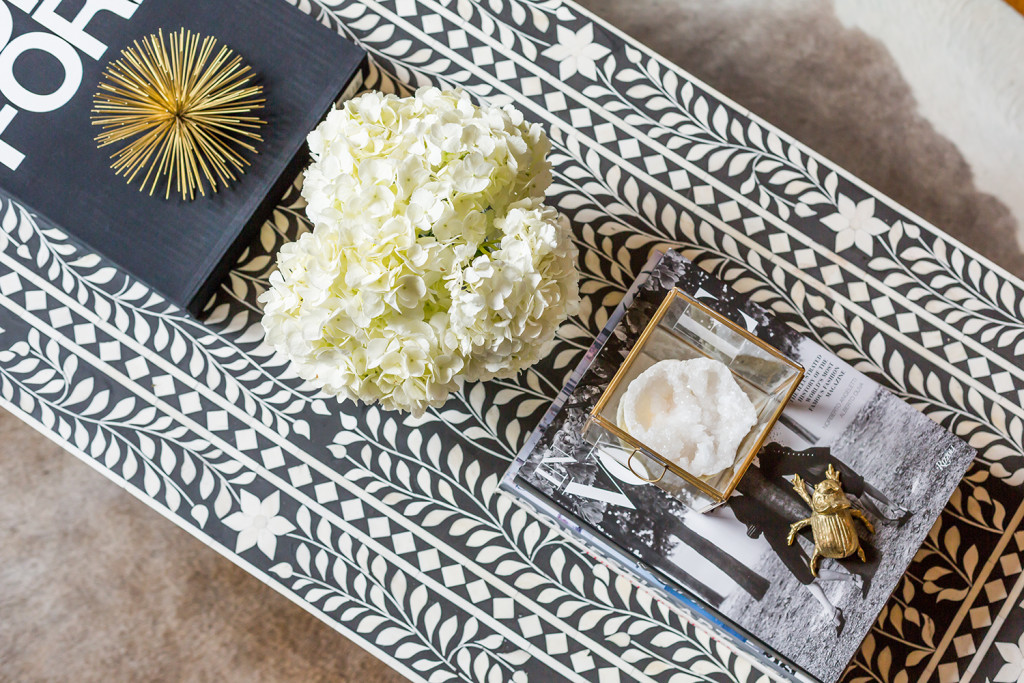 We took a high/low approach and splurged on some key pieces (like the bone inlay coffee table) and then scaled back with artwork that was created using feathers and ikea frames to fill up a double-volume wall.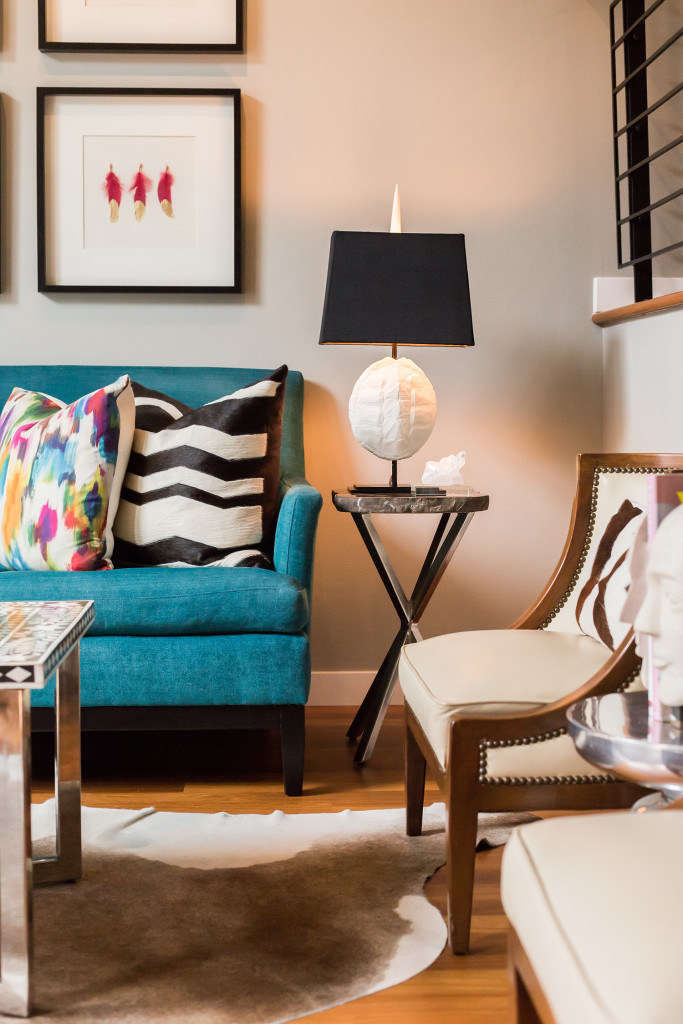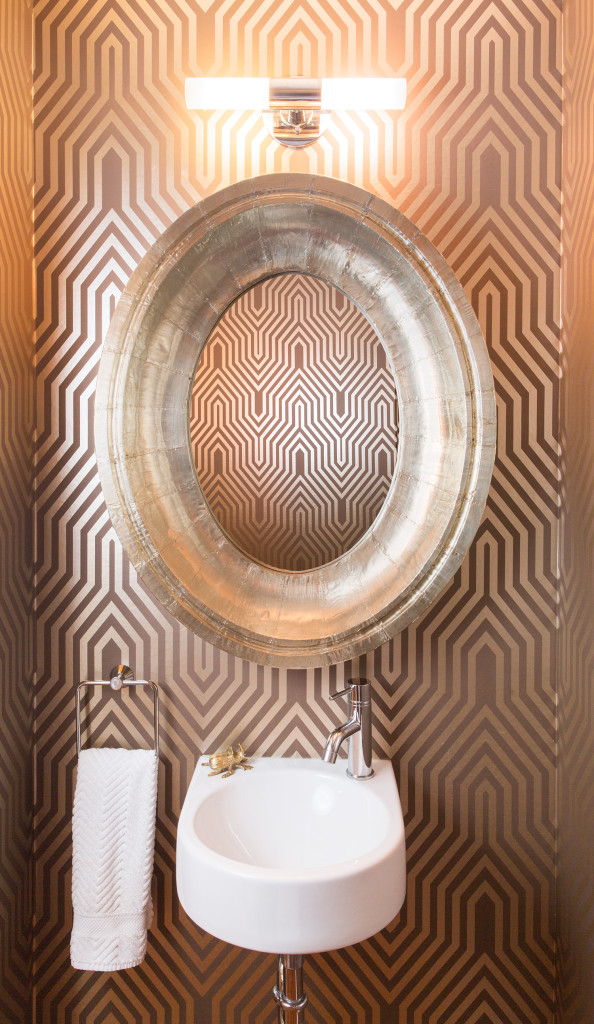 Q. What was the biggest project challenge?
A. Our clients were not ready to remodel, so we found ways to cosmetically enhance this space without involving construction. There were minimal changes requiring an outside contractor that made a huge impact: The dining room chandelier, the powder bath wall covering, and relocating the television and moving cords to make for a more welcoming space.
Q. What was the most dramatic transformation?
A. You must take a look at the before and after photos of this space. The overall feel of the space is truly the most dramatic transformation. It went from a cookie cutter townhouse with items from big-box retailers, to a fashion forward dynamic space that our clients felt proud of to entertain in. It feels like so much more of a reflection of this hip couple than their space did before.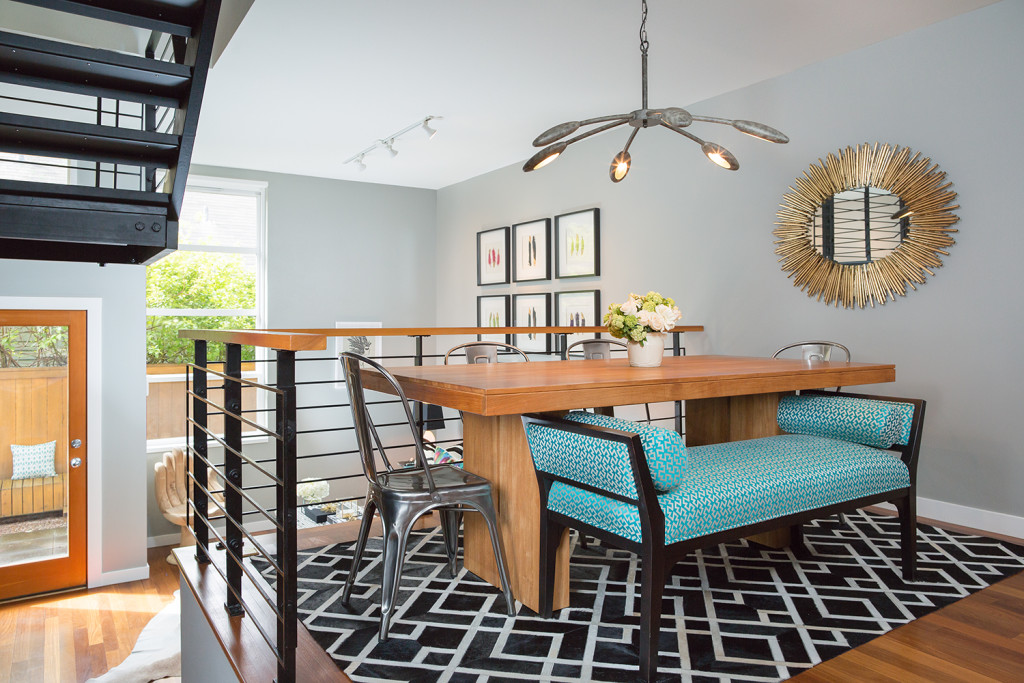 Q. Carolina, what is your favorite part of this space?
A. Even though our clients allowed us full control, they gave us a ton of push back on the teak hand chair! They thought it might be too odd and out of their comfort zone when we shared it with them in their design presentation. After a little convincing and a few private conversations between the two of them, they decided to let us go for it! In a conversation between the two of them they said:
"We've chosen to hire an interior designer, so why wouldn't we trust them push us outside of our comfort zone?"
That chair is now their absolute favorite piece and mine, too! They love it and all their friends are wowed by it. That little design victory is one of our favorite memories from this project.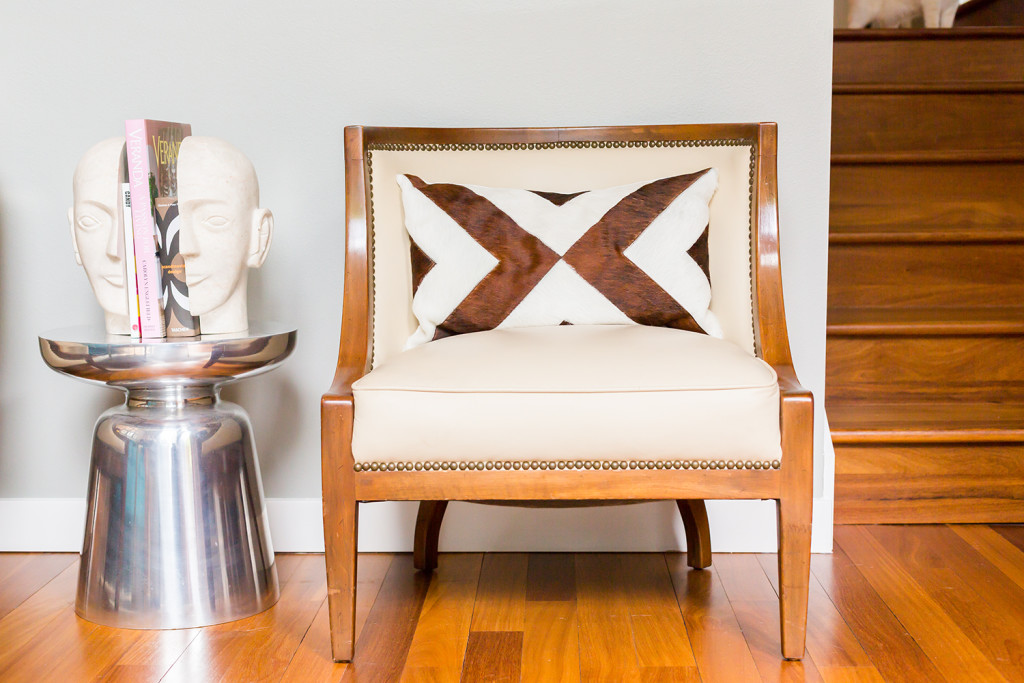 Q. Beth, what is your favorite part of this space?
A. It's really hard to choose just one part, but as a whole I'm proud that our client chose to trust our creative vision and that we created a really dynamic space from furniture to the finishing touches of art and accessories within budget.  This is what we do for our clients each day and we love seeing our vision come to completion. Even though our client had a budget, we understood that it was an serious investment for them and we are so proud that our client feels that it has paid off. It's truly a lifestyle ROI.
Our client said that their favorite part of the finished product was the feeling they get when they see it each day. She told me that it makes her happy to walk into her space each day and that she and her husband just sit together with a cocktail in the evening and talk about how much they love their Living Room.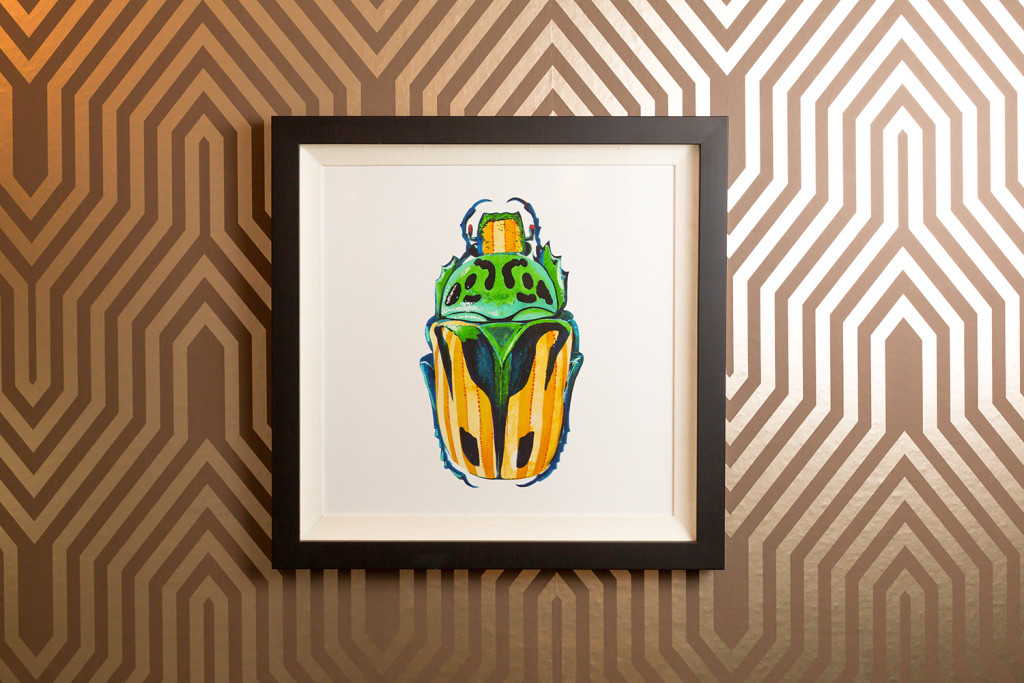 As designers, creating that emotional impact that improves how people feel in their spaces is what is so important to us.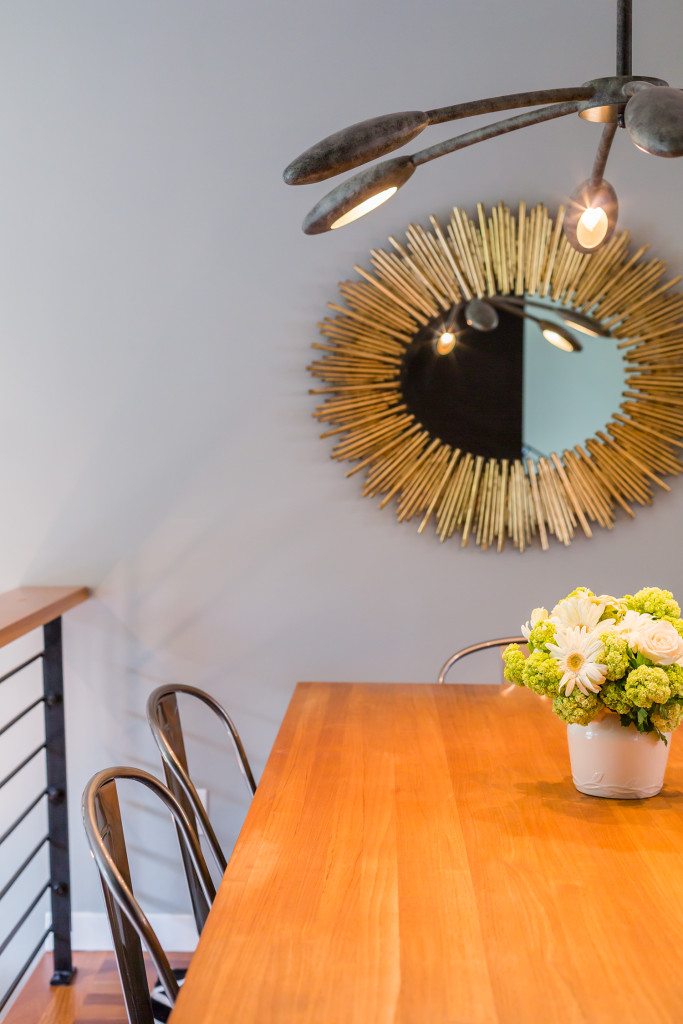 See the entire project for yourself, complete with a brand new Before + After gallery and client testimonial:
Enjoy exploring!
Credits