2/18/16
How to Find and Style a Vintage Cocktail Table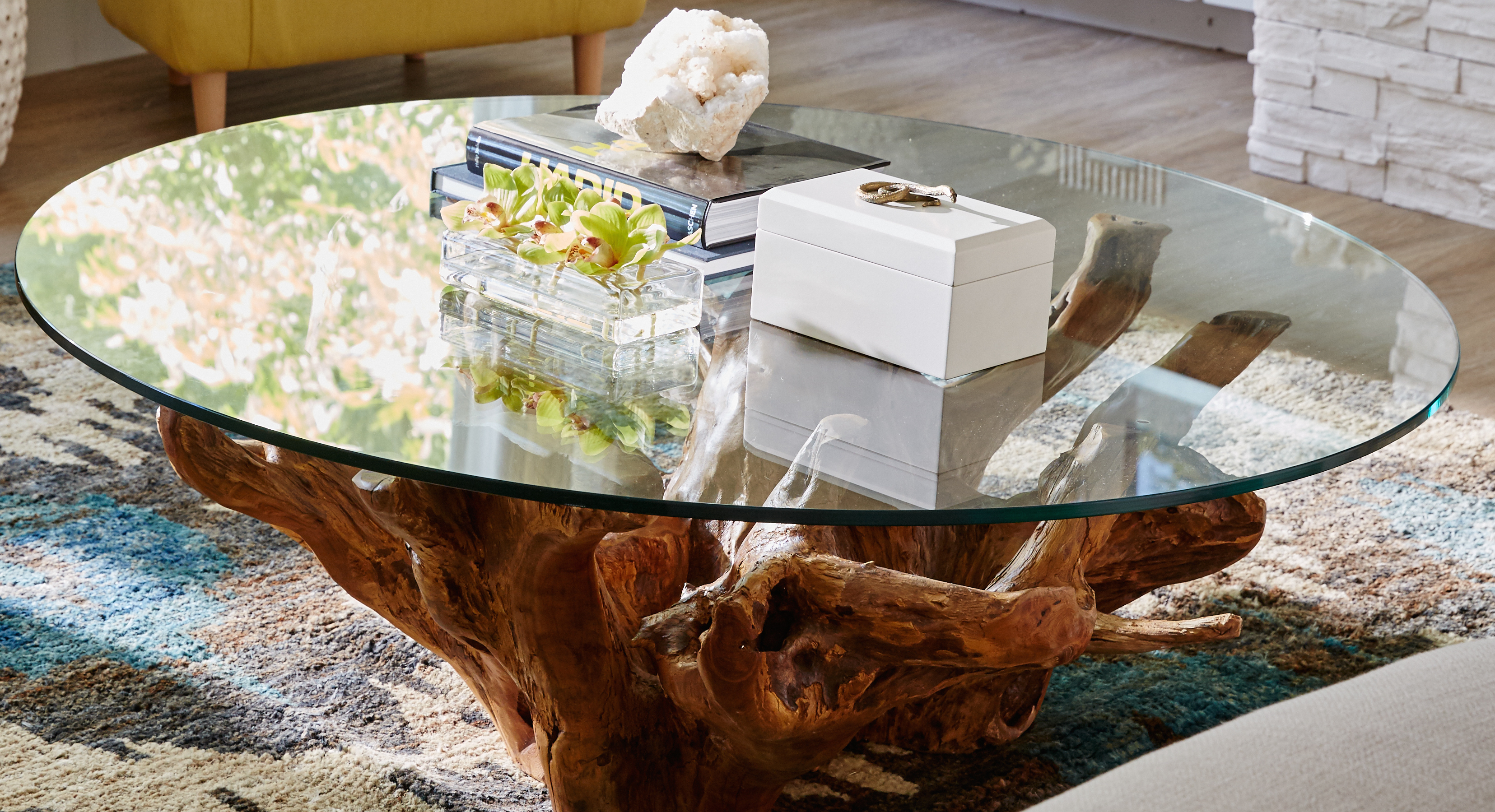 interior design by Pulp Design Studios
The cocktail table is a key part in the home because it is usually a very lived in piece. It sets the center stage of the living room! Selecting the right table and styling it is key for a successful space especially when mixing the old with the new.
Vintage cocktail (or coffee) tables mixed with modern accessories is a great combination to get that curated look. Chairish is an amazing online retailer that lets you buy and sell vintage furniture and decor. We browsed around and found amazing tables that are the perfect conversation starters.

Depending on the size, there are a few key items you should include on a cocktail table. Add all or just a few of these items to perfect styling your coffee table:
Books: add no more than a stack of three books that correspond with each other and have a theme – need help styling your coffee table books? Here are 5 styles for your book stacking pleasure! 
Tray and/or boxes: the perfect place to hold the remotes, coasters, and control the chaos of smaller decorative items.
Designer Tip: For a perfect geometric move, add a rectangle tray to a round coffee table and a round tray to a rectangular coffee table, a simple yet impactful look
Candles: adding a candle makes your coffee table more sophisticated and helps to create ambiance when lit. Plus, having a pretty bowl of decorative matches add a ton of personality.
Greenery: whether it be an artificial plant or a vase that you keep filled with fresh flowers you can never go wrong with adding  life into a space.
Personal Trinkets: this is where you can really add your personality in a space, whether it be a beloved memento or a sculptural piece that you just adore, it adds a presence thats unique to you.
Coasters: don't ruin your coffee table with a glass water stain! Find some chic coasters to add glam and keep your coffee table clean.
Here are two of our favorite coffee table styles: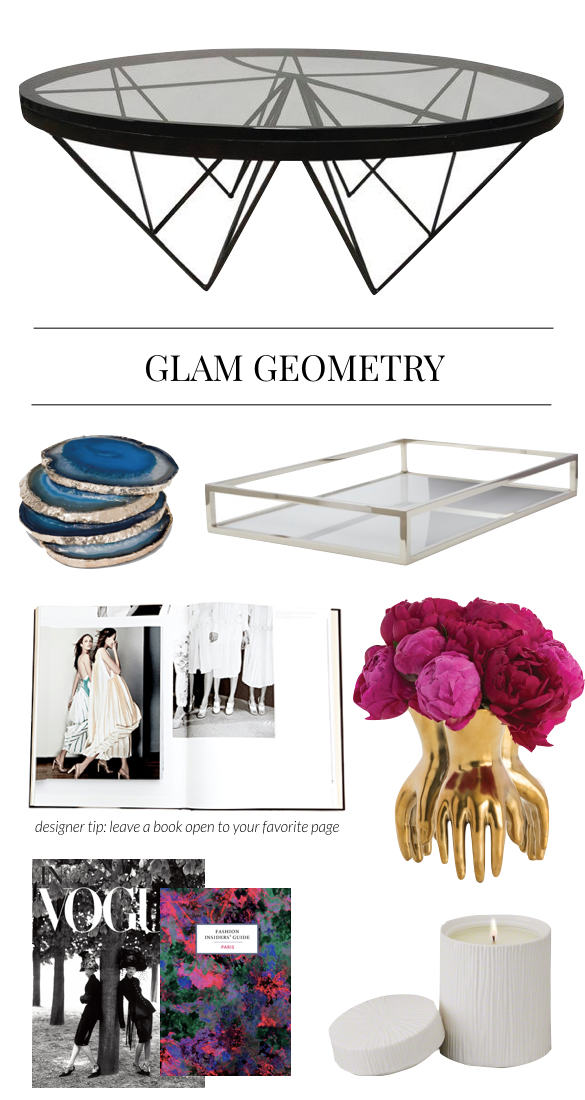 GET THE LOOK:
1. Mid-Century Modern Iron Base with Glass Top | 2. Agate Coaster Teal Set | 3. White Box Rod Rectangular Tray  | 4. Chloe: Attitudes Book | 5. Piedmont Vase | 6. In Vogue | 7. The Fashion Insider's Guide to Paris | 8. Ocean Jar Candles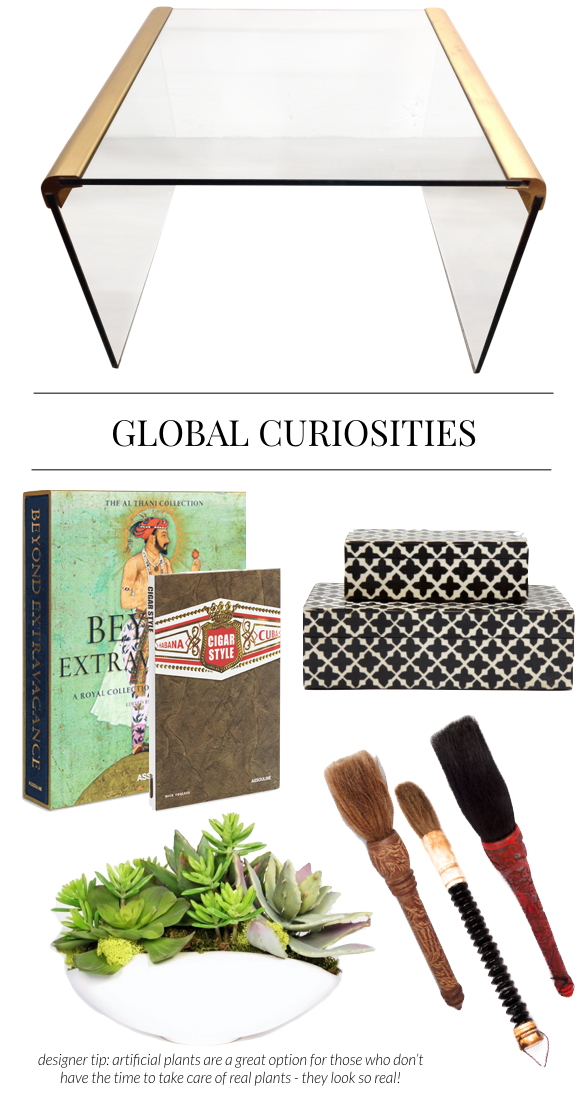 GET THE LOOK:
1. Leon Rosen Mid-Century Waterfall Cocktail Table | 2. Beyond Extravagance | 3. Cigar Style | 4. Black and White Box | 5. Mixed Succulents and Mosses in Whit Ceramic Oval Container | 6. Carved Asian Brush | 7. Black Flat Beaded Asian Brush | 8. Red Carved Asian Brush
Credits