3/6/17
The Pulp Edit: March 2017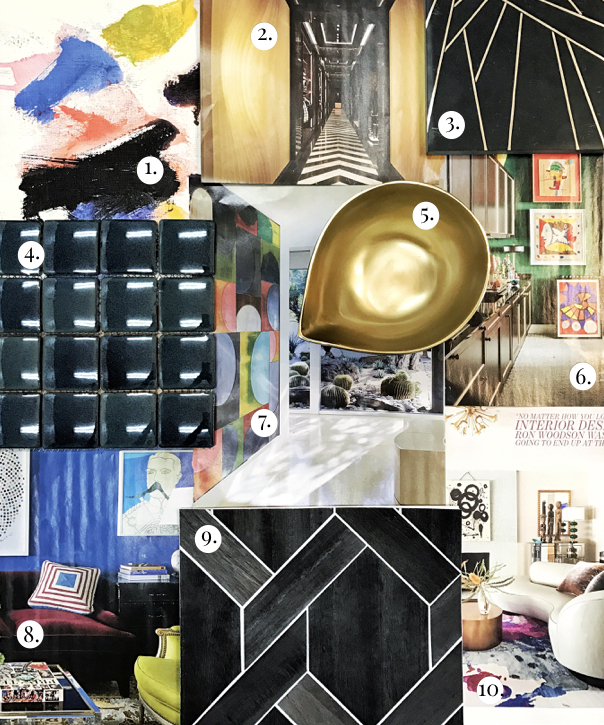 March 2017 is all about customization and individualization on Pulp Editorial. We rounded up our favorite tricks and trends for making a space feel custom and personalized on this month's Pulp Edit…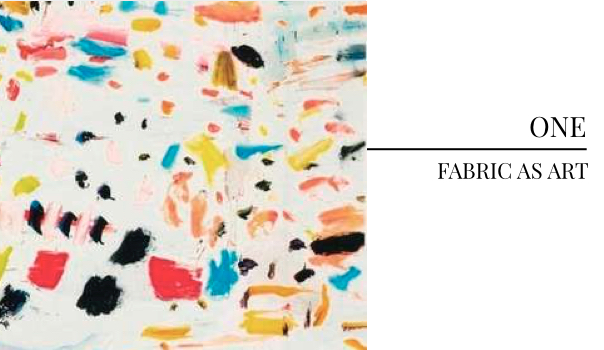 This drool-worthy Pierre Frey linen is bound to be a statement piece in any room. To make a room feel even more customized, don't feel afraid to step out of the boundaries and swap out neutrals for bold fabrics like this, creating a feeling of customized art in the room. This fabric is even slated to be in one of our upcoming clients' designs.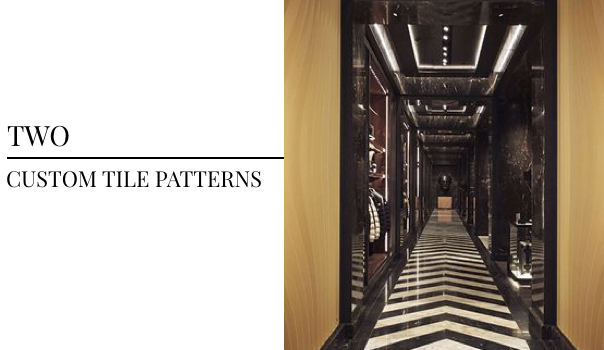 This installation from Bardula Studio in Moncler's new Madison Avenue storefront — as featured in Architectural Digest — makes the room feel like a standalone piece of art. Installing custom tile patterns in your home immediately makes the room feel incredibly individualized. Why not commission tiles to perfectly reflect your design sensibilities?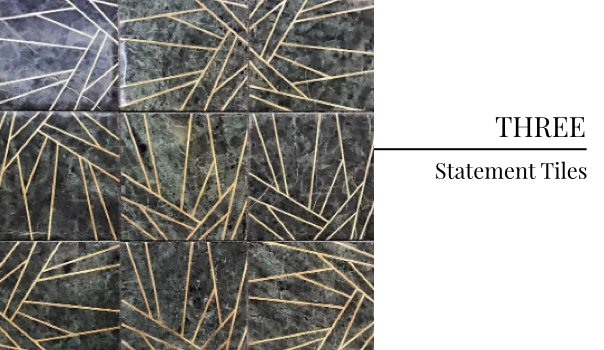 Since seeing these gorgeous Kelly Wearstler by ANN Sacks tiles at KBIS this year, we've been obsessing over the idea of putting these little beauties into one of our clients' homes. These statement tiles with metal inlay would be a perfect match for one of our interior design clients with a big, bold design personality… Finding a statement tile that matches your aesthetic is one of our favorite ways to make a home feel more individualistic.
Don't forget about how important texture and shape is to a home. As much as we love bold colors and patterns, texture and shape can sometimes speak even louder. These sculptural tiles from ANN Sacks have an amazing convex exterior that make them feel art-worthy in their own right. Want a customized feel without feeling like your home is overbearing? Sculptural tiles might be the answer.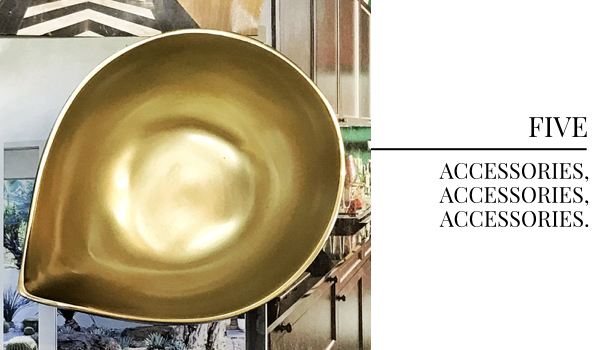 We've said it once (or maybe twice, or maybe one hundred times), but we'll say it again because this month is all about customization… A design just doesn't feel complete without the final 15 percent — ACCESSORIES. There's no quicker way to make a design feel more personal than by adding home decor accessories that speak to your personality and individual aesthetic.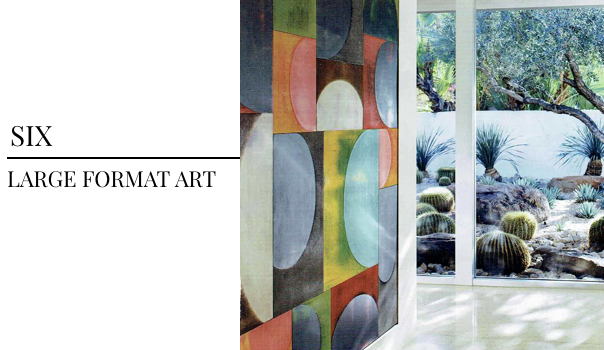 There's no bigger way to make a statement than by going big: literally. Large-format art takes up whole-wall spaces or wraps around a room, filling a room with its personality. This piece by Charles Arnoldi is in a home designed for business executive Paul Boschetto by decorator Sheldon Harte and featured in Elle Decor. Nothing speaks more to a client's personality than their taste in art — why not go big, bold and intrinsically individualistic?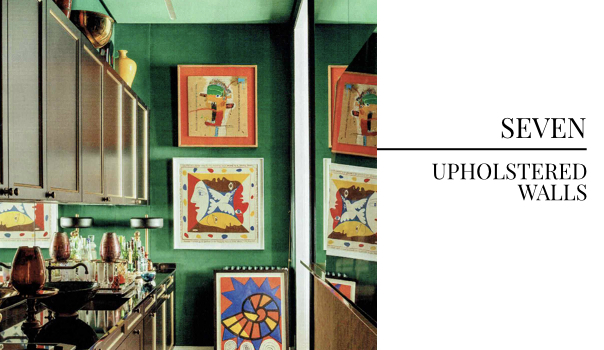 This personable kitchen is in the home of Spanish interior designer Manolo March and features floor-to-ceiling velvet-upholstered walls — swoon. Nothing feels more swanky or custom than upholstered walls. If you're as in love with this trend as we are, don't be afraid to pull the trigger and make your home feel maximum-level personal. We spotted this design in the pages of Elle Decor.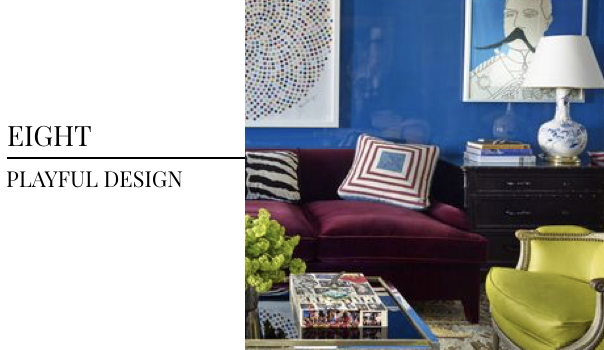 This design by Nick Olsen, featured in the pages of House Beautiful, breaks just about all of the "rules" of design. But we're in love with rule-breakers here at Pulp… We encourage everyone not to shy away from picking colors outside of the same color family or items from a variety of design eras. This curated design has us falling in love with its bold, personable vibe. We can absolutely imagine who lives in this space, and we're sure that the close friends of whomever lives here agree that it matches them perfectly.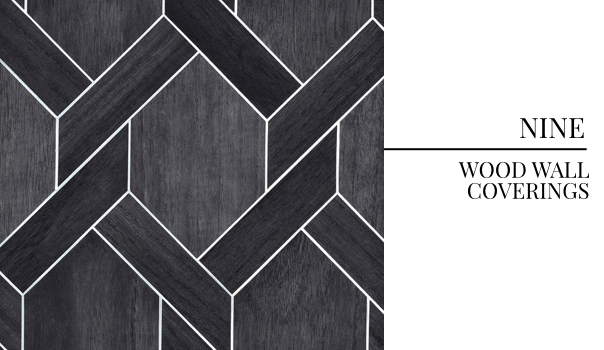 There's nothing more compelling than wall coverings in fresh materials, like this hand-cut wall covering from Phillip Jeffries. These beautifully cut natural wood pieces overlay a silver metallic background, a welcome take on the storied wood wall trend of the '70s.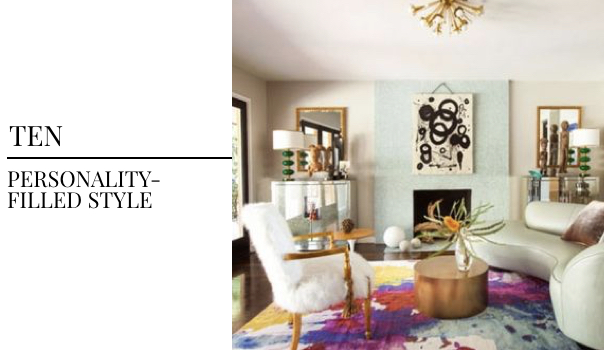 We're obsessed with the big, bold personality that shines through this space — everything from the lighting fixture to the art and watercolor-print rug is perfectly on point. Ron Woodson designed this home featured in California Home + Design — after speaking on a Modernism Week panel with both Ron Woodson and his design partner Jaime Rummerfield, we fell in love with their California aesthetic and the huge personality in each of their spaces.
Keep an eye on Pulp Editorial as we talk all month about customization and individualization, and don't forget to check out all of the Pulp Edits we've published previously.
Credits