6/1/17
How to Create a Soothing Master Bedroom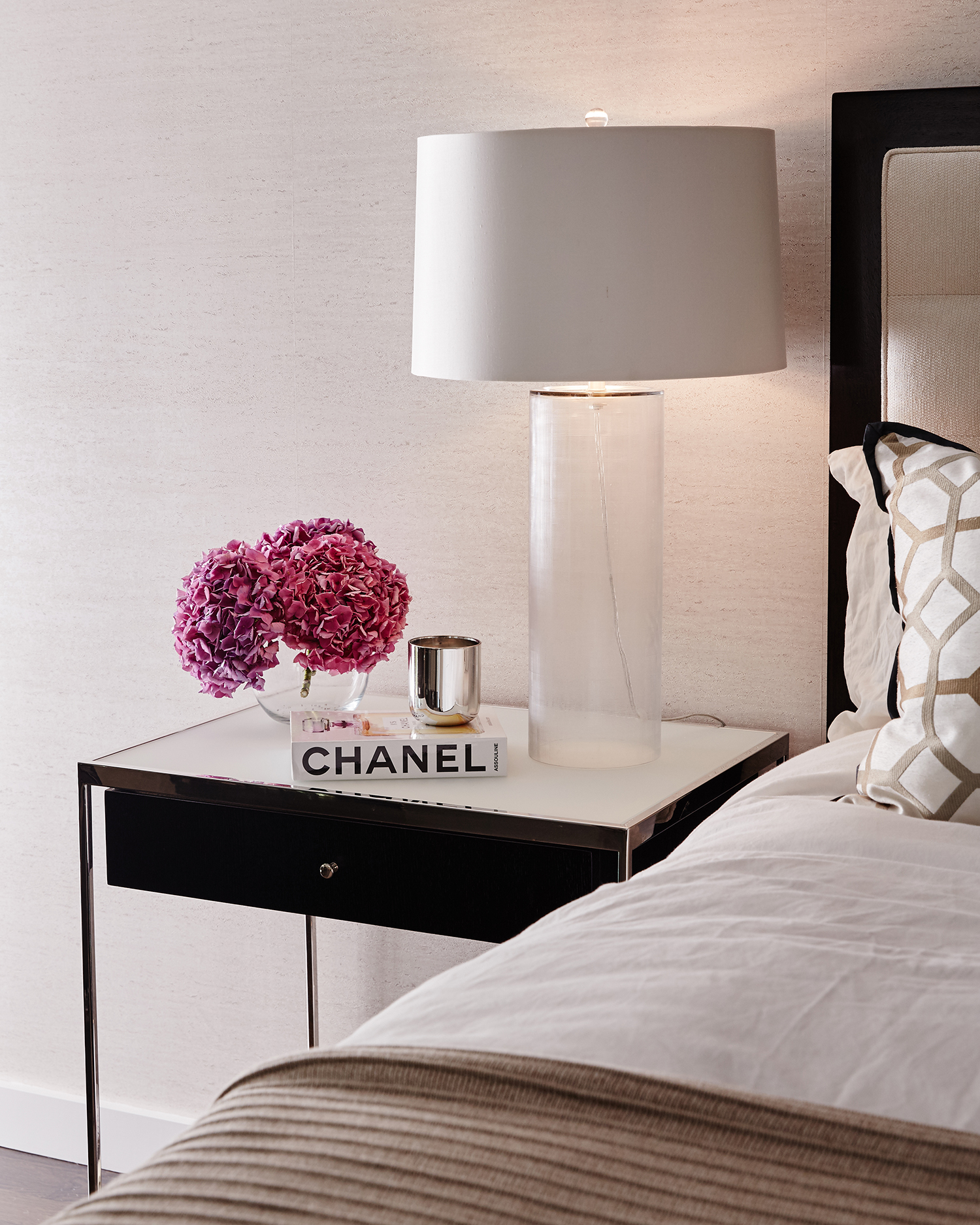 The design of your home can completely change your mindset and set the tone for your day. Since your Master Bedroom is a sanctuary, creating a soothing space can go a long way toward making your life feel a little more zen. Once you have a beautifully designed space, we're sharing a few tips to personalize your space to create a soothing master bedroom below.
Tips for a Soothing Master Bedroom
1. Appeal to your sense of smell. Don't just make the room just visually appealing —  there are other senses to simulate, as well. Light some incense, burn a candle, or use a diffuser with a relaxing essential oil.
2. Don't forget about the importance of sound.  Use a white noise machine or listen to relaxing music. But, don't forsake the importance of acoustics. If you live in a home that's in the city or on an active street, drapery and upholstery can go a long way in dampening sounds you want to drown out to keep your bedroom feeling like an escape.
3. Create a place for "me" time. Create a reading nook, vanity for makeup application and face mask time, or a spot for away-from-kids conversation with your spouse. A master bedroom doesn't have to be all about sleeping — deck it out to make it feel like a retreat within your own home.
4. Invest in quality textiles. By choosing luxurious sheets, plush rugs and extra-soft throws, your master bedroom immediately becomes a sanctuary. In a place where you spend so much time — like your bed — opting for the a little luxury here makes a lot of sense!
5. Make your bedroom a no-fuss zone. Turn off your phone, limit TV to intentional viewing, and stop all 'shop talk' once you enter the bedroom — turn it into a space just for relaxing.
6. Fill it with spa-like luxuries. Get a silk eye mask, a cozy robe, and a diffuser with essential oils, and other spa-like pieces. Slip your eye mask on and breathe in… You'll instantly feel relaxed.
7. Add plants. Plants naturally clean the air, while adding some visual life to our spaces. Add a stylish planter and your favorite greenery for an extra pop of zen.
8. Use ambient lighting. Different types of lighting work well for different purposes and ambient lighting, like table and floor lamps, go a long way to set a mood.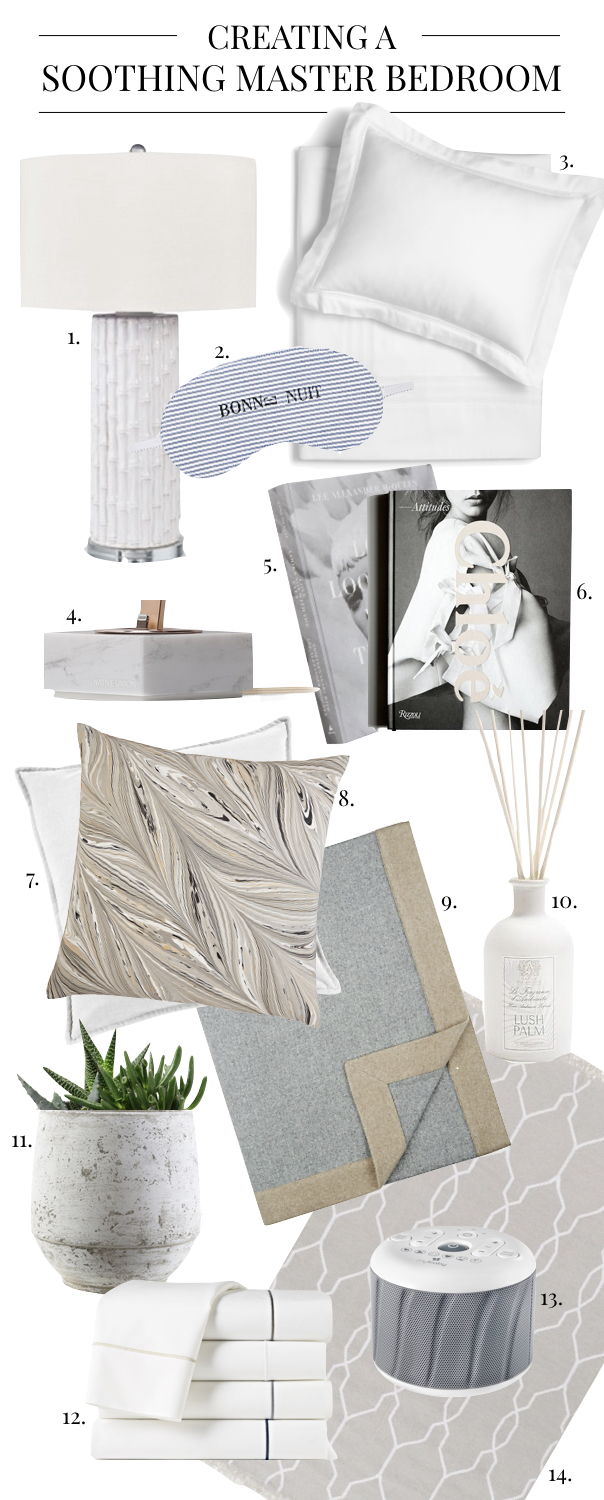 1. White Ceramic Bamboo Lamp | 2. The Sleep Shirt Bonne Nuit Eye Mask | 3. Peacock Alley Kate Sateen Duvet Cover & Shams | 4. Native Union DOCK+ Lightning Marble Edition Charging Port | 5. Love Looks Not With the Eyes: Alexander McQueen | 6. Chloe: Attitudes | 7. White Cotton Velvet Pillow | 8. Rule of Three Serpentine Silk Handmade Pillow | 9. Oyuna Etra Extra-Soft Cashmere Throw | 10. Antica Farmacista Lush Palm Home Diffuser | 11. Rome Concrete Planter | 12. Peacock Alley Boutique Collection Sheets | 13. Homedics Deep Sleep Sound Machine | 14. Trellis Rug in Gray
The master bedroom is meant to be a room where you can relax at the end of the day — take it from us, there's nothing like a zen place to grab a glass of wine and a book in the most soothing room of your home.
For professional interior design services, contact Pulp Design Studios℠.
Credits