11/21/11
Monday Memento | No. 003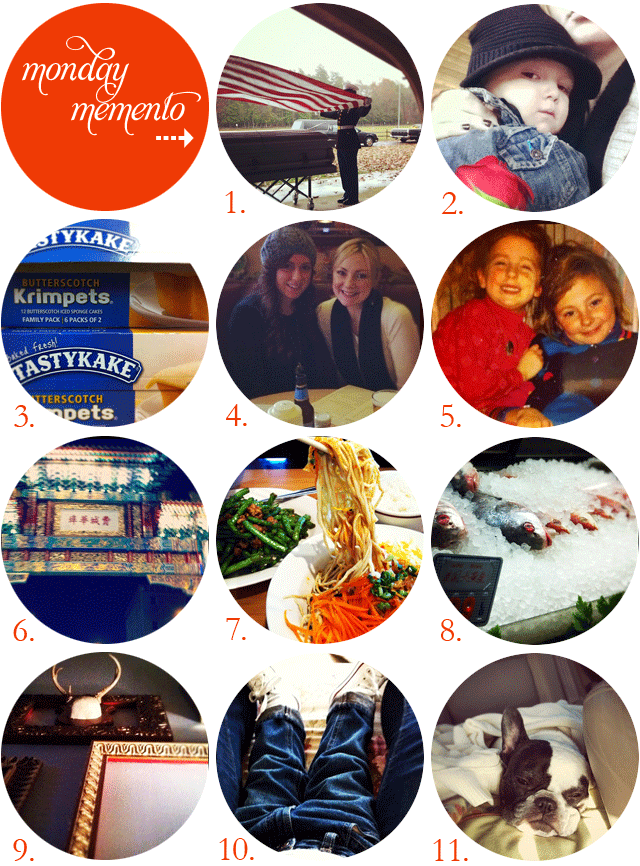 1. Beth had to head out of town last week to attend her grandfather's funeral. Look at this gorgeous photo Beth took with her iPhone during a Taps salute to this Philadelphia cop.
2. Little Maxton put this rose Great Grandfather's casket. He was a trooper!
3. The trip wasn't all bad! One of the best things to come out of Philly? Tastykake!
4. Beth got a little quality time in with her sister on the trip.
5. Check out the two sisters in a photo Beth's parents found of them as kids.
6. Did you know Philly had a Chinatown? They have some amazing restaurants!
7. While Beth was in Chinatown, Carolina was in Dallas' version in Richardson, Texas dining at Jeng Chi.
8. The asian market in Richardson is great with tons of authentic bites & buys!
9. Carolina finally hung the horns she purchased at the Dwell With Dignity Thrift Studio.
10. Max & Beth finally made it home safe & sound.
11. Just in time for Carolina to head out on a road trip to celebrate the Thanksgiving holiday.
It's been a majorly 'off' week for us with all of our travels!! But, hey, we all need a breather one way or another. We hope you enjoy some relaxation and time off with family this week.
What are you thankful for?? 
All photos by Beth & Carolina using instagram!

Credits