6/3/13
Fiesta in a Glass | The Michelada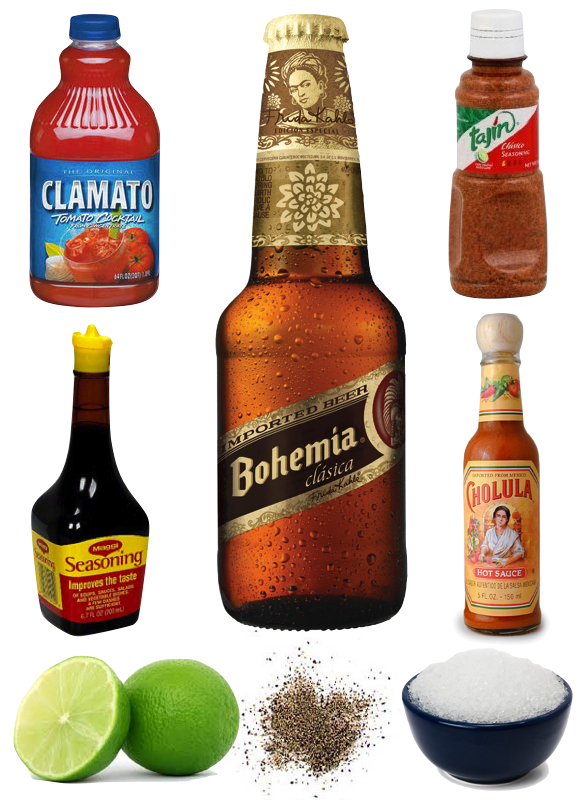 Everyone is always asking me to share my Michelada recipe and I finally got around to actually measuring out the ingredients.  Since I always just eye ball it and make them to taste I could never share the recipe but now I can share it with you!  If you enjoy bloody mary's or lime in your beer you will love this Mexican beer cocktail!
What you need…..
1 16oz. Glass or Mug
Ice
1 Mexican Beer (Tecate Light, Corona, Dos Equis Light, Bohemia)
2 tablespoons Fresh Lime Juice (about 1 medium juicy lime)
1 oz. Clamato Juice
2 -3 dashes Cholula Hot Sauce (How hot do you like it?)
2 dashes Maggi Seasoning or Soy Sauce
2 -3 dashes Worcestershire Sauce
Dash of Black Pepper
Pinch of Course Salt
1/2 teaspoon Tajin (BTW this is awesome on fruit, cucumbers, jicama and popcorn)
Add some Tajin to a plate and use for rimming the glasses
Grab a glass and rim the edge with tajin. Add lime, clamato, cholula, maggi, worcestershire sauce, salt, pepper & tajin to glass.  Mix well and add ice, tilt glass slightly and slowly pour beer into glass, stir gently to prevent over fizzing.
Voila…Fiesta in a glass! Enjoy!
Credits