1/8/18
Everything You Need to Know About Building a Home Bar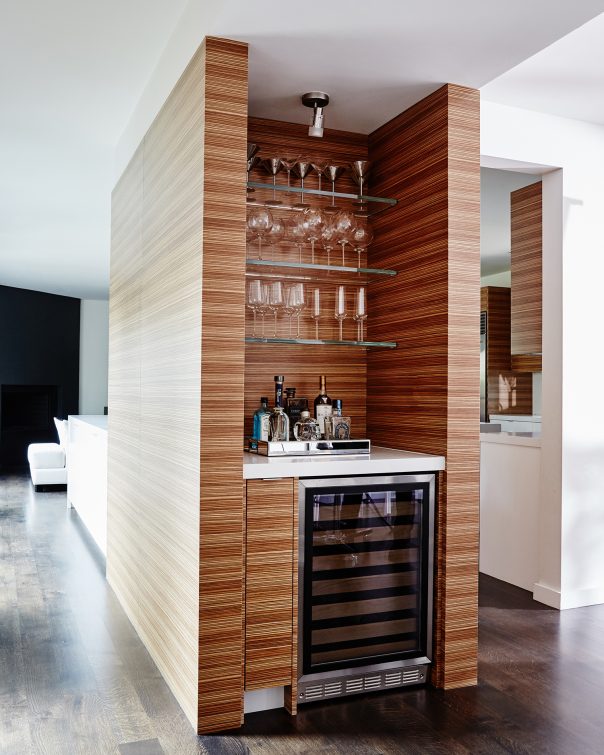 We've all been to that person's home who has the ultimate home bar. Not only is it chic as can be and styled better than a Vogue editorial, but it is stocked to such perfection that anyone visiting is happy for a night in just to enjoy the view of the holy grail of bar carts. It's true, home bars bring undeniable joy, whether it comes from the essential personal cocktail or the sheer sight of another well-designed space in your home. It's the curation we all admire and all strive to have. Entertaining spaces are one of our absolute favorites to design for our interior design clients, so creating a comprehensive guide to the ultimate mixologist assemble was a given.
It all comes down to three steps.
The beginning of any project starts with the foundation. The first step to creating a bar that is not just stunning, but also suits your drinking needs (we all have them, it's okay) is determining the best product to display and hold your goodies.
The most impressive home bars involve a built in and fully custom design, like the one we designed for a client pictured above. If you aren't planning on taking on a home renovation, opt for a bar cart for your space. Consider the amount of space you have, whether you want your cart to be portable and the variety of the cocktails you'd like to be able to make. You want to chose a piece that will accommodate all of your needs and fit well into your space.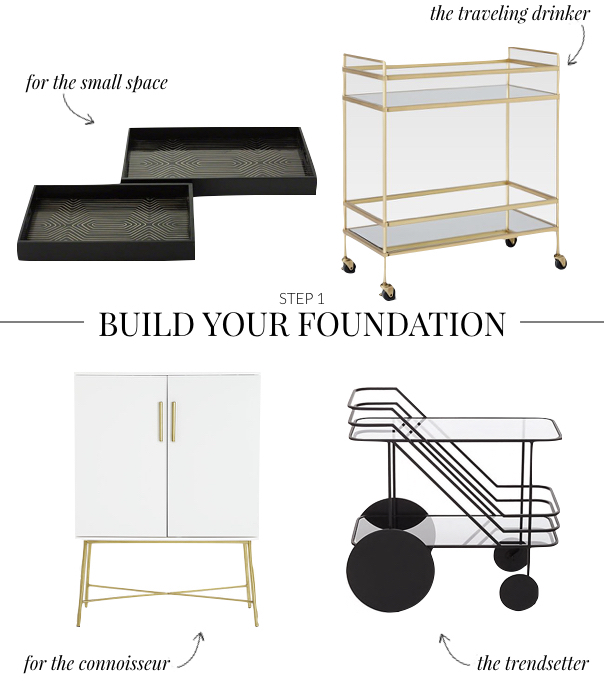 Ina Rectangle Tray | Terrace Bar Cart | Charlene White Wine Cabinet | Come As You Are Rolling Bar Cart 
Now that you've selected the piece that will best elevate the way you like to entertain in your space, we can get to the fun part… the alcohol. People often think they need the most extensive collection of alcohol to have a complete home bar, but through the lens of our splendid living approach, this just doesn't make sense.
Focus on the flavors and drinks that you love and create a selection of spirits that will allow you to create a variety of cocktails without going unused for months. Keep a few versatile mixers on hand and don't forget the garnish!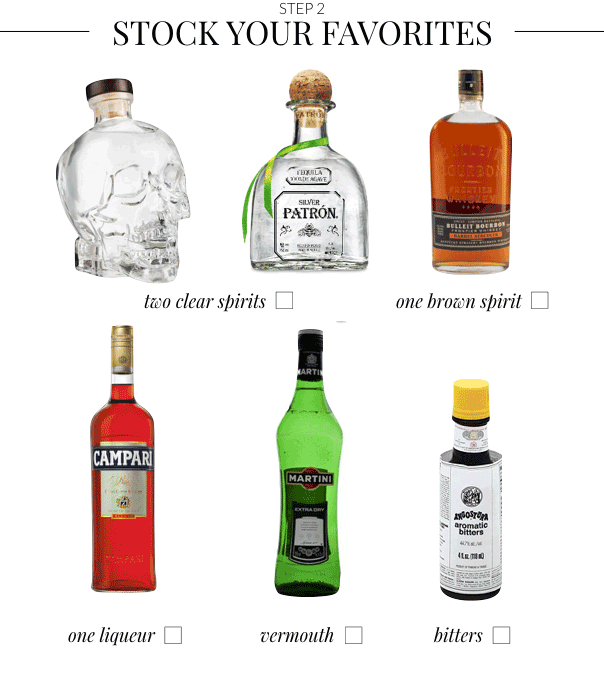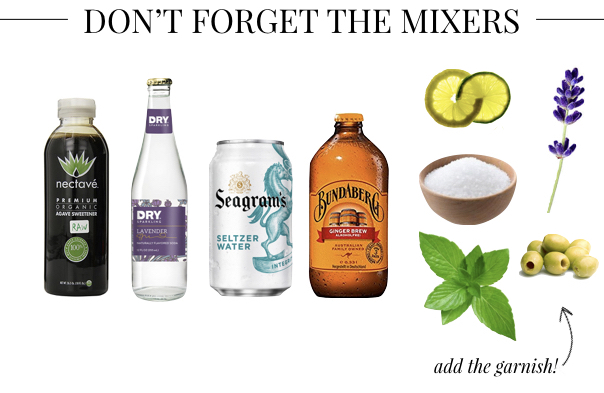 Spirits Pictured: Crystal Skull Vodka | Patron Tequila | Bulleit Bourbon | Campari | Martini Vermouth | Angostura Aromatic Bitters
Mixers Pictured: Agave Nectar |  | Dry Sparkling Soda | Seltzer Water | Bundaberg Ginger Beer
Must-Have Garnishes: Lemon, Lime, Salt, Mint, Lavender, Basil, Olives… knock yourself out!
And finally, you wouldn't be able to reap any of the benefits of a well-curated and stocked bar without bar and glassware. This is the part where you should bring as much style into your setup as possible. Tea towels and coasters are just as staple to a bar cart as a bottle opener is. Chic accessories are essential when creating something that is styled, not just thrown together.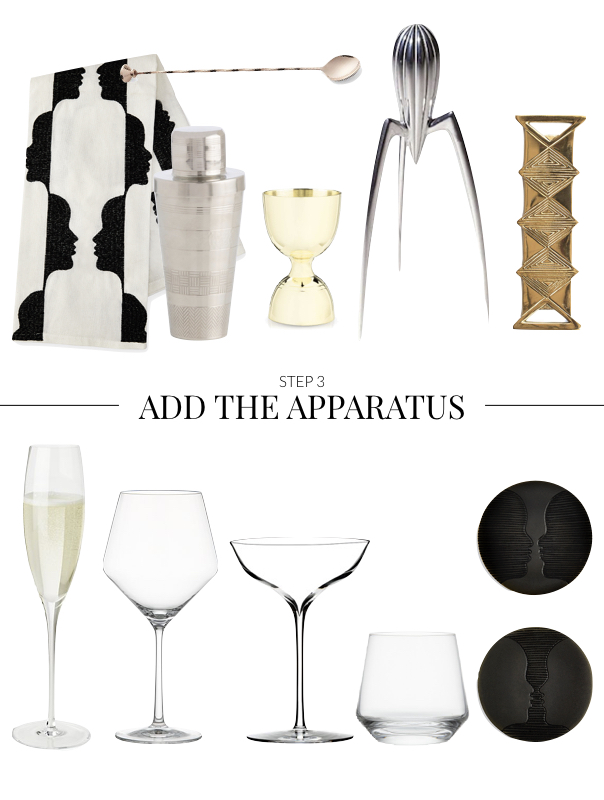 Barware: Gemini Tea Towel | Copper Bar Spoon | Rickey Cocktail Shaker | Viski Canterbury Jigger | Starck Juicer | Double Pour Bottle Opener | Gemini Matte Black Coaster Set 
Glassware: Enoteca Champagne Glass | Tour Red Wine Glass | Coupe Glass
It's time to drink! You'll never feel more inspired to make yourself a cocktail than after you've completed the ultimate home bar. And don't forget, the most well-designed spaces are both luxurious and functional!
For professional interior design services, contact Pulp Design Studios®.
Credits