Uptown Dallas Residence Interior Design
LOCATION
Dallas, TX | Uptown
PROJECT
This amazing home with incredible bones now exudes warmth and contemporary style, all focused around the homeowners extensive love of art. Our clients owned a home that was designed by an amazing architect, but it lacked the warmth and personality that contemporary design so often does. They were ready to breathe life into their already amazing home and add their spirit to the space. Pulp was tasked with making their art collection the focus, while infusing the texture and depth of their personality into the home. Textiles and wall coverings were the focus to infuse a softness into the hard lines of the shell of the space. Unique accessories were added and custom pillows were designed with luxury tactile feel to add pattern and layers to the space. The result was a completely custom experience that is unique to our client.
AS SEEN IN

COLLABORATOR
Erin Moody of Studio E Lighting, Lighting Designer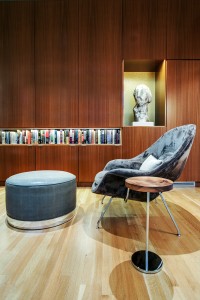 I needed help with ideas and the expertise of a designer for the final details of my home. I wanted to hire a professional that had access to trade sources so I could get the look I wanted. I loved working with Carolina and felt confident she would stay on top of things. When I first saw my newly completed space it was terrific and exactly what we wanted and needed. Everything is still the way Pulp left it and we are still enjoying it! Pulp really gave our home that finishing touch.