6/28/13
Postcards from… all over!
It's been a while since I've checked in to do a 'postcards from…' post and let me tell you, it's been a doozy of a time lately! We're super busy at Pulp Design Studios, the Pulp Home shop is knocking it out of the park, I've been traveling like a mad woman, and I've got exciting news to share!
This month started out with our annual trip to the Jersey Shore to spend time with family. I wouldn't say it was as relaxing as it looked, but it was a great time nonetheless…
I returned back to Seattle with a full plate of design work and project launches! Both our Dallas and Seattle offices are cranking out some amazing designs and it's been fun (and equally exhausting) to watch our company continue to grow…
And, of course, it was business as usual around the homestead! After some crazy full work weeks, I live for these weekends when we just get to kick back and be silly…
After two short weeks at home in Seattle, I headed back to Dallas (with family in tow) where we signed an amazing new client (who also happens to be a friend)! A fun little tidbit is that she's the grand-daughter of a former President and First Lady, so we get to get our hands on some presidential pieces to work into the design. Can't wait to share more on that…
Oh, and one more thing….
To top it all off, I went and got knocked up!
We're super excited to welcome another little Dotolo in Dec 2013! Just in time for the holidays…. and my birthday… and Max's birthday…. It's going to be a crazy time! One of the many reasons that it's great to have a good partner in business and amazing team to keep things going. And, then it'll be back to business, as usual, for me in early 2014.
But, for now, we've still got much to do and much to accomplish both around the house and in the design studios!
Have a fabulous weekend… you deserve it!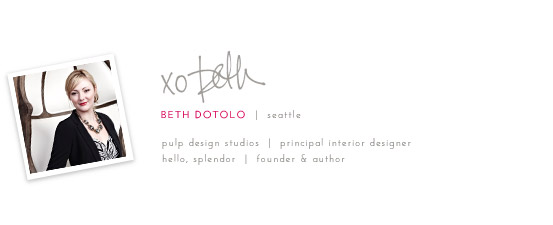 Credits