Rue Daily – Find Out What High Point Market's Style Spotters are Excited to See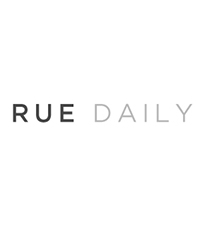 Rue Daily : Find out what High Point Market's Style Spotters are excited to see
Written by Victoria de la Camara
September 11th, 2015
If you want to know what's fresh for fall, there's only one place to be: High Point Market. Twice a year, we editors join architects and interior designers to peruse the showrooms of many of the thousands of the industry's top brands, taking note of our favorite new discoveries. Let's just say our iPhones get filled up with images pretty quickly!
That said, as we walk into showrooms, we are always curious to see what High Point's renowned Style Spotters are picking as their fall must-haves. Lucky for us, we have insider knowledge on what they're lusting over. And now you do too – check out our slideshow for their picks!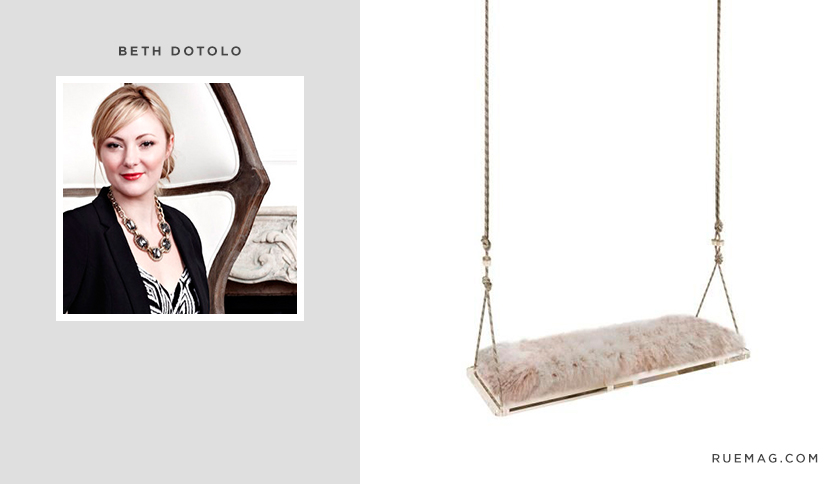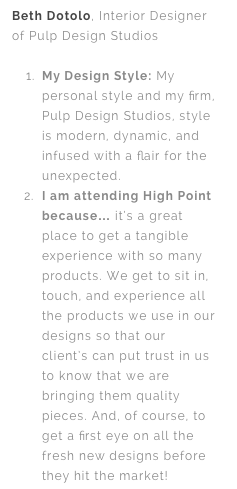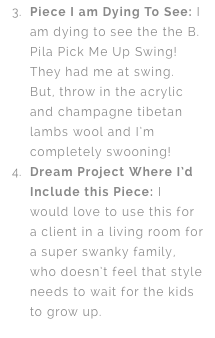 My Design Style: My personal style and my firm, Pulp Design Studios, style is modern, dynamic and infused with a flair for the unexpected.
I am attending High Point because… it's a great place to get tangible experience with so many products. We get to sit in, touch, and experience all the products we use in our designs so that our client's can put trust in us to know that we are bringing them quality pieces. And, of course, to get a first eye on all the fresh new designs before they hit the market!
Piece I am Dying To See: I am dying to see the B. Pila Pick Me Up Swing! They had me at swing. But throw in the acrylic and champagne tibetan lamps woodland i'm completely swooning.
Dream Project Where I'd Include this Piece: I would love to use this for a client in a living room for a super swanky family, who doesn't feel that style needs to wait for the kids to grow up.