Rue Magazine – September 2015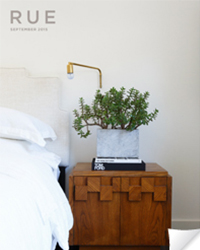 Rue Magazine – September 2015
By: Kat Mceachern
Great Great Space: This dynamic duo behind Pulp Design Studios dreams up a doubled-duty space.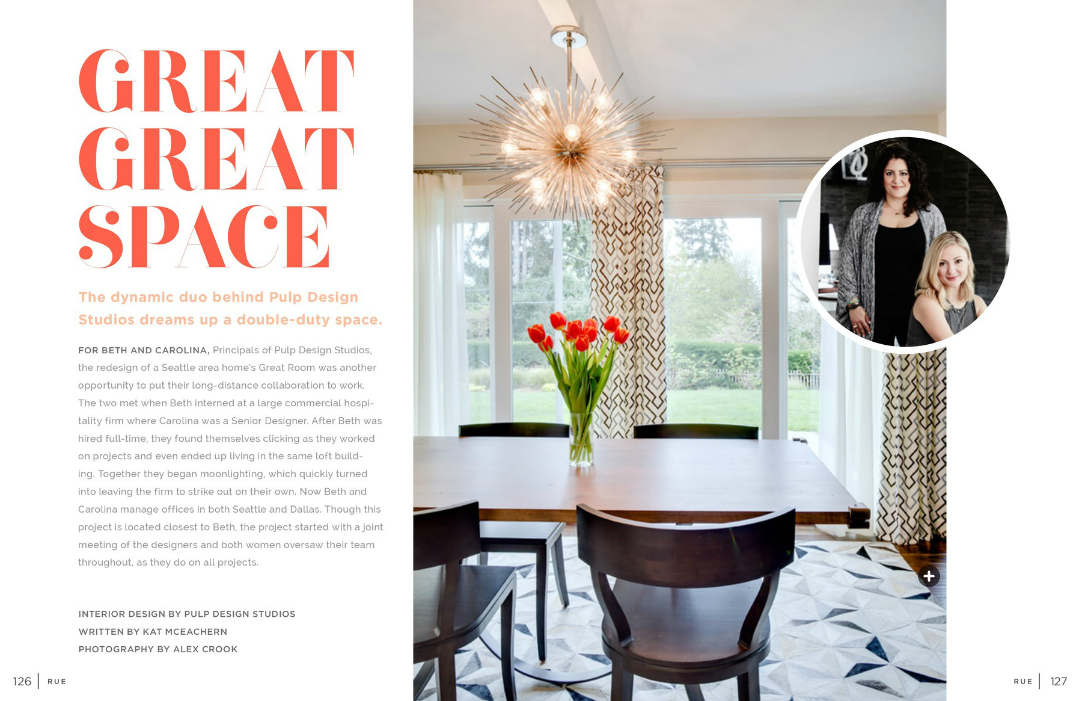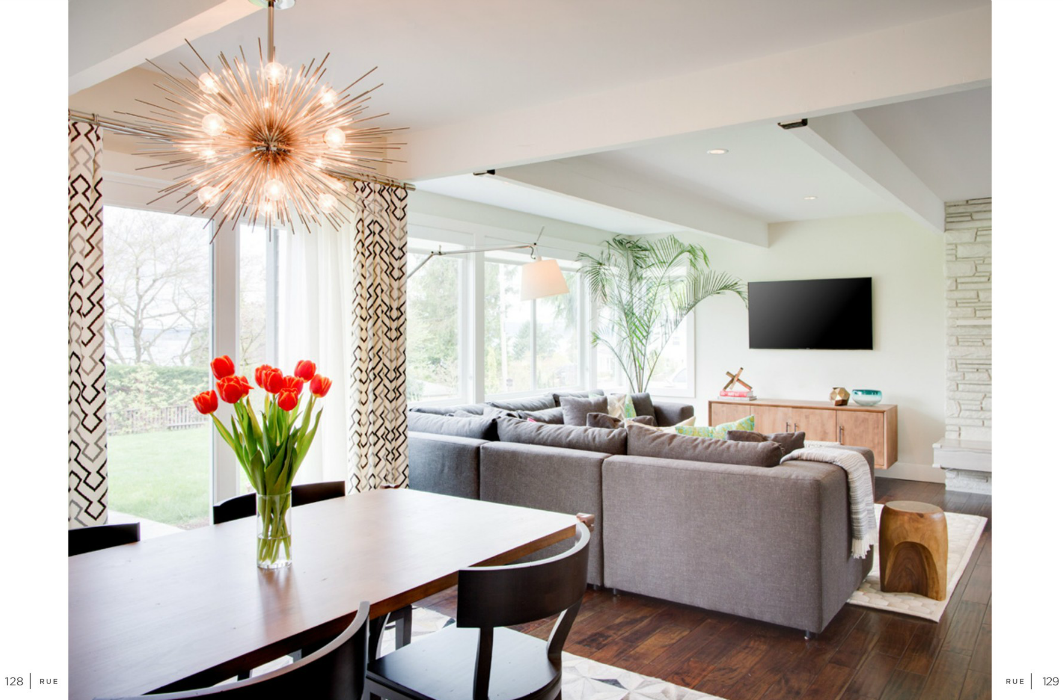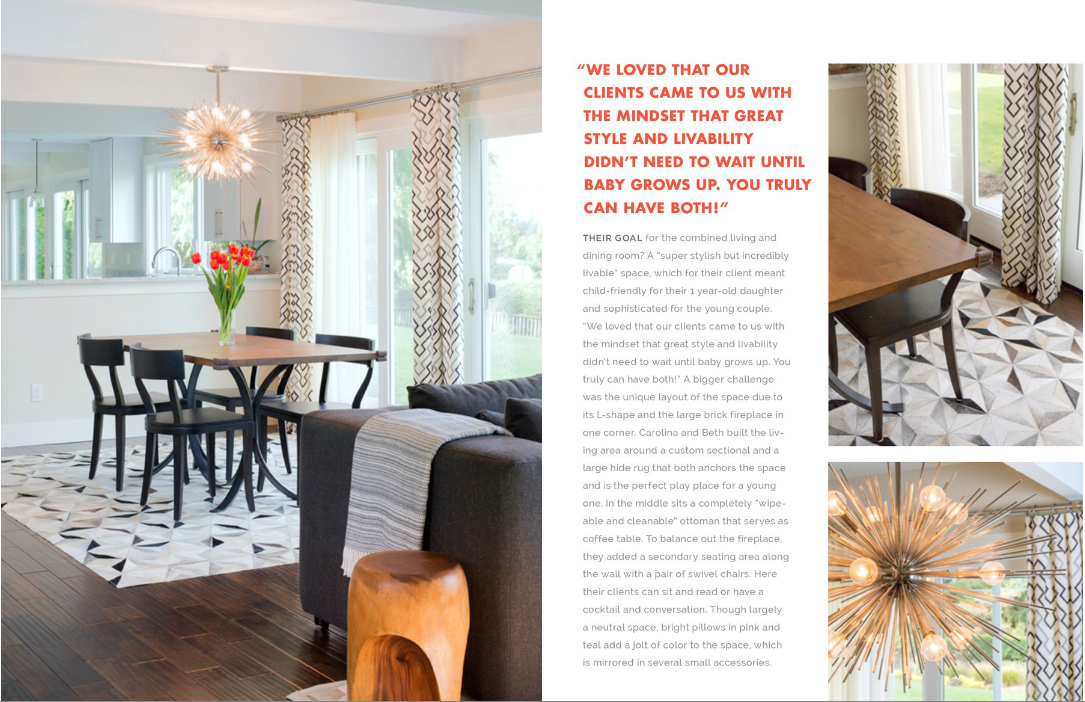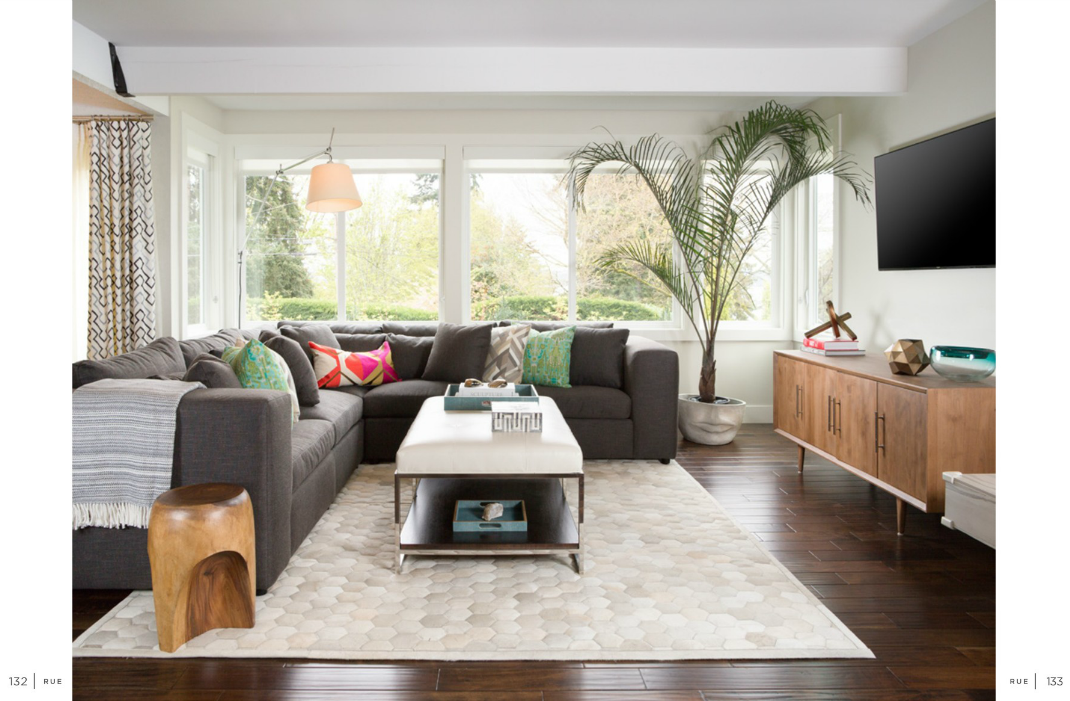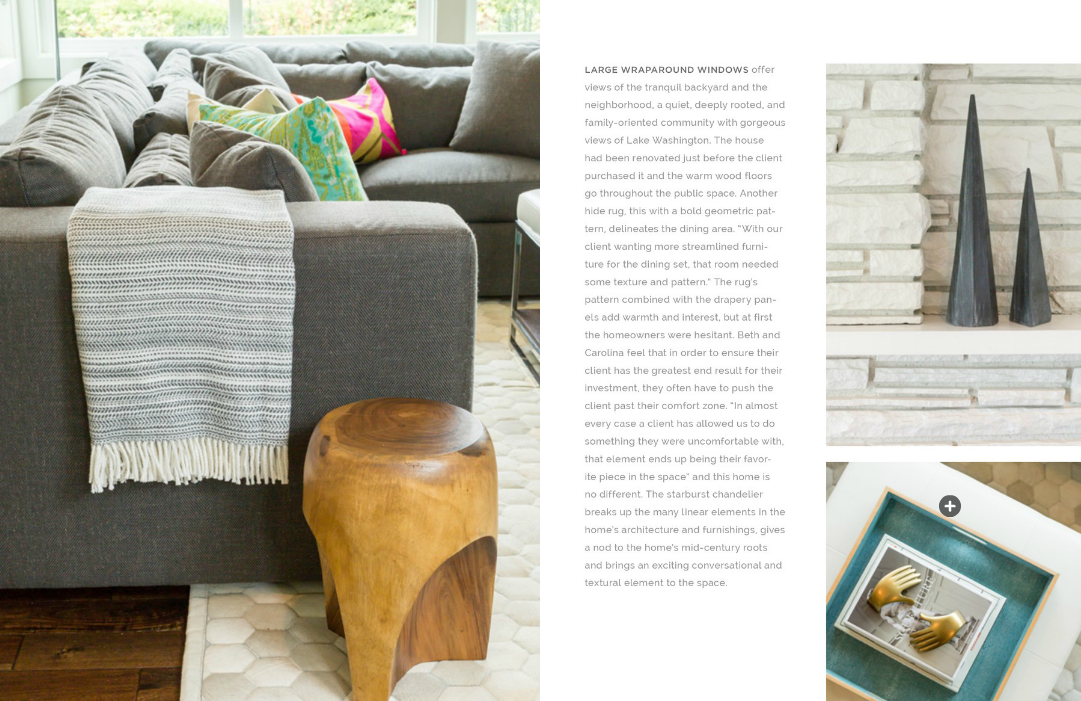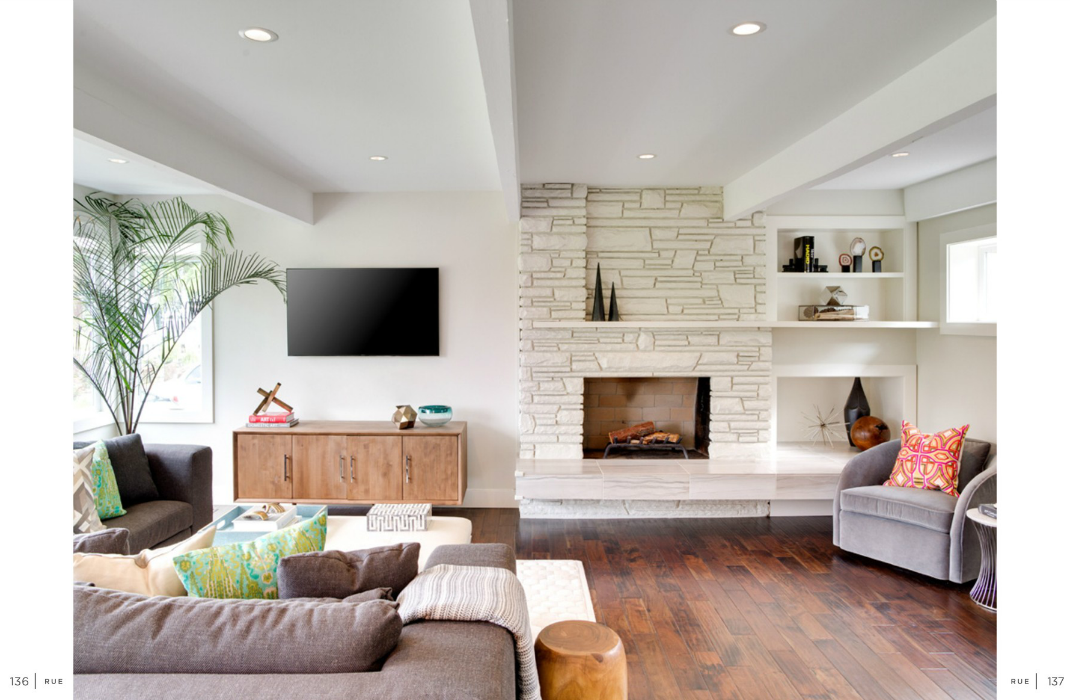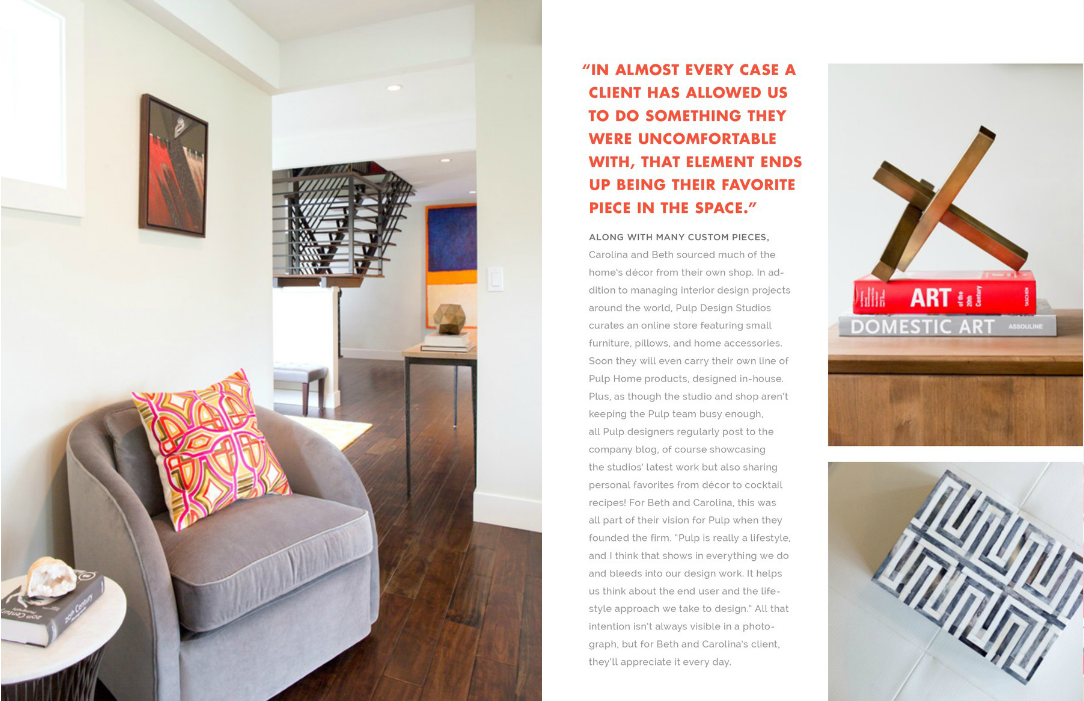 Great, Great Space. The Dynamic duo behind Pulp Design Studios dreams up a double-duty space.
For Beth and Carolina, Principals of Pulp Design Studios, the redesign of a Seattle area home's Great Room was another opportunity to put their long-distance collaboration to work. The two met when Beth interned at a large commercial hospitality firm where Carolina was a Senior Designer. After Beth was hired full-time, they found themselves clicking as they worked on projects and even ended up living in the same loft-building. Together they began moonlighting which quickly turned into leaving the firm to strike out on their own. Now Beth and Carolina manage office in Both Seattle and Dallas. Though this project is located closest to Beth, the project started with a joint meeting of the designers and both woman oversaw their team throughout, as they do on all project.
Their goal for the combined living and dining room? A "super stylish but incredibly livable" space, which for their client meant child-friendly for their 1 year-old daughter and sophisticated for the young couple. "We loved that our clients came to us with the mindset that great style and livability didn't need to wait until baby grows up. You truly can have both!" A bigger challenge was the unique layout of the space due to its L-shape and the large brick fireplace in one corner. Carolina and Beth built the living area around a custom sectional and a large hide rug that both anchors the space and is the perfect play place for a young one. In the middle sits a completely "wipe-able and cleanable" ottoman that serves as a coffee table. To balance out the fireplace they added a secondary seating area along the wall with a pair of swivel chairs. Here their clients can sit and read or have a cocktail and conversation. Though largely a neutral space, bright pillows in pink and teal add a jolt of color to the space, which is mirrored in several small accessories.
Large wraparound windows offer view of the tranquil backyard and the neighborhood, a quiet, deeply rooted, and family-oriented community with gorgeous views of Lake Washington. The house had been renovated just before the client purchased it and the warm wood floors go throughout the public space. Another hide rug, this with a bold geometric pattern, delineates the dining area. "With our client wanting more streamlined furniture for the dining set, that room needed some texture and pattern" The rug's pattern combined with the drapery panels add warmth and interest, but at first the homeowners were hesitant. Beth and Carolina feel that in order to ensure their client has the greatest end result for their investment, they often have to push the client past their comfort zone. "In almost every case a client has allowed us to do something they were uncomfortable with, that element ends up being their favorite piece in the space" and this home is no different. The starburst chandelier breaks up the many linear elements in the home's architecture and furnishings, gives a nod to the home's mid-century roots and brings an exciting conversation and textural element to the space.
Along with many custom pieces, Carolina and Beth sourced much of the home's decor from their own shop. In addition to managing interior design projects around the world, Pulp Design Studios curates an online store featuring small furniture, pillows, and home accessories. Soon they will even carry their own line of Pulp Home products designed in-house. Plus, as though the studio and shop aren't keeping the Pulp team busy enough all Pulp designers regularly post to the company blog, of course showcasing the studios' latest work but also sharing personal favorites from decor to cocktail recipes! For Beth and Carolina, this was all part of their vision for Pulp when they founded the firm. "Pulp is really a lifestyle and I think that shows in everything we do and bleeds into our design work. It helps us think about the end user and the life-style approach we take to design." All that intention isn't always visible in a photograph but for Beth and Carolina's client, they'll appreciate it every day.