Hight Point Market – Spring 2015 High Point Market Style Report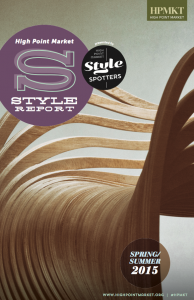 Spring 2015 High Point Market Style Report
Our Style Spotters uncover the emerging trends of 2015, as seen at Spring Market
Co-owner and principal interior designer of Pulp Design Studios, Beth is recognized as among the "Dallas design glitterati" by Modern Luxury, a Rising Star in Interior Design by Fashion Group International, a Best Designer by D Home, and is also a recipient of the ASID Legacy Design Award. Her modern approach to design and flair for the unexpected creates spaces that are dynamic, balanced, and infused with each client's personality.
Modern + Classic
We are seeing a resurgence of classic forms and shapes re-emerging in modern and updated ways. This juxtaposition of styles is coming across in gorgeous looks that are perfect for today's interiors. Creativity shines through as manufacturers experiment with finishes, details, and forms. Classic shapes are updated with carving and detailing, modern mixes of materials and finishes are melded into classic forms, and classic styles take a more streamlined shape. It has been exciting to see the new and innovative ways that manufacturers are creating this beautiful blend of modern and traditional.
Strong Neutral
Neutrals are playing a huge role in design right now, and we saw this everywhere at Spring Market. Rather than focusing on strong color to carry a piece or space, many interiors and products are using contrast in tone and materials, as well a texture, and form to create eye-catching compositions. This favoring of bold design elements and mixing of metals, woods, and fabrics makes for a much stronger composition and a higher level of craftsmanship. We expect this trend to stick around since it's such a practical and adaptable, yet stylish approach when done well!
Geometric Texture
Texture and geometry are coming up strong in home furnishings. From stark lines and sexy curves to simple concentric circles and strong patterns, geometric textures are popping up everywhere. We're seeing this great trend showing up in casegoods on door and drawer fronts, but it is also making appearances in accessories, mirrors, lighting, hardware, and seating. Adding a new and unexpected twist to the furniture we're all used to seeing, it showcases beautiful craftsmanship, and lets homeowners show off their own personal style through a piece that would have otherwise been simplistic.