2/5/18
13 Things Everyone Should Have on Their Bedside Table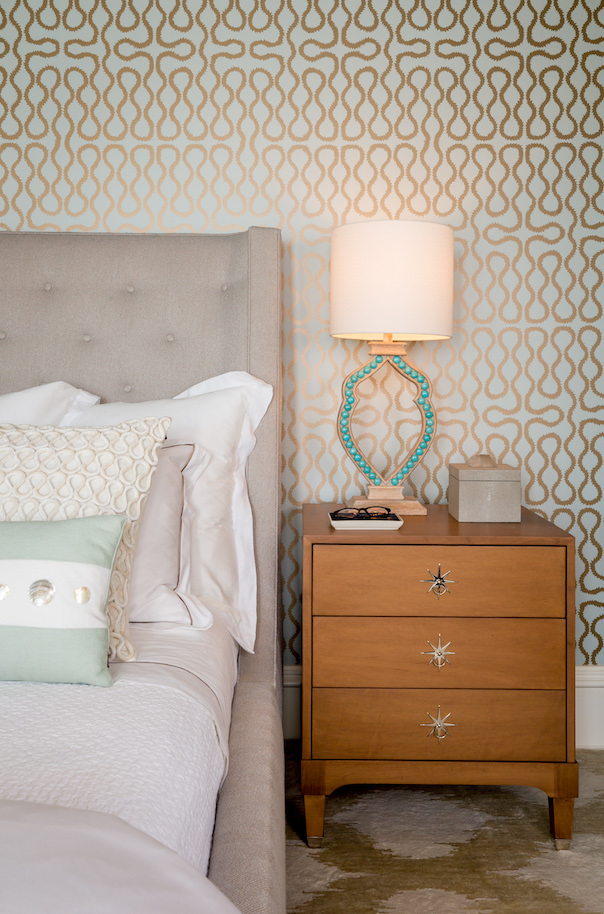 Selecting and styling bedside tables for our interior design clients is so much more than just picking something that looks nice. Design is nothing if it doesn't elevate your everyday life, so finding a way to make our clients' spaces look incredible while giving them all the function they could imagine is the top priority of our "Splendid Living" approach. Follow these tips for the most restful beauty sleep of your life…
Designer Tips for a Perfectly Styled Bedside Table
Start with lighting. Absolutely no bedside table is complete without the right lighting. A table lamp will help create focus and give your space the right lighting for winding down at the end of the night.
Give it personality. An artisan catchall and small coffee table books will give your bedside table the ultimate touch of personality. Use the catchall for function and books to inspire and add style.
Add a notepad. Keep a small notepad nearby for those genius ideas that come to you in the middle of the night. You never know what brilliant idea you could forget!
Get your beauty sleep. We like to keep our favorite overnight masks  close by to replenish our skin as we sleep. A nourishing skin treatment that can be left on overnight will help you relax — all sleep should be beauty sleep!
Get relaxed. Make your bedroom the ultimate retreat by adding an essential oil diffuser for aromatic relaxation. This will keep your space smelling amazing and improve your quality of sleep!

Genuine Marble Charging Dock | 2. Sweeney Lamp | 3. Golden Hands | 4. Black Tea Firming Overnight Mask | 5. Milan: The Considered Guide | 6. Marrakech: The Considered Guide | 7. Large Carafe | 8. Gemini Coaster Set | 9. Vitruvi Porcelain Essential Oil Diffuser | 10. Vitruvi Quiet Blend Essential Oil | 11. Notes Fabric Bound Journal | 12. Piedmont Vase | 13. La Mer The Lip Balm 
For professional interior design services, contact Pulp Design Studios℠.
Credits