10/18/21
Kips Bay Show House Tour: The 'Sinner's Den'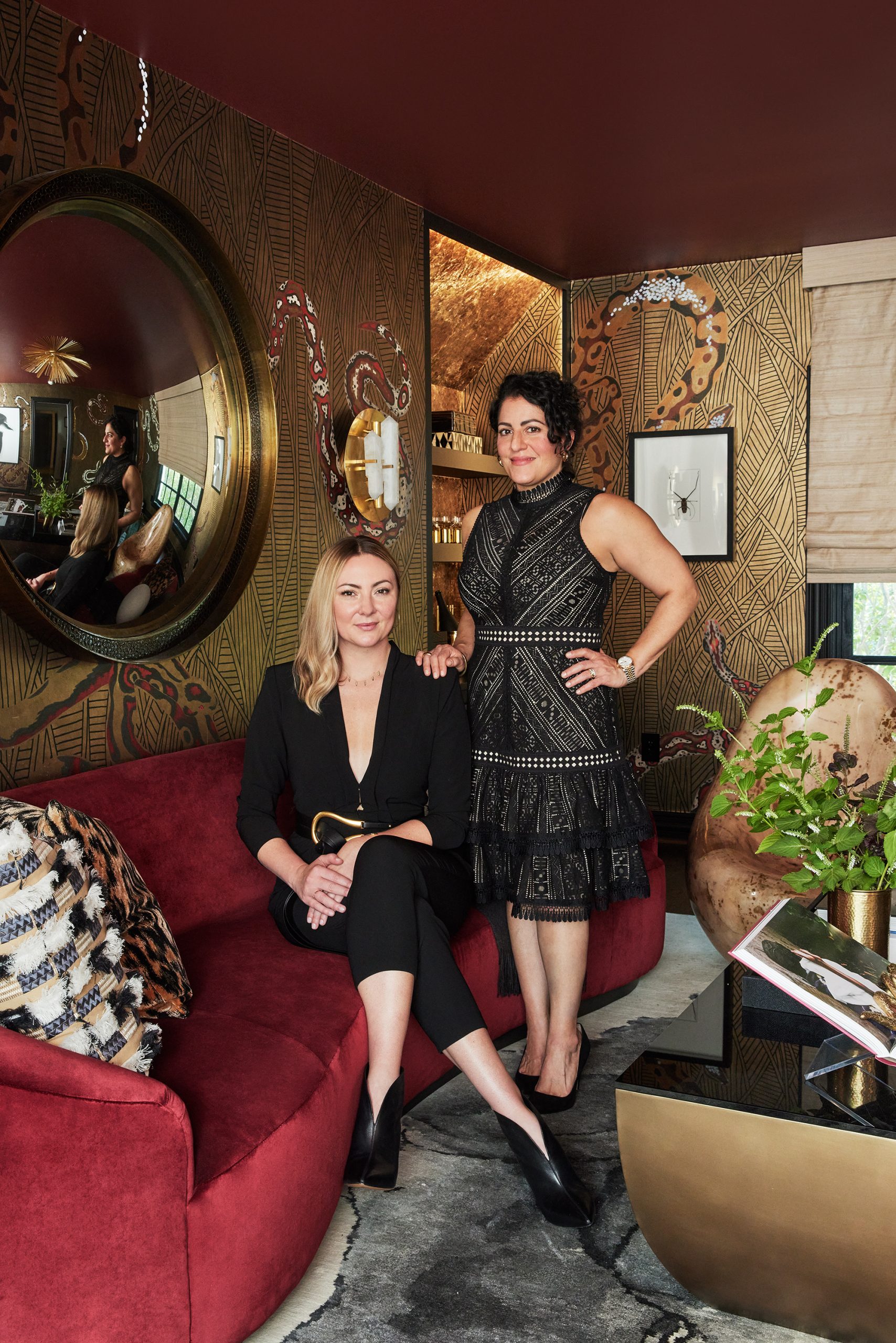 For their Kips Bay Dallas Show House space, Beth Dotolo and Carolina Gentry, co-founders of Pulp Design Studios, wanted to create a design that would showcase a duality with a Wise & Wicked theme. The rooms are an homage to a modern woman, a paradox who is both wise about her business and also wickedly amusing in her off time. She's graceful and glam, playful and polished – and this loft space reflects those two sides of her personal style. We asked Beth and Carolina to walk us through each of the rooms in their Kips Bay space, giving us insight into their design vision, and we're excited that they're going to tell us all about the Wicked lounge, also known as the 'Sinner's Den.' If you want to view the entire Wise & Wicked space, just click here.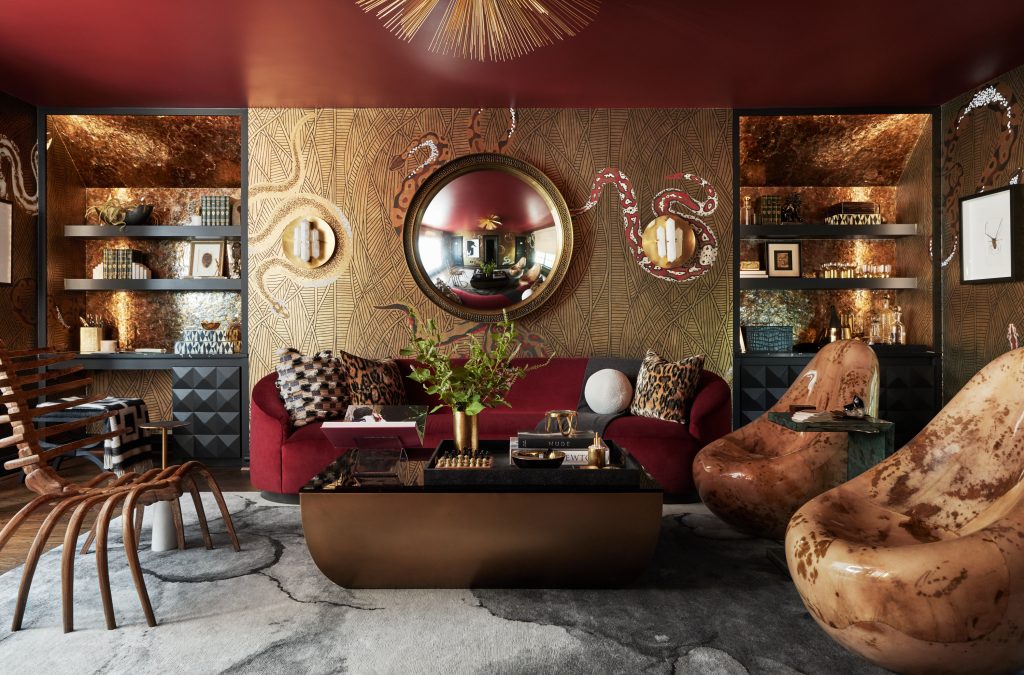 Q: This space is such a contrast to the office on the other end of the hall – walk us through the amazing design.
Carolina: We are known for bold and adventurous design, for rooms that are super-dynamic but are also livable. So in this space, we wanted to showcase that drama while creating a lounge where our muse – the Wise & Wicked woman – would love to hang out with her friends at the end of a long day or a long week.
Beth: This is the ultimate cocktail lounge, where this woman can really show her personality and let her hair down with her friends. We wanted to make it edgy and fun, to be a place that everyone wants to be in, almost like the coolest speakeasy you've ever experienced. It is one of my favorite spaces we've designed!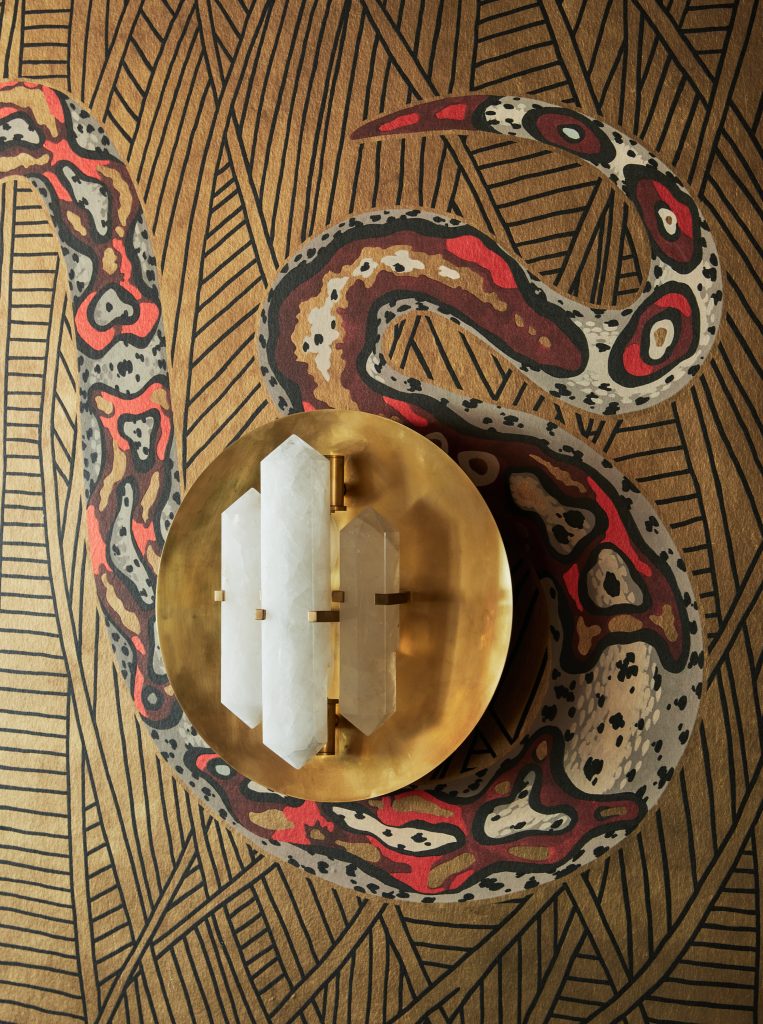 Q: Besides the moody color scheme, what really makes this space so gorgeous are all of the details. Tell us about some of your favorites.
Beth: For me it has to be the stunning Fromental wallpaper. We were able to customize it so the snakes would wrap around the gorgeous Visual Comfort sconces. Your eye is just drawn to that wall immediately and it sets the tone for the entire lounge.
Carolina: I also love the glow of the walls behind the shelves. Brenda Houston created those with us by hand applying muscovite mineral to look like snake skin. But it's also the most luxe look, almost like the walls were gold leafed. It fits our theme of edgy luxury.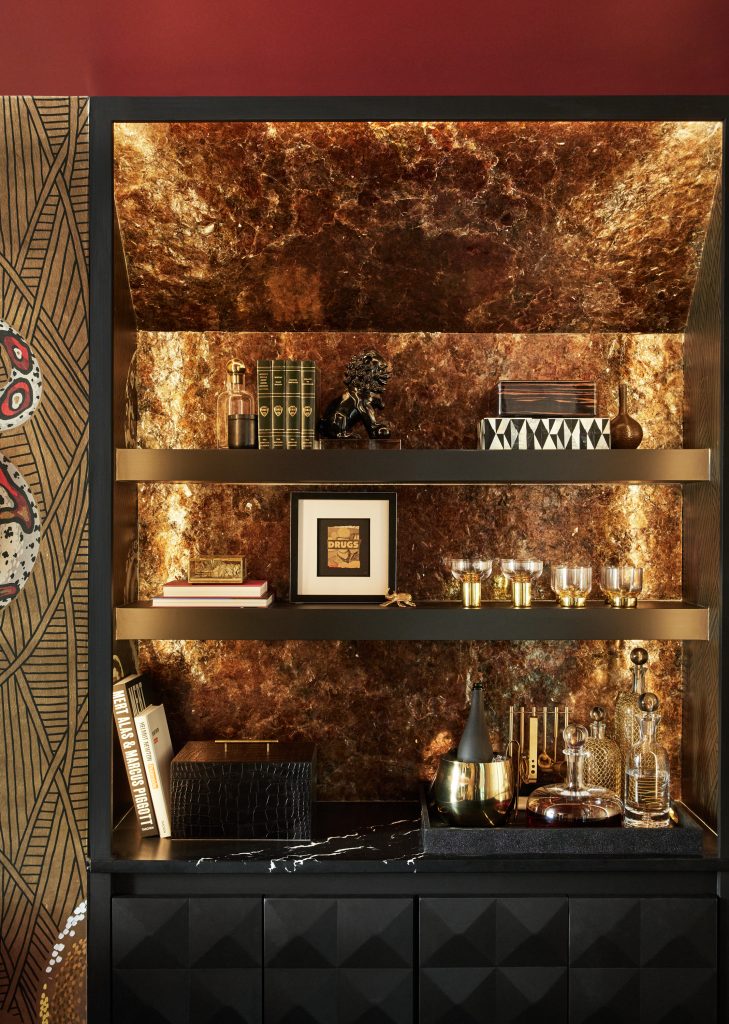 Q: It really does have the feeling of an incredible upscale lounge – one that would be members-only…
Carolina: I think the color palette is so key for the chic and opulent look. We really see those reds and chocolate browns as being ahead of the curve in color trends. The Benjamin Moore paint we chose for the ceiling is really key, and we love the name – it's Dinner Party. It's a perfect complement to that stunning Arteriors sofa.
Beth: We chose the furnishings to convey that feeling of luxury, combined with unique textures and styles. The woman who would own this lounge wouldn't want ordinary seating or tables, she would want something that stands out, that no one else would have. that's why we selected those amazing parchment egg chairs and skeleton chair by Sylvan S.F.. They are bold and beautiful, just like the woman who would live here.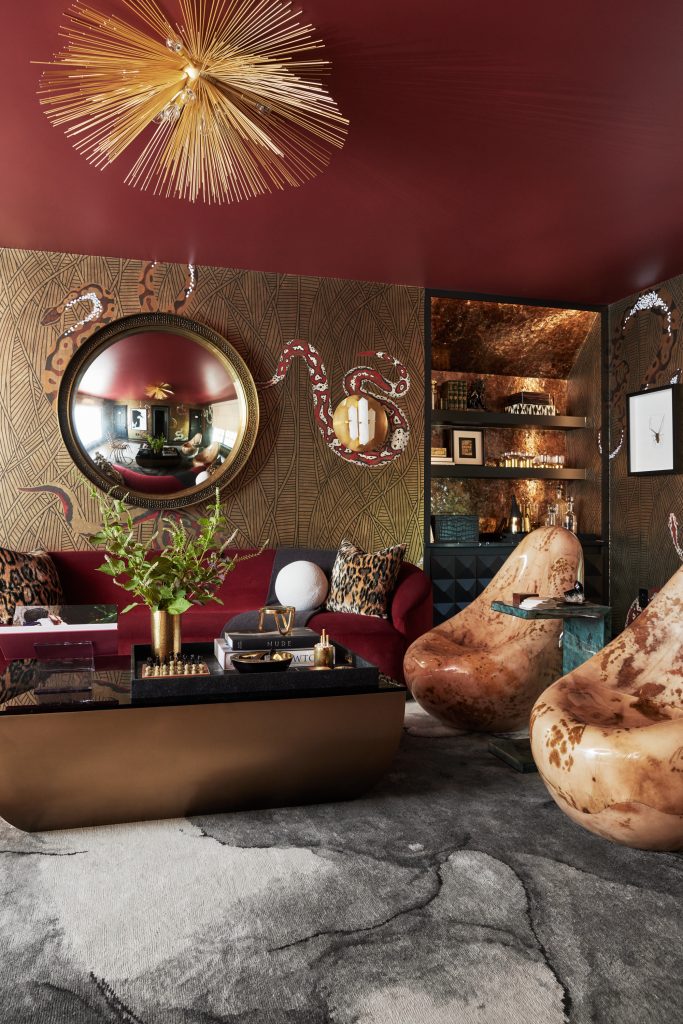 Q: The details are so on point – talk about how important that is to finish a room.
Beth: Details are everything! It's the layering and the pieces that continue the theme or the story of the room. That's true in your own home where you would want to use things that are important to you and that tell your personal story. In this lounge, the theme of the wickedly bold woman is showcased in everything from tarot cards – with the High Priestess card up, of course – to snake details to the cigarettes. Should she smoke? No. But this is the 'Sinner's Den,' where everything goes!
Carolina: I also think it's the textures that help continue the theme and really elevate the design. So we used a lot of faux animal skins, like snake and shagreen, as well as parchment, wood grains, crystals, velvets, and more. It's key to really giving you that sense of opulence and luxury.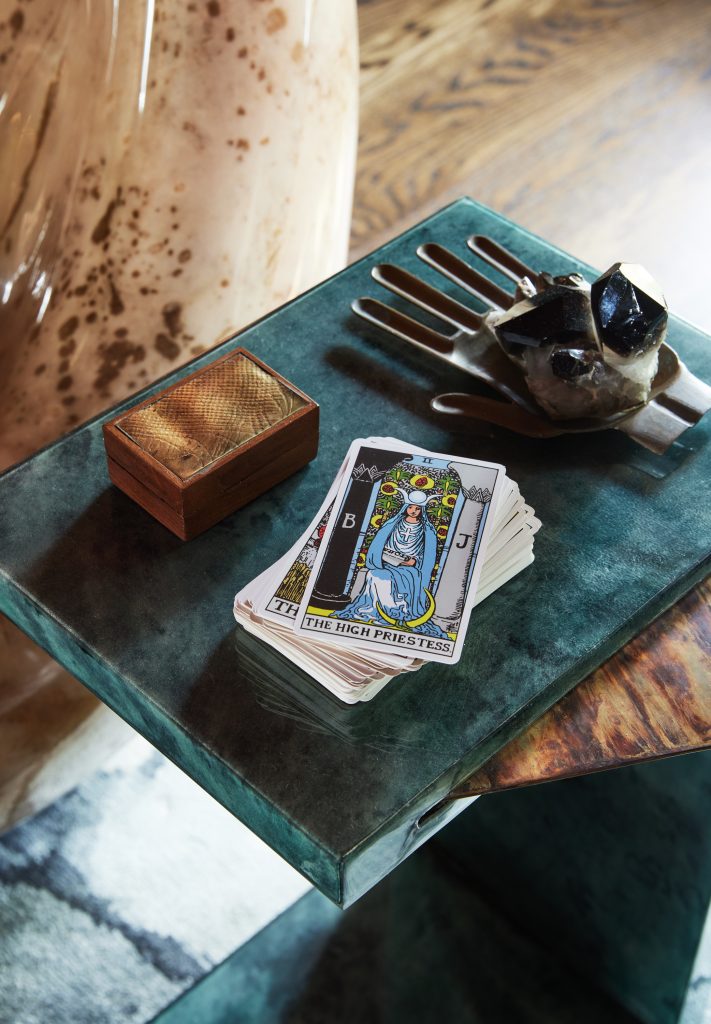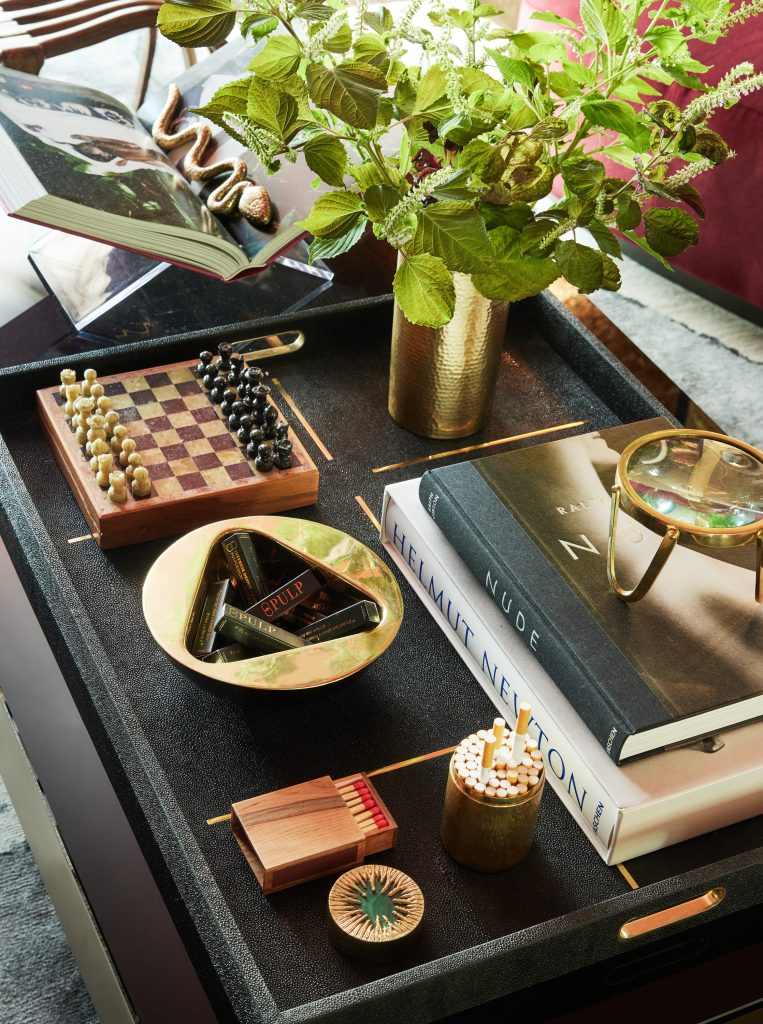 Beth and Carolina will give us a tour of one more hidden space from the Kips Bay Dallas Show House soon, so stay tuned! If you're in the Dallas area, you can tour the house through Oct. 24. Learn more and get tickets here.
The Pulp team would like to thank vendors who provided stunning products for the Wise & Wicked spaces, including: More Design + Build; Arteriors; Visual Comfort c/o Taylors by Jane; Tech Lighting c/o Taylors by Jane; Sylvan S.F. c/o Allan Knight; Fromental; Brenda Houston; Bettinger Studio; S. Harris/Fabricut; Kevin McLean; The Rug Company; Bungalow 5; HD Walls; and Glass House. We would also like to thank the sponsors for the showhouse: Leontine Linens; Kohler; Cambria; Ann Sacks; The Shade Store; and Benjamin Moore.
Credits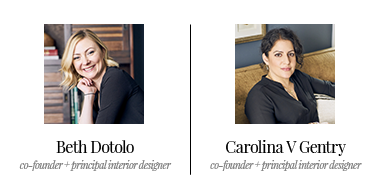 GET INSPIRED
SUBSCRIBE TO OUR NEWSLETTER TO
GET AN INSIDER LOOK IN YOUR INBOX