Business of Home – Issue 18 | Winter 2021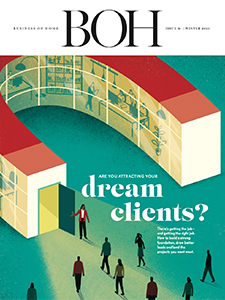 Business of Home – Issue 18 | Winter 2021
On Repeat – Instant Reply
By: Haley Chouinard
While there's an undeniable thrill in finding something new, there is much to be said for having a few key resources in your arsenal that could work in almost any situation. Three celebrated designers pay tribute to the pieces they've used again and again.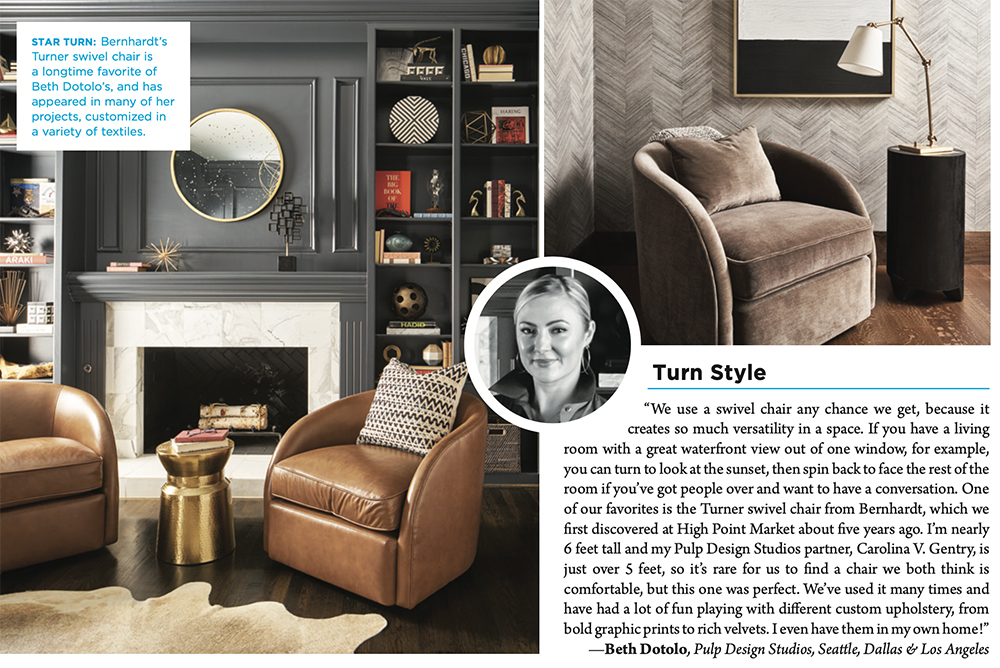 Turn Style
"We use a swivel chair any chance we get, because it creates so much versatility in a space. If you have a living room with a great waterfront view out of one window, for example, you can turn to look at the sunset, then spin back to face the rest of the room if you've got people over and want to have a conversation. One of our favorites is the Turner swivel chair from Bernhardt, which we first discovered at High Point Market about five years ago. I'm nearly 6 feet tall and my Pulp Design Studios partner, Carolina V. Gentry, is just over 5 feet, so it's rare for us to find a chair we both think is comfortable, but this one was perfect. We've used it many times and have had a lot of fun playing with different custom upholstery, from bold graphic prints to rich velvets. I even have them in my own home!" —Beth Dotolo, Pulp Design Studios, Seattle, Dallas & Los Angeles
STAR TURN: Bernhardt's Turner Swivel Chair is a longtime faborite of Beth Dotolo's, and has appeared in many of her projects, customized in a variety of textiles.