Dallas Design Week — Pulp Design Studios Shapes the Future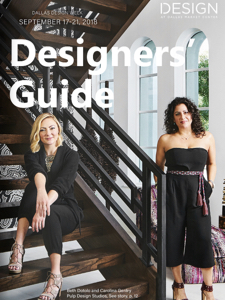 Dallas Design Week Designers' Guide — September 2018
By: Warren Shoulberg
PULP DESIGN STUDIOS SHAPES THE FUTURE
The interior design firm, with twin offices in Dallas and Seattle, is helping to lead the way to the next generation
Look up the definition for "pulp" and you'll find it's a basic, shapeless mass. Look up how Beth Dotolo and Carolina Gentry define "Pulp" and you'll find something entirely different.
Pulp Design Studios, the interior design firm that Dotolo and Gentry founded and now run, has become one of the hottest studios around with its savvy use of videos, social and hands-on designs that stretch from interior projects to licensed fabrics to their own branded hardware.
Far from being shapeless, Pulp may very well be the shape of the future for the interior design business.
Foundation Forward
The two women, who met while working together at a commercial design firm, call their brand of design "Splendid Living," a combination of form and function that brings in inspiration from both their backgrounds and their travels.
"When we first started talking about working together on our own we said we thought we could do this better," recalled Gentry, whose Latina roots and Dallas base contrast with her partner's location in Seattle. "We knew we could work together and that came first, before we became friends."
At first the two wanted to focus on product development but eventually found their footing in interior design, she said.
And the Pulp name? "We liked the movie Pulp Fiction and there was also a rock band named Pulp, but we just thought it was a fun name that tied back to paper and design."
Dotolo and Gentry quickly developed their own persona that relied heavily on using videos to show clients and potential clients what their projects would look like. "We've been really smart at putting money back into our business and lucky to have the right people helping us on this," said Gentry, who was speaking for both her and her parter as Dotolo was pulled away from the interview at the last minute. "We never want them to be surprised and video is a good way to make sure that doesn't happen."
She believes Pulp was one of the first interior design firms to rely on video as such a key part of its positioning, something that is much more common now.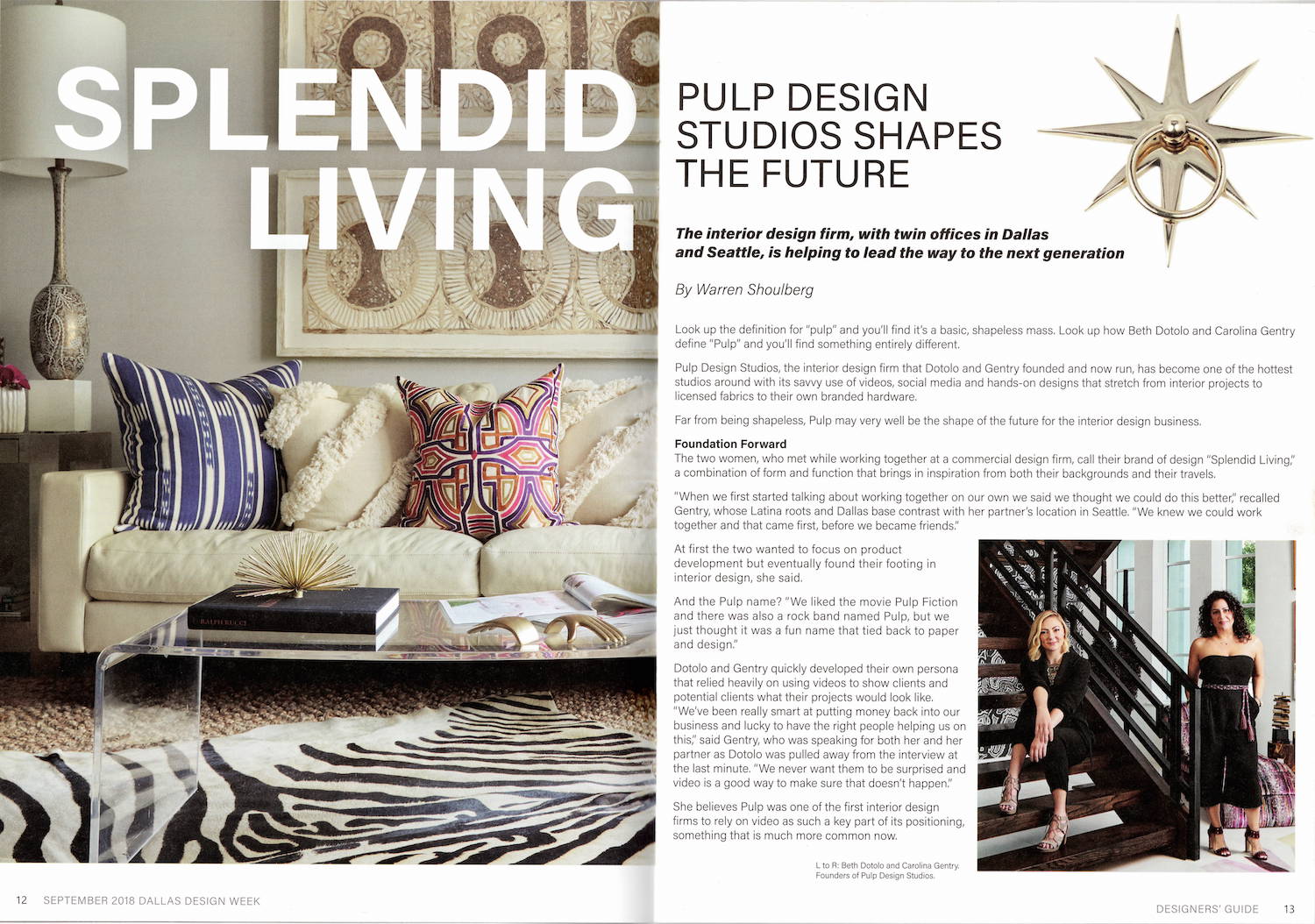 Personal Appeal
The same goes for social media, which Pulp uses extensively, particularly Instagram. "We find it's a great way to cater to the kind of clients we want to get," she said. "We're able to share our day-to-day things that we're doing and I believe people like to see that. It's like a day in the life of a designer."
Everyone at Pulp's two offices is required to take pictures of what they are up to, providing the company with a steady stream of content for social posts.
And the two offices — Dotolo relocated to Seattle many years ago — end up providing a serendipitous plus for the firm, giving it two bases for clients and two different design aesthetics to work from. "People are always super interested that we work from two different offices," she said, but with modern technology and concerted efforts for regular communications, Gentry says the arrangement works just fine.
Design Elements
Even though Pulp's focus is on interior design, its partners have found a way to get back to their original product development intent. After designing a starburst-shaped hardware piece for a specific project, they expended on that to introduce a full line of hardware, sold both through their own website as well as select retailers.
That was followed most recently with a  licensed line of decorative fabrics it is doing with Fabricut. Using their travel as their inspiration, the fabric reflects a global eclectic mix of patterns and designs.
"Hopefully we'll do more and eventually we'd love to do lighting and furniture on a licensed basis."
Trending
In the meantime, the two will continue to focus on their current activities. Pulp is seeing strong interest in the color blue — all kinds of blue, she says — plus some chocolate browns and continued strength in brass. "And while we're seeing the cool grays starting to fade out, there's increased interest in matte black, particularly in hardware."
Gentry forecasts a strong business outlook for Pulp supported by an ever-increasing output of videos and social postings, particularly using Instagram's and Facebook's story functions. "It's the way of the future."
For Pulp and Beth Dotolo and Carolina Gentry, the future has already arrived… by design.