Gray Awards 2020 Editors' Picks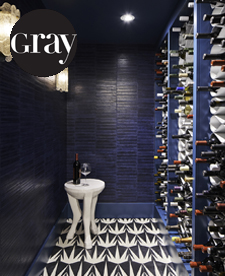 GRAY AWARDS 2020 Editors' Picks
Editors' Pick: Standout Wine Storage (Below Deck)
Pulp Design Studios
By GRAY Editors

A few years ago, Seattle-and-Dallas-based Pulp Design Studios helped a Seattle family of four created richly layered interiors for its Craftsman-style home. So, when the clients decided they wanted to tackle a renovation of their basement, they called up the Pulp designers to spearhead this "Below Deck" project.
"We wanted to be sure the below-ground space had as much chic style as the rooms upstairs, so we gave them color and style to the max," writes interior designer and Pulp cofounder Beth Dotolo in the submission. "Not only did we provide them with a luxe lair to hang out in with family and friends, but we also dialed up our creativity by designing a hidden wine room."
While the entire basement is a strong addition to the house, it's the tucked-away wine cellar that's snagging this Editors' Pick. Decked out in bright shades of blue, bold tile, and with unique wine-storage racks (the crisp white stands out against the poppy blue casework) this room is striking in its individuality and just plain fun to look at. We'll raise a glass to this win.
CATEGORY: Wild Card
PROJECT: Below Deck
FIRM: Pulp Design Studios
DATE OF COMPLETION: April 2019
LOCATION: Seattle, Washington, United States
PHOTOGRAPHED BY: Stephen Karlisch
DESIGN TEAM
Beth Dotolo
Carolina Gentry
COLLABORATORS
Adapt Architecture
Ambrose Construction
Stephen Karlisch
#grayawards #grayawards2020 #editorspicks #pulpdesignstudio #interiordesign #interiors #design