Modern Luxury Interiors Texas — Coastal Collective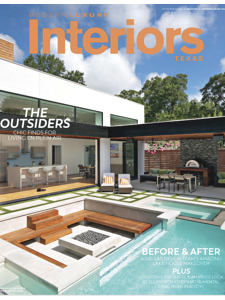 Modern Luxury Interiors Texas — April 2018
By: Jessica Elliot
Photography by Stephen Karlisch
COASTAL COLLECTIVE
Beth Dotolo and Carolina V. Gentry of Pulp Design Studios reimagine a 1960s split-level on the shores of Lake McQueeney.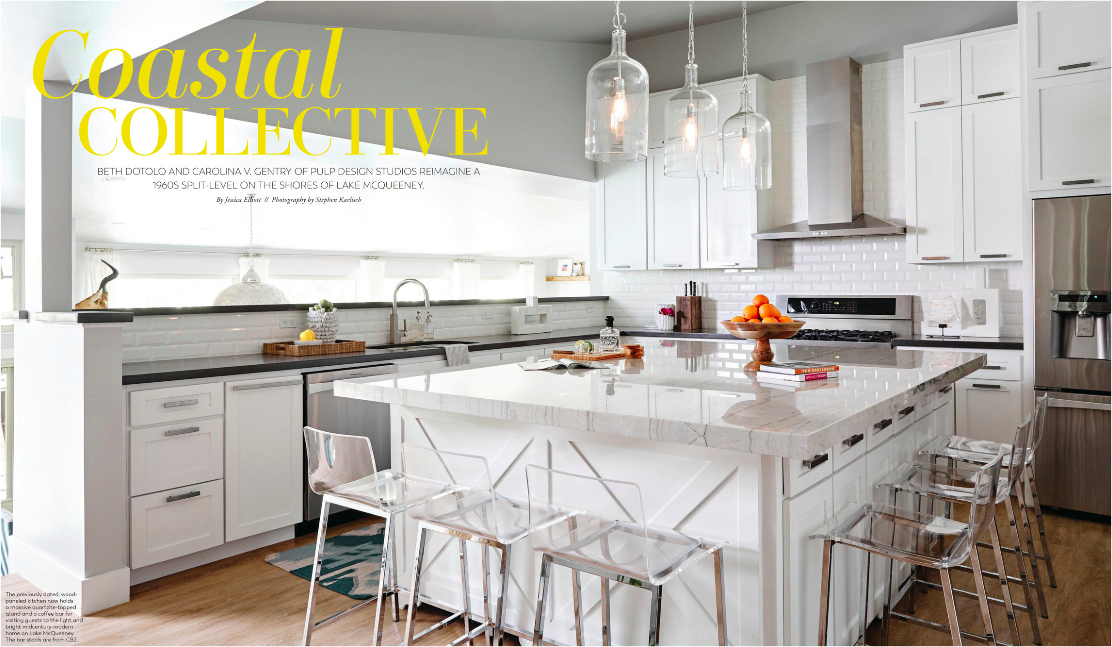 The previously dated, wood-paneled kitchen now holds a massive quartzite-topped island and a coffee bar for visiting guests to the light and bright midcentury-modern home on Lake McQueeney. The bar stools are from CB2.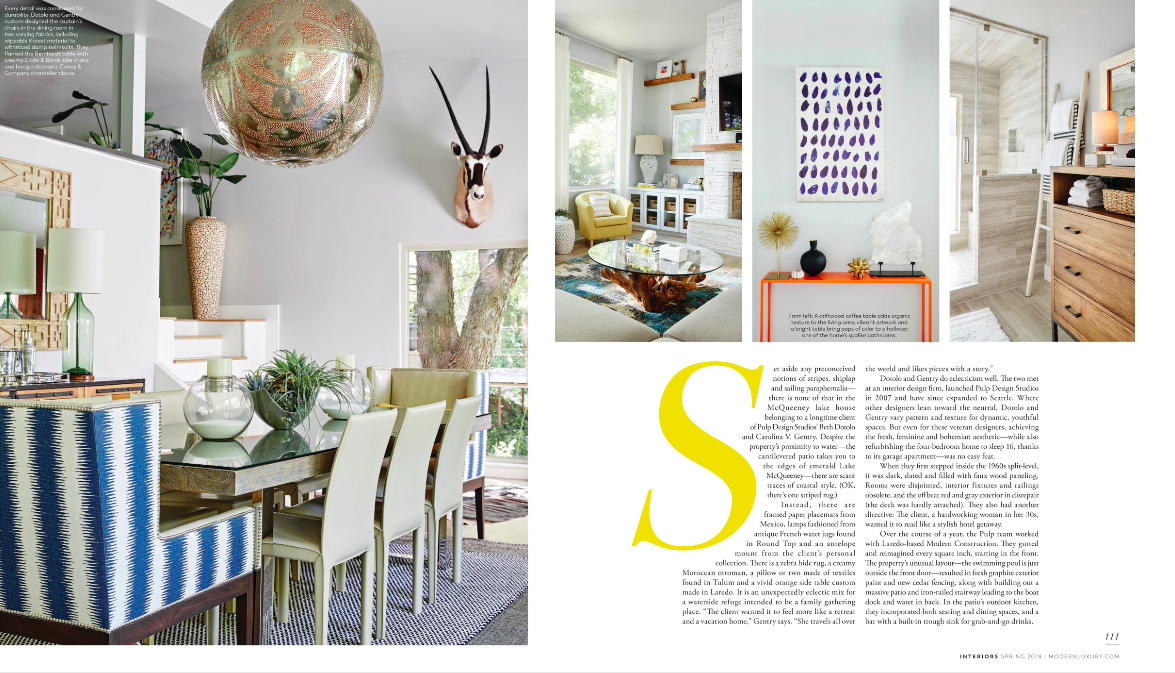 Every detail was considered for durability. Dotolo and Gentry custom designed the captain's chairs in the dining room in two varying fabrics, including wipeable Kravet material to withstand damp swimsuits. They flanked the Bernhardt table with creamy Crate & Barrel side chairs and hung a dramatic Currey & Company chandelier above.
A driftwood coffee table adds organic texture to the living area; vibrant artwork and a bright table brings pop of color to a hallway; one of the homes spa-like bathrooms.
Set aside the preconceived notions of stripes, shiplap and sailing paraphernalia – there is none of that in the McQueeney lake house belonging to a longtime resident client of Pulp Design Studios' Beth Dotolo and Carolina V. Gentry. Despite the property's proximity to water – the cantilevered patio takes you to the edges of emerald Lake McQueeney – there are scant traces of coastal style. (OK, there's one striped rug.)
Instead, there are framed paper placemats from Mexico, lamps fashioned from antique French water jugs found in Round Top and a antelope mount from the client's personal collection. There is a zebra hide rug, a creamy Moroccan ottoman, a pillow or tow made of textiles found in Tulum and  a vivid orange side table custom made in Laredo. It is an unexpectedly eclectic mix for a waterside refuge intended to be a family gathering place. "The client wanted it to feel more like a retreat and a vacation home," Gentry says. "She travels all over the world and likes pieces with a story."
Dotolo and Gentry do eclecticism well.The two met at an interior design firm, launched Pulp Design Studios in 2007 and have since expanded to Seattle.Where other designers lean toward the neutral, Dotolo and Gentry vary pattern and texture for dynamic, youthful spaces. But even for these veteran designers, achieving the freshm, feminine and bohemian aesthetic – while also refurbishing the four-bedroom home to sleep 16, thanks to its garage apartment – was no easy feat.
When the first stepped inside the 1960's split-level, it was dark, dated and filled with faux wood paneling. Rooms were disjointed, interior fixtures and railings obsolete, and the offbeat red and gray exterior in disrepair (the deck was hardly attached). They also had another directive: The client, a hardworking woman in her 30s, wanted it to read like a stylish hotel getaway.
Over the course of a year, the Pulp team worked with Laredo-based Modern Construction. They gutted and reimagined every square inch, starting with the front. The property's usual layout – the swimming pool is just outside the front door – resulted in fresh graphite exterior paint and new cedar fencing, along with building out a massive patio and iron-railed stairway leading to the boat dock and water in back. In the patio's outdoor kitchen, they incorporated both seating and dining spaces, and a bar with a built-in trough sink for grab-and-go drinks.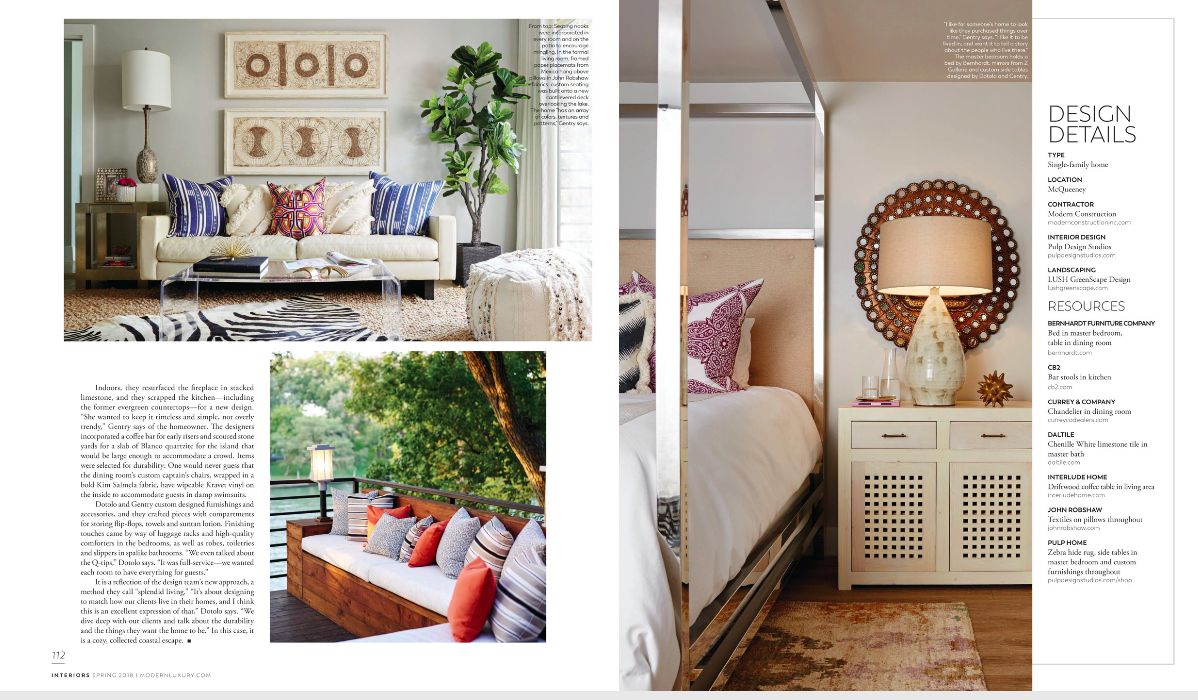 Indoors, they resurfaced the fireplace in stacked limestone, and they scrapped the kitchen – including the former evergreen countertops – for a new design. "She wanted to keep it timeless and simple, not overly trendy," Gentry says of the homeowner. The designers incorporated a coffee bar for early risers and scoured stone yards for a slab of Blanco quartzite for the island that would be large enough to accommodate a crowd. Items were selected for durability: One would never guess that the dining room's custom captain's chair, wrapped in a bold Kim Salmela fabric, have wipeable Kravet vinyl on the island to accommodate guests in damp swimsuits.
Dotolo and Gentry custom designed furnishings and accessories, and they crafted pieces with compartments for storing flip-flops, towel and suntan lotion. Finishing touches came by way of luggage racks and high-quality comforters in the bathrooms, as well as robes, toiletries and slippers in spalike bathrooms. "We even talked about Q-tips, " Dotolo says. "It was full-service – we wanted each room to have everything for guests."
It is a reflection of the design team's new approach, a method they call "splendid living." "It's about designing to match how our clients live in their homes, and I think this is an excellent expression of that," Dotolo says. "We dive deep with our clients and talk about durability and the things they want he home to be." In this case, it is a cozy, collected coastal escape.
"I like for someone's home to look like they purchased things over time." Gentry says. "I like it to be lived in, and want it to tell a story about the people who live there." The master bedroom holds a bed by Bernhardt, mirrors from Z Gallerie and custom side tables designed by Dotolo and Gentry.
DESIGN DETAILS
TYPE: Single-family home
LOCATION: McQueeney
CONTRACTOR: Modern Construction | modernconstructioninc.com
INTERIOR DESIGN: Pulp Design Studios
LANDSCAPING: LUSH GreenScape Design | lushgreenscape.com