NKBA — Innovation + Inspiration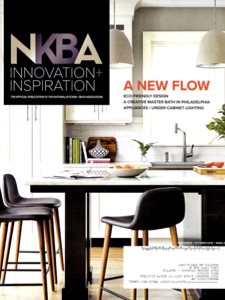 NKBA Innovation + Inspiration — September/October 2018
WHAT I DID ON MY SUMMER VACATION
Finding Inspiration The World Over
Designers design, and when they're not designing, they're often thinking about design or being inspired for their next design. They can't help it! Often this inspiration comes from travel, both near and far–whether to design-centric shows or out in the world, across continents or across town, these pros can spot a trend an ocean away. So NKBA asked the 2018 Insiders to report on some of their most inspirational sightings and product discoveries from the first half of the year.
BETH DOTOLO AND CAROLINA GENTRY, PULP DESIGN STUDIOS
Textile artisans celebrate the art and craft of weaving
This trend showcases globally inspired patterns and colorways, as in our Pulp Design Studios for S. Harris collection of textiles. It's inspired by faraway locations, other cultures, and the artisans who have passed down their patterns from generation to generation. The past is inspiring the future.
It's all about matte finishes this summer, especially matte black
We saw this trend in so many showrooms at KBIS, but we're also finding the trend on walls and in cabinetry, lamps, and accessories. We've been so inspired by this look that we added matte finishes to our collection of Starburst Pull hardware. We love how it brings the drama in a quieter way.
Figurative sculptural elements are the next big thing
We saw them everywhere we turned at High Point Market, as in this table from Oly Studio. We are all seeking comfort in uncertain times, and our interiors are trending this way, with a greater focus on natural elements and soft, sculptural details.