Rip & Tan – Talking Timeless Interiors With Pulp Design Studios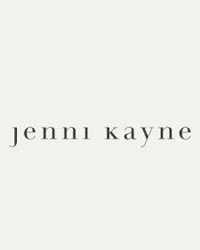 Rip and Tan – February 9, 2022
Talking Timeless Interiors With Pulp Design Studios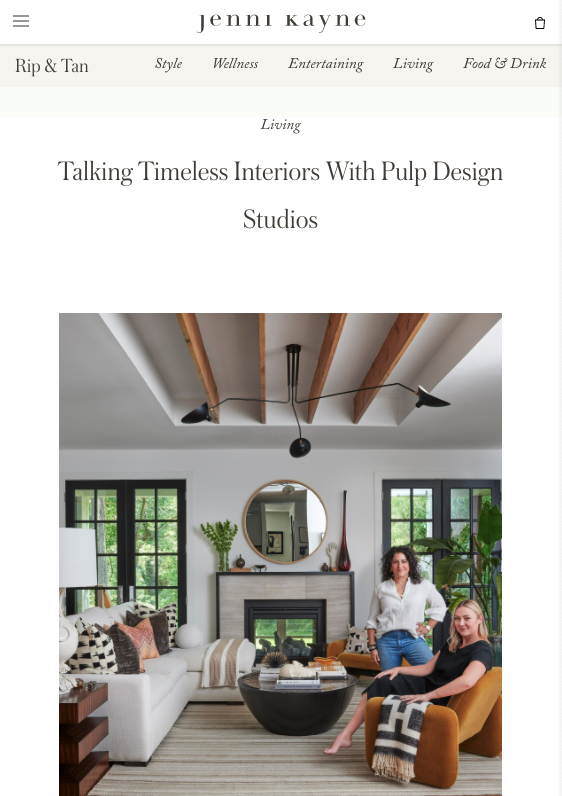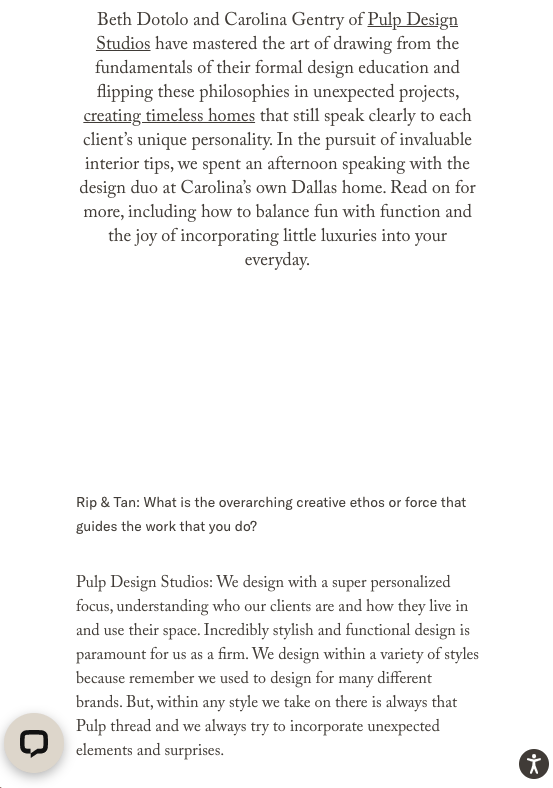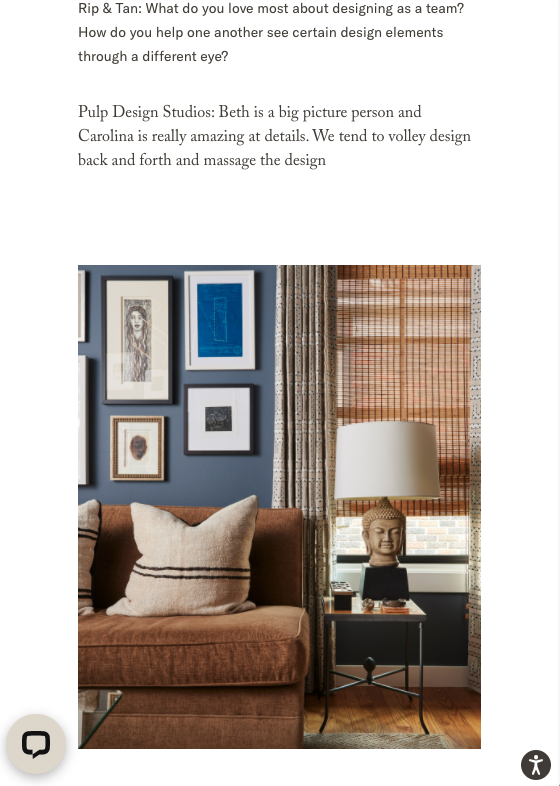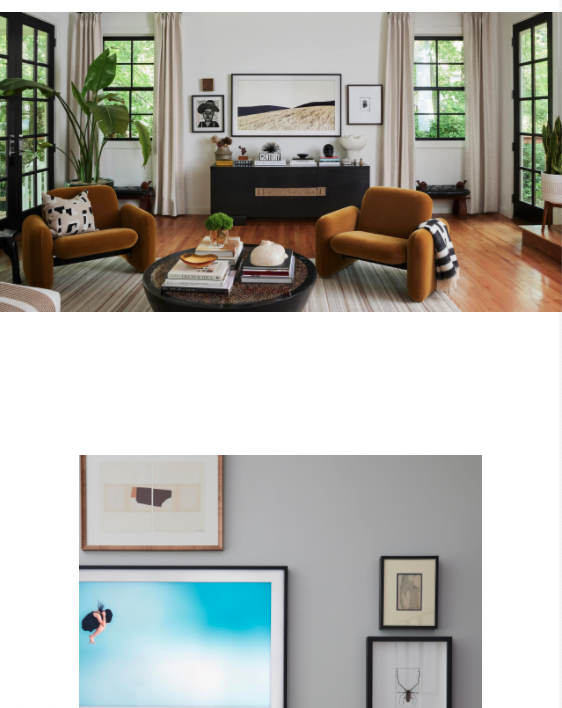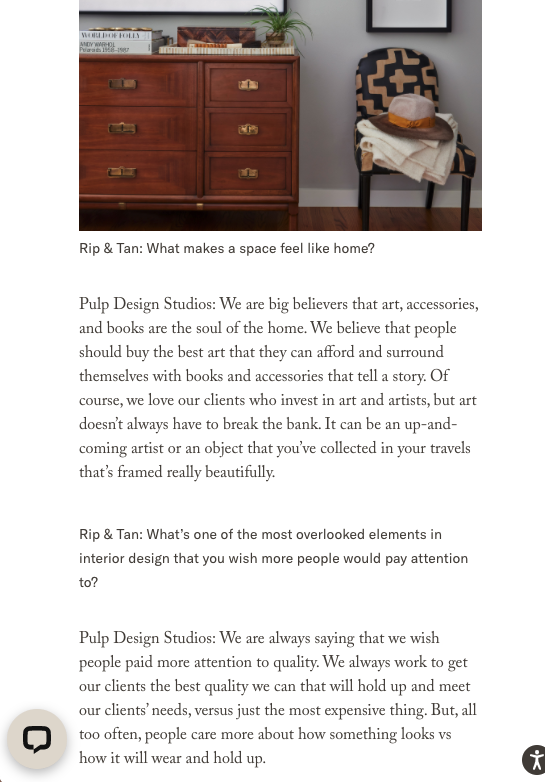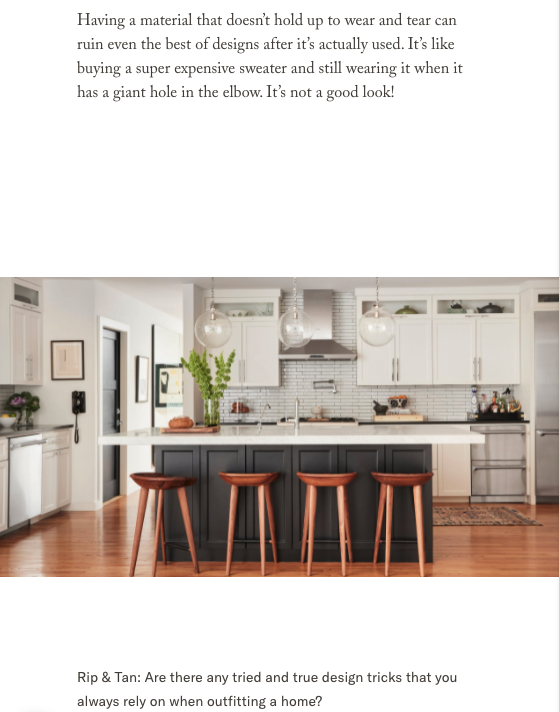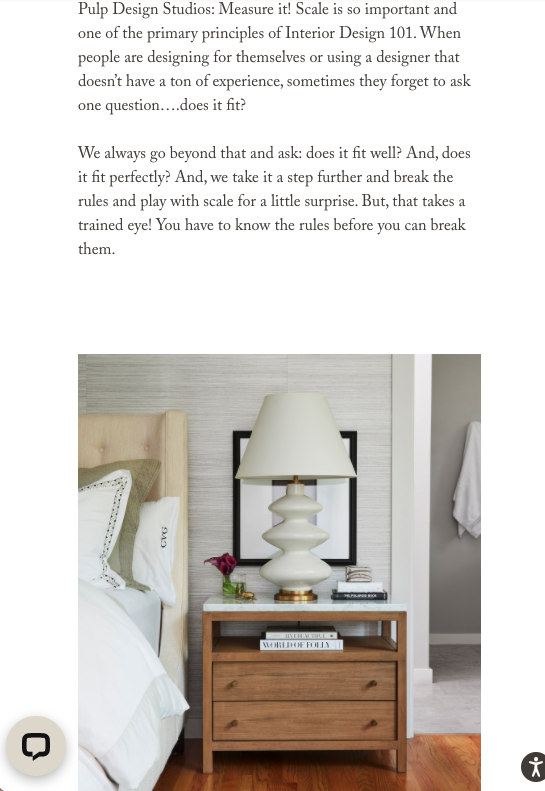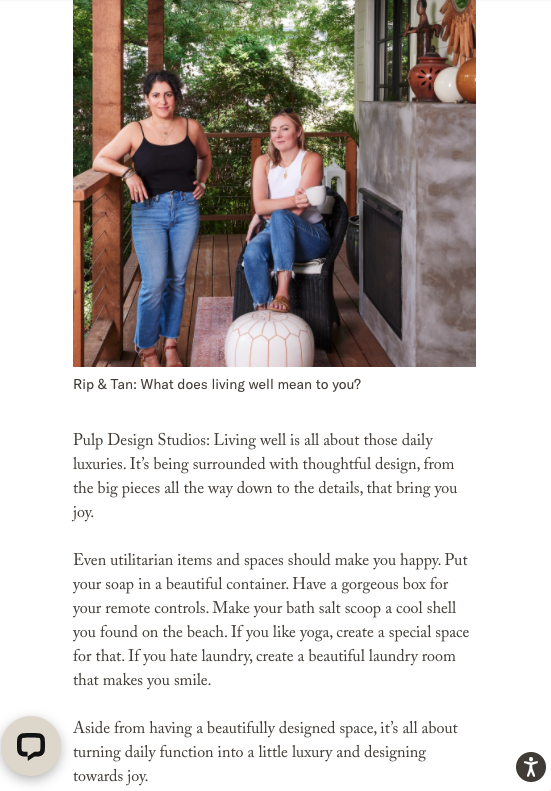 Beth Dotolo and Carolina Gentry of Pulp Design Studios have mastered the art of drawing from the fundamentals of their formal design education and flipping these philosophies in unexpected projects, creating timeless homes that still speak clearly to each client's unique personality. In the pursuit of invaluable interior tips, we spent an afternoon speaking with the design duo at Carolina's own Dallas home. Read on for more, including how to balance fun with function and the joy of incorporating little luxuries into your everyday.
Rip & Tan: What is the overarching creative ethos or force that guides the work that you do?
Pulp Design Studios: We design with a super personalized focus, understanding who our clients are and how they live in and use their space. Incredibly stylish and functional design is paramount for us as a firm. We design within a variety of styles because remember we used to design for many different brands. But, within any style we take on there is always that Pulp thread and we always try to incorporate unexpected elements and surprises.
Rip & Tan: What do you love most about designing as a team? How do you help one another see certain design elements through a different eye?
Pulp Design Studios: Beth is a big picture person and Carolina is really amazing at details. We tend to volley design back and forth and massage the design
Rip & Tan: What makes a space feel like home?
Pulp Design Studios: We are big believers that art, accessories, and books are the soul of the home. We believe that people should buy the best art that they can afford and surround themselves with books and accessories that tell a story. Of course, we love our clients who invest in art and artists, but art doesn't always have to break the bank. It can be an up-and-coming artist or an object that you've collected in your travels that's framed really beautifully.
Rip & Tan: What's one of the most overlooked elements in interior design that you wish more people would pay attention to?
Pulp Design Studios: We are always saying that we wish people paid more attention to quality. We always work to get our clients the best quality we can that will hold up and meet our clients' needs, versus just the most expensive thing. But, all too often, people care more about how something looks vs how it will wear and hold up.
Having a material that doesn't hold up to wear and tear can ruin even the best of designs after it's actually used. It's like buying a super expensive sweater and still wearing it when it has a giant hole in the elbow. It's not a good look!
Rip & Tan: Are there any tried and true design tricks that you always rely on when outfitting a home?
Pulp Design Studios: Measure it! Scale is so important and one of the primary principles of Interior Design 101. When people are designing for themselves or using a designer that doesn't have a ton of experience, sometimes they forget to ask one question….does it fit?
We always go beyond that and ask: does it fit well? And, does it fit perfectly? And, we take it a step further and break the rules and play with scale for a little surprise. But, that takes a trained eye! You have to know the rules before you can break them.
Rip & Tan: What does living well mean to you?
Pulp Design Studios: Living well is all about those daily luxuries. It's being surrounded with thoughtful design, from the big pieces all the way down to the details, that bring you joy.
Even utilitarian items and spaces should make you happy. Put your soap in a beautiful container. Have a gorgeous box for your remote controls. Make your bath salt scoop a cool shell you found on the beach. If you like yoga, create a special space for that. If you hate laundry, create a beautiful laundry room that makes you smile.
Aside from having a beautifully designed space, it's all about turning daily function into a little luxury and designing towards joy.