Veranda – An Exclusive Look at the Exuberant Design of the 2021 Kips Bay Decorator Show House Dallas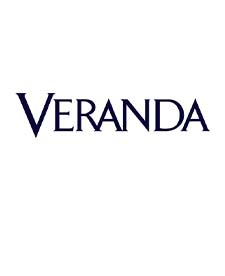 Veranda – September 22, 2021
By: Lauren Wicks
An Exclusive Look at the Exuberant Design of the 2021 Kips Bay Decorator Show House Dallas – Discover the impeccable design of each room in this year's Show House, from the soothing to the fantastical.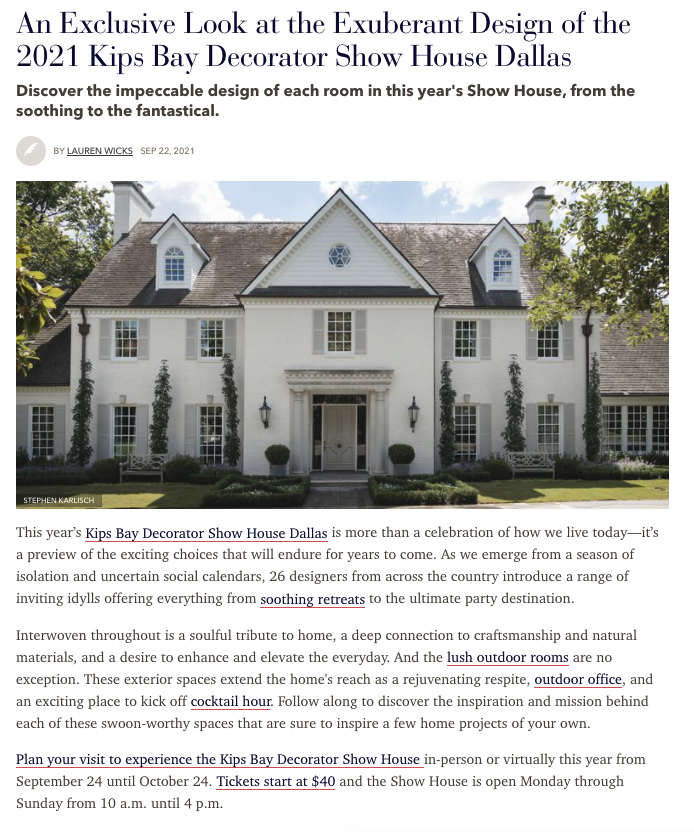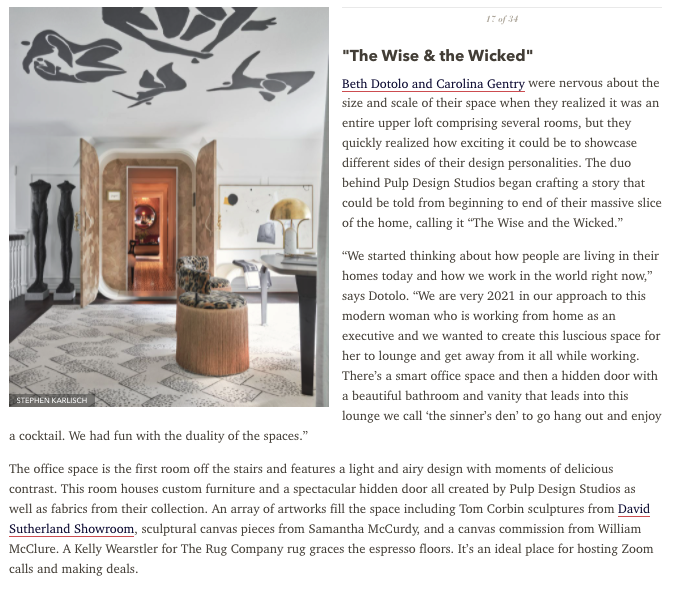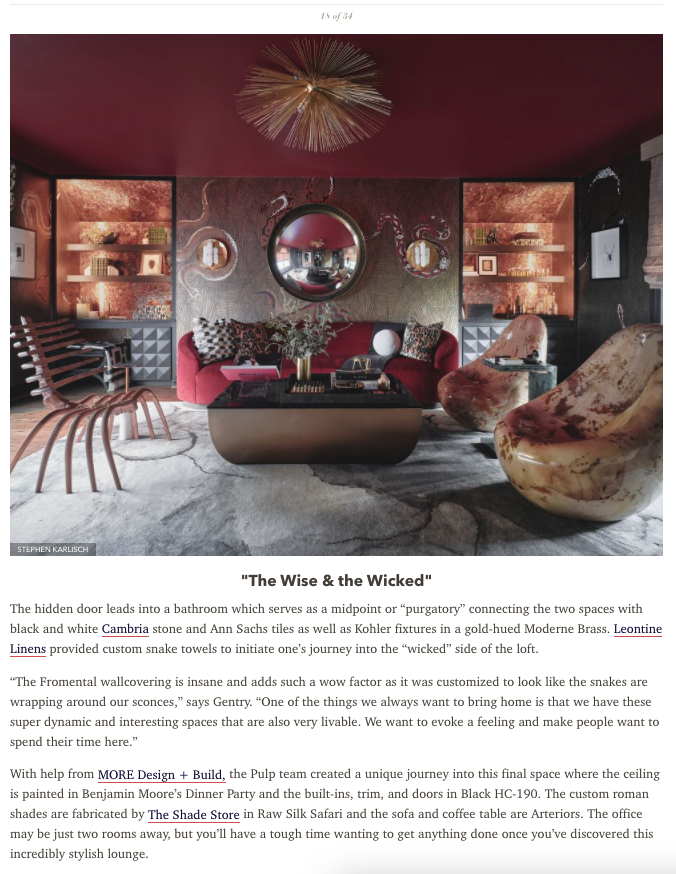 This year's Kips Bay Decorator Show House Dallas is more than a celebration of how we live today—it's a preview of the exciting choices that will endure for years to come. As we emerge from a season of isolation and uncertain social calendars, 26 designers from across the country introduce a range of inviting idylls offering everything from soothing retreats to the ultimate party destination.
Interwoven throughout is a soulful tribute to home, a deep connection to craftsmanship and natural materials, and a desire to enhance and elevate the everyday. And the lush outdoor rooms are no exception. These exterior spaces extend the home's reach as a rejuvenating respite, outdoor office, and an exciting place to kick off cocktail hour. Follow along to discover the inspiration and mission behind each of these swoon-worthy spaces that are sure to inspire a few home projects of your own.
Plan your visit to experience the Kips Bay Decorator Show House in-person or virtually this year from September 24 until October 24. Tickets start at $40 and the Show House is open Monday through Sunday from 10 a.m. until 4 p.m.
"The Wise & the Wicked"
Beth Dotolo and Carolina Gentry were nervous about the size and scale of their space when they realized it was an entire upper loft comprising several rooms, but they quickly realized how exciting it could be to showcase different sides of their design personalities. The duo behind Pulp Design Studios began crafting a story that could be told from beginning to end of their massive slice of the home, calling it "The Wise and the Wicked."
"We started thinking about how people are living in their homes today and how we work in the world right now," says Dotolo. "We are very 2021 in our approach to this modern woman who is working from home as an executive and we wanted to create this luscious space for her to lounge and get away from it all while working. There's a smart office space and then a hidden door with a beautiful bathroom and vanity that leads into this lounge we call 'the sinner's den' to go hang out and enjoy a cocktail. We had fun with the duality of the spaces."
The office space is the first room off the stairs and features a light and airy design with moments of delicious contrast. This room houses custom furniture and a spectacular hidden door all created by Pulp Design Studios as well as fabrics from their collection. An array of artworks fill the space including Tom Corbin sculptures from David Sutherland Showroom, sculptural canvas pieces from Samantha McCurdy, and a canvas commission from William McClure. A Kelly Wearstler for The Rug Company rug graces the espresso floors. It's an ideal place for hosting Zoom calls and making deals.
"The Wise & the Wicked"
The hidden door leads into a bathroom which serves as a midpoint or "purgatory" connecting the two spaces with black and white Cambria stone and Ann Sachs tiles as well as Kohler fixtures in a gold-hued Moderne Brass. Leontine Linens provided custom snake towels to initiate one's journey into the "wicked" side of the loft.
"The Fromental wallcovering is insane and adds such a wow factor as it was customized to look like the snakes are wrapping around our sconces," says Gentry. "One of the things we always want to bring home is that we have these super dynamic and interesting spaces that are also very livable. We want to evoke a feeling and make people want to spend their time here."
With help from MORE Design + Build, the Pulp team created a unique journey into this final space where the ceiling is painted in Benjamin Moore's Dinner Party and the built-ins, trim, and doors in Black HC-190. The custom roman shades are fabricated by The Shade Store in Raw Silk Safari and the sofa and coffee table are Arteriors. The office may be just two rooms away, but you'll have a tough time wanting to get anything done once you've discovered this incredibly stylish lounge.