8/10/22
Highland Park French Provincial House Tour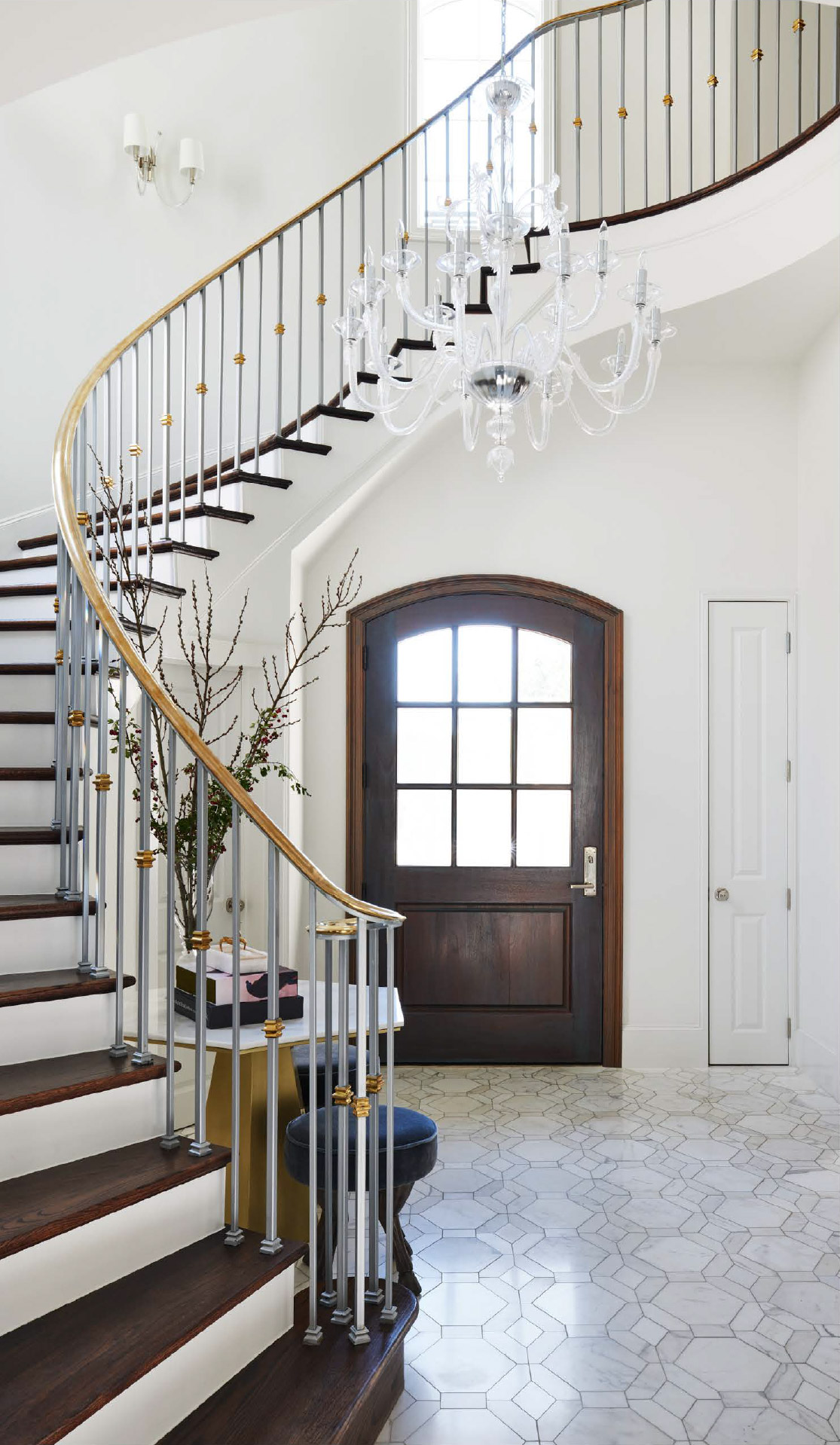 A young professional couple was looking for a second house in Dallas – but not as a vacation home. They have a home base in Minneapolis, but found themselves traveling to Dallas on a consistent basis so an investment in a Texas home was a smart idea. They found a great location but called Pulp's team in because the house had outdated interiors. They wanted Pulp to take the French Provincial bones of the Highland Park house and give them a fresh modern update. Let's take a tour of the fabulous final interiors!
Entry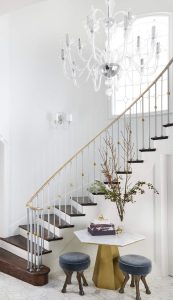 Pulp's micro-renovation package was the perfect solution for what these clients needed. It offers smart home refreshes and furnishings packages with a nip-and-tuck approach to updating a house. We quickly got to work with fabulous updates, including fixtures, lighting, wallpaper, paint, drapery, and furnishings. You can see in this entry how a chic light fixture and a modern table took the look from dated to delicious!
Living Room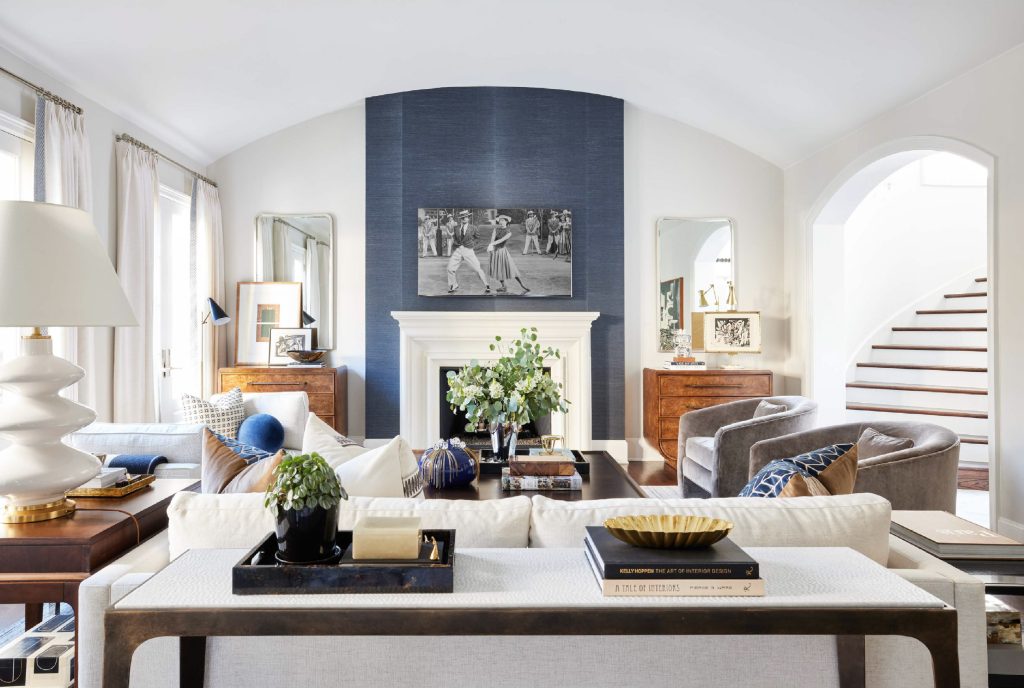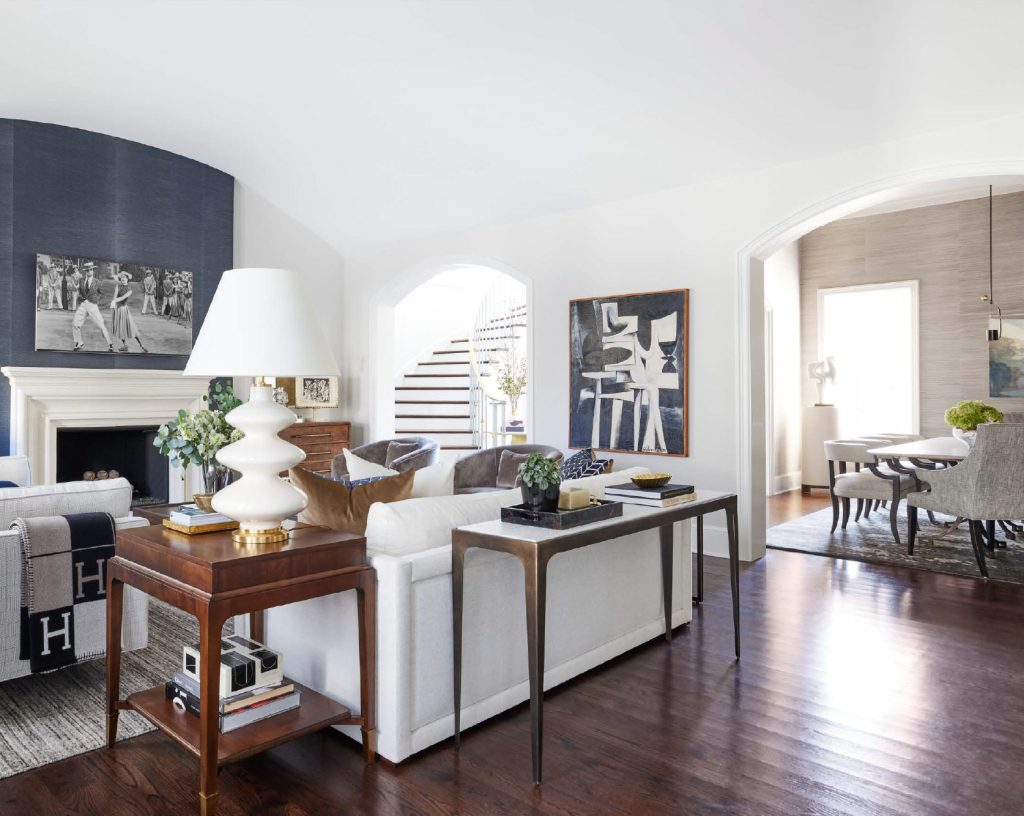 In the living room, we added a stunning blue wallcovering behind the fireplace, which gave the room a sophisticated focal point. The clients also had a little one on the way, as well as two beloved dogs, so performance fabrics definitely needed to be in the mix in this room.
Dining Room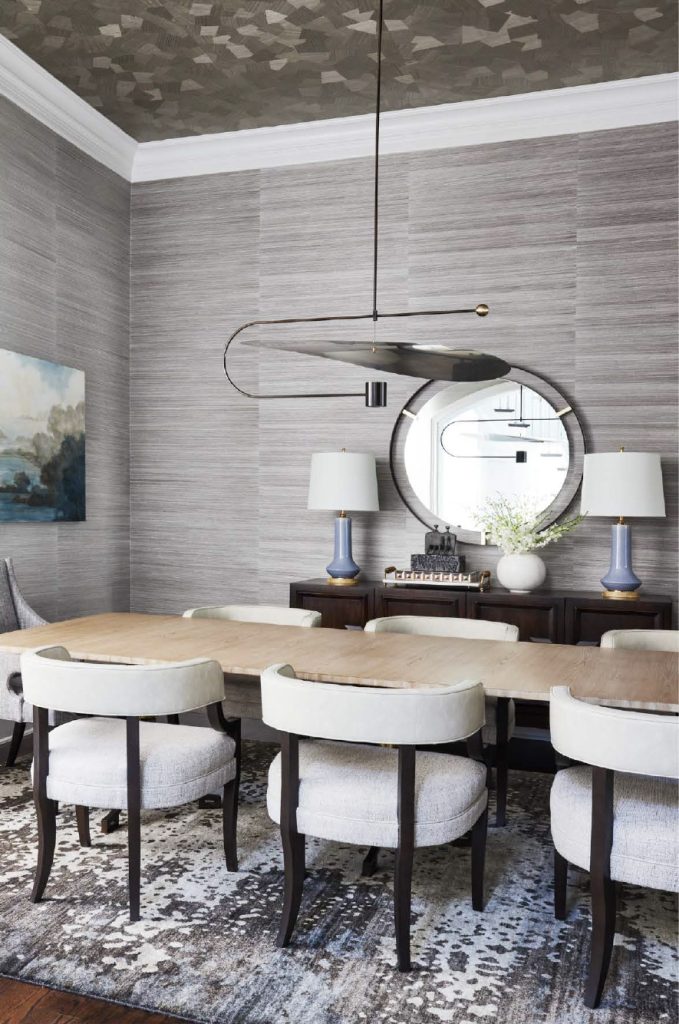 It's incredible how much you can change interiors with paint and wallpaper, especially with this stunning wallcovering we placed on the ceiling of the dining room. And how beautiful is that light fixture? The Pulp team prides itself on being able to source the most interesting and gorgeous lighting, art, and furniture.
Kitchen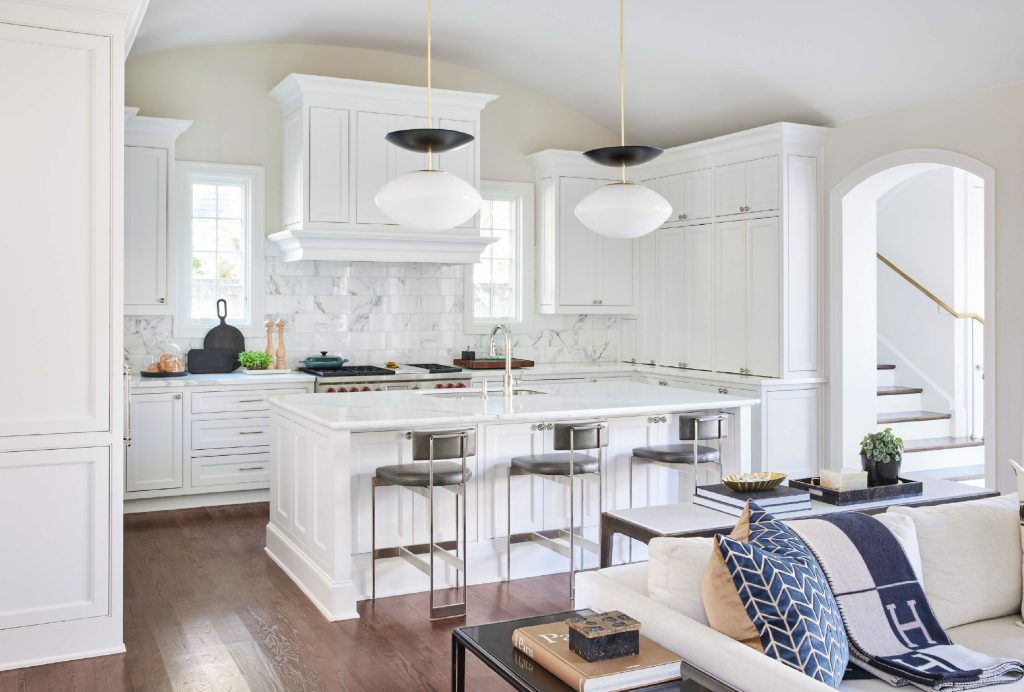 Another key to a good micro-renovation is to create a gorgeous space, but to also make it function for our clients' lifestyle. So we added a lot of custom cabinetry and storage in the home, particularly in the kitchen. To counterbalance the more traditional cabinetry, we used super-modern pendants over the kitchen island, as well as contemporary stools.
Home Office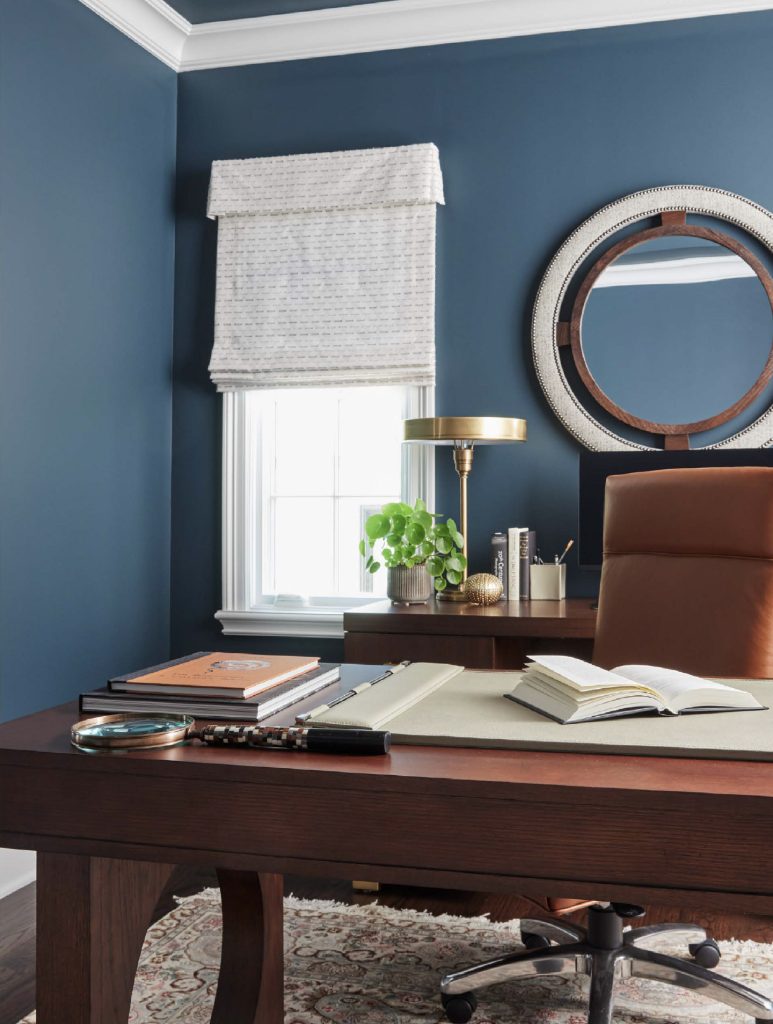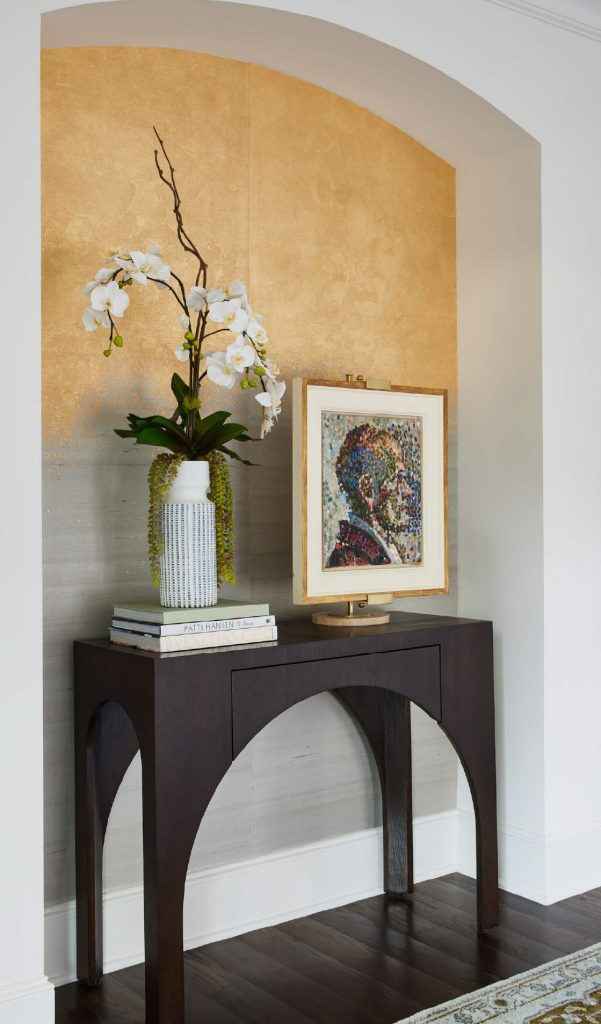 As you can see in the home office and the small nook in a hall outside the office, color can make all the difference in changing the look of a home. We brought in a bold blue for the office, as well as a modern mirror and desk. It took the original design of this space and turned it into a much more contemporary style that our clients were looking for. And in the nook, we showcased an ombre wallcovering that draws the eye and also serves as a bold backdrop for the art.
Powder Room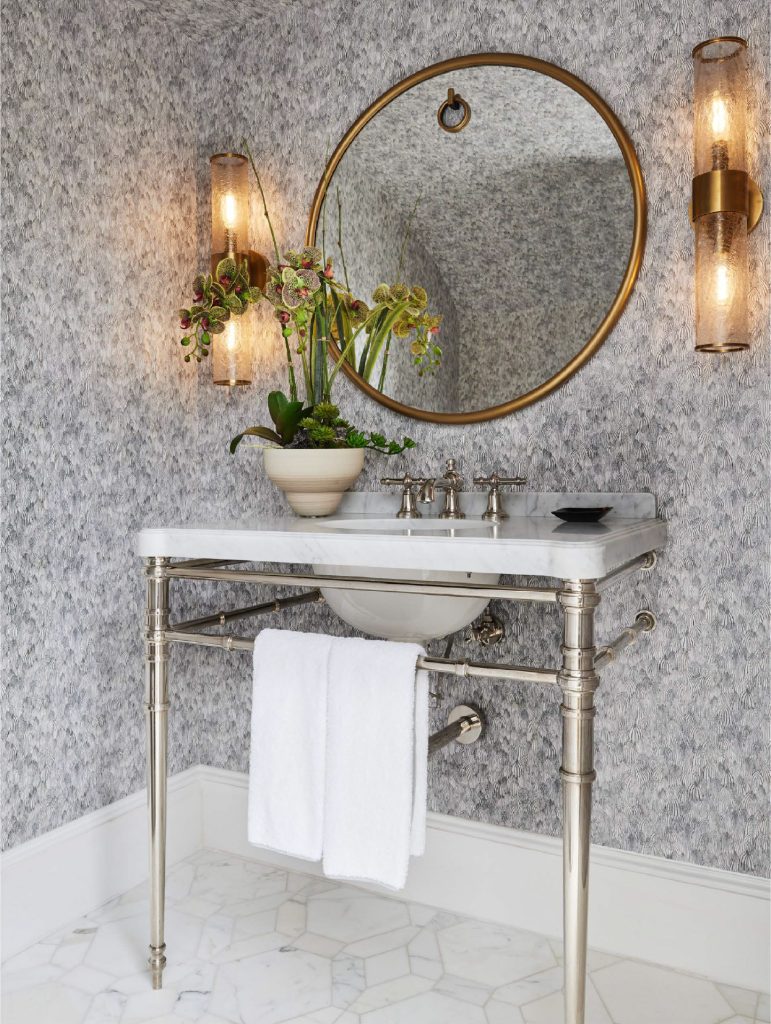 New lighting really can make a huge difference when updating a home's interiors and the Here's another example of the unique and special pieces that the Pulp team brought to this project. The lighting throughout the house has been updated, including some spectacular sconces, pendants, and chandeliers.
Media Room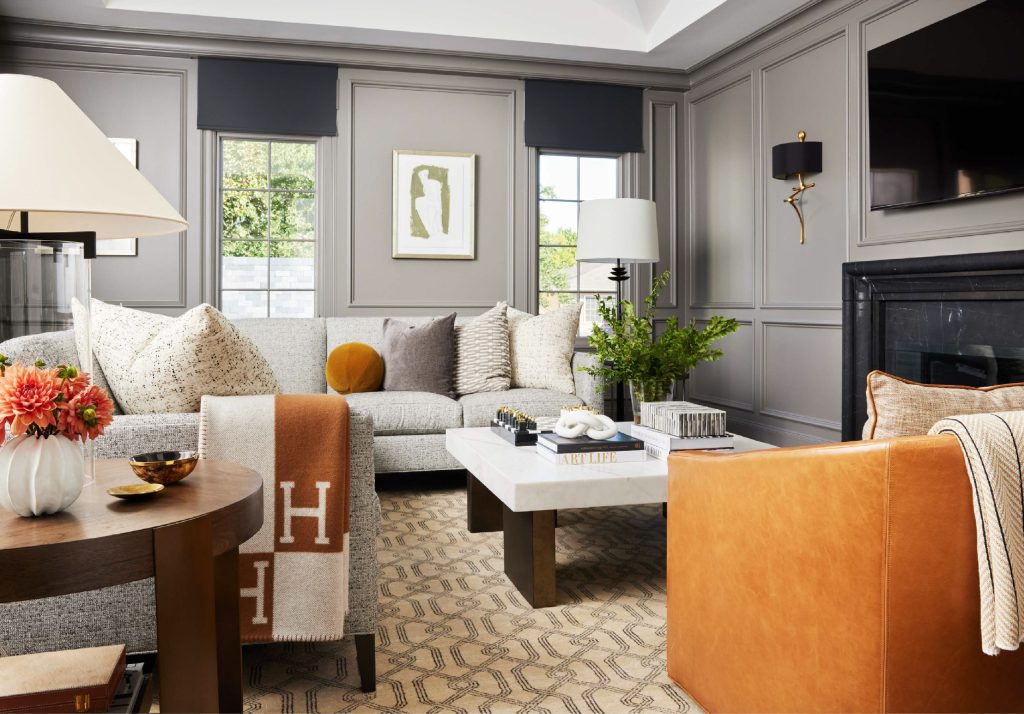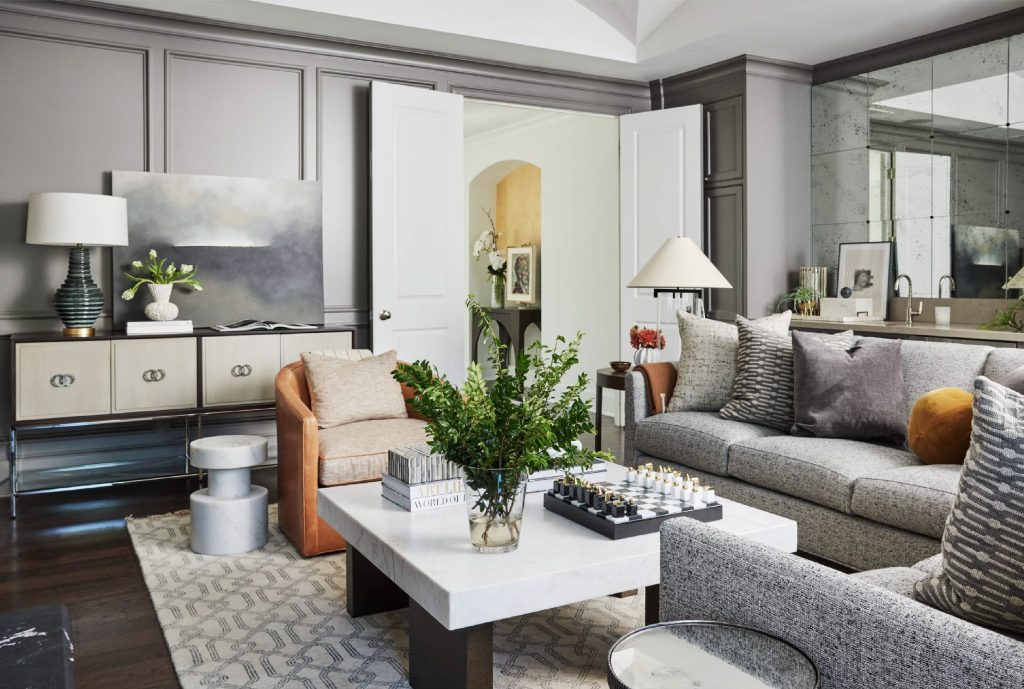 The room that required the most work – and the space that the Pulp team was most excited about – is the media room. We designed paneled walls to add visual interest and to help with acoustics. We also made sure that there are plenty of speakers installed so the surround sound will be amazing. And we added a new stone fireplace.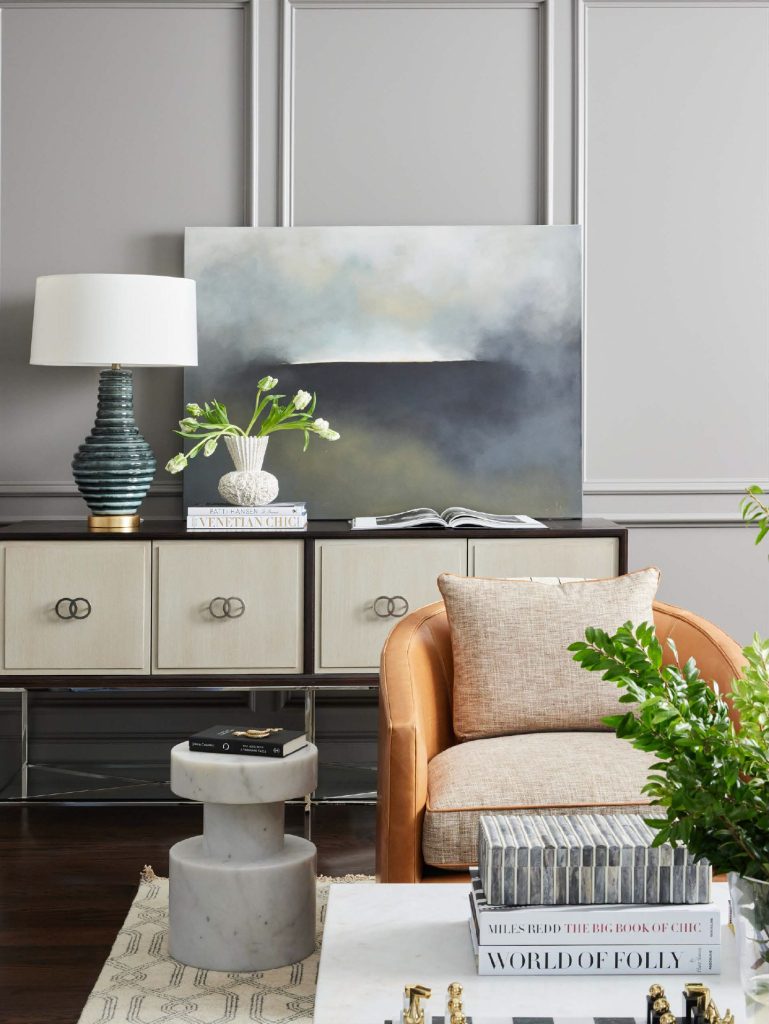 We also worked closely with our clients to source special pieces of original
art and unique accents for each room that will showcase their personalities.
Primary Suite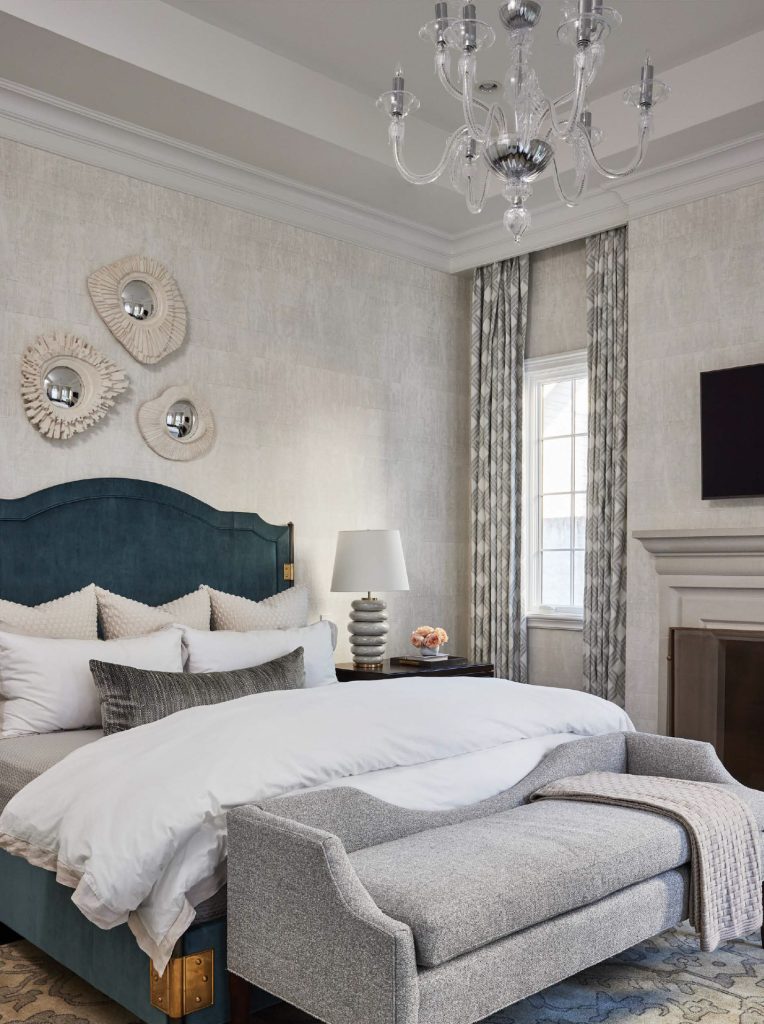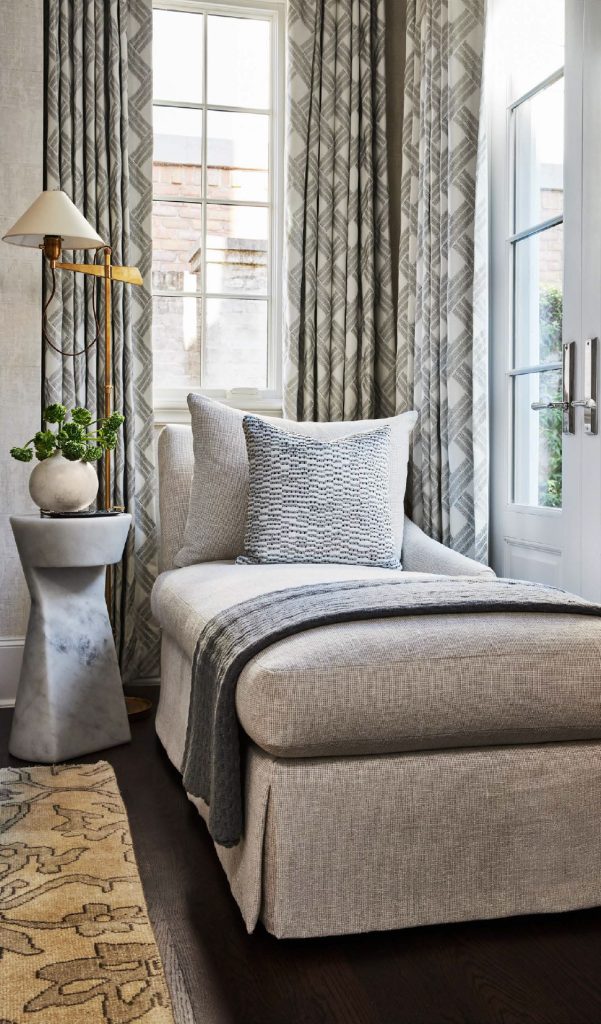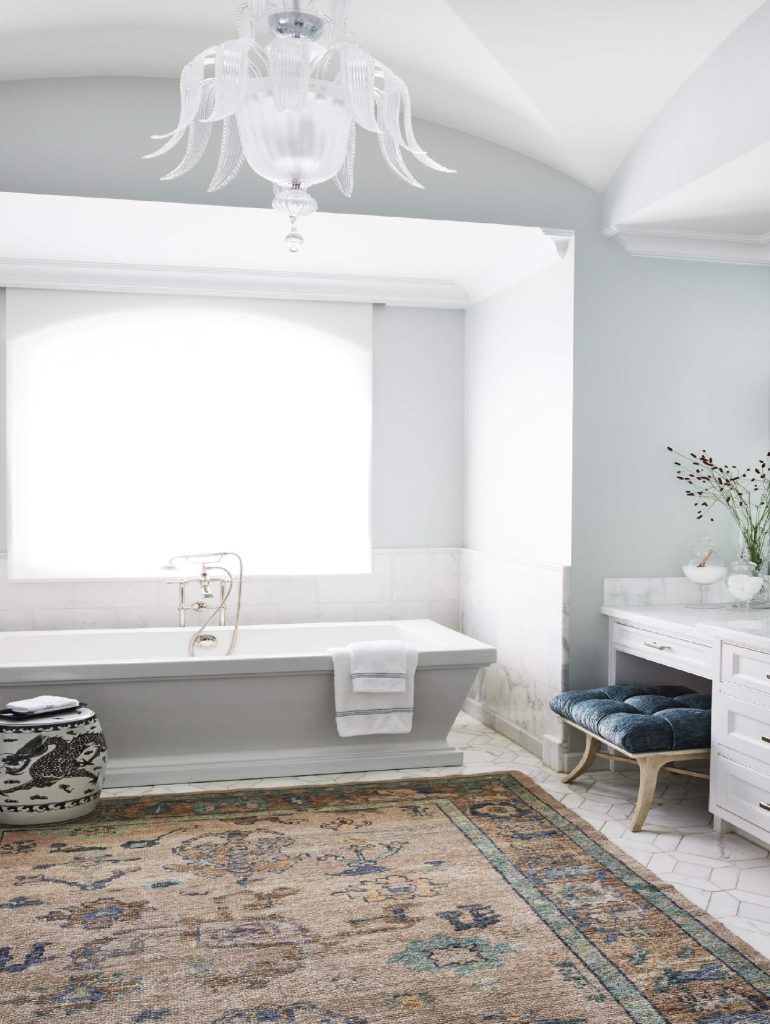 In the primary suite, we created an oasis of calm with a neutral palette that's complemented by a spa blue color. Modern lines and luxe layering make the bedroom an incredibly lush and updated space for our hardworking clients. And the spa-like bathroom features a low-profile and long tub. Perfect for soaking away stress!
Outdoor Space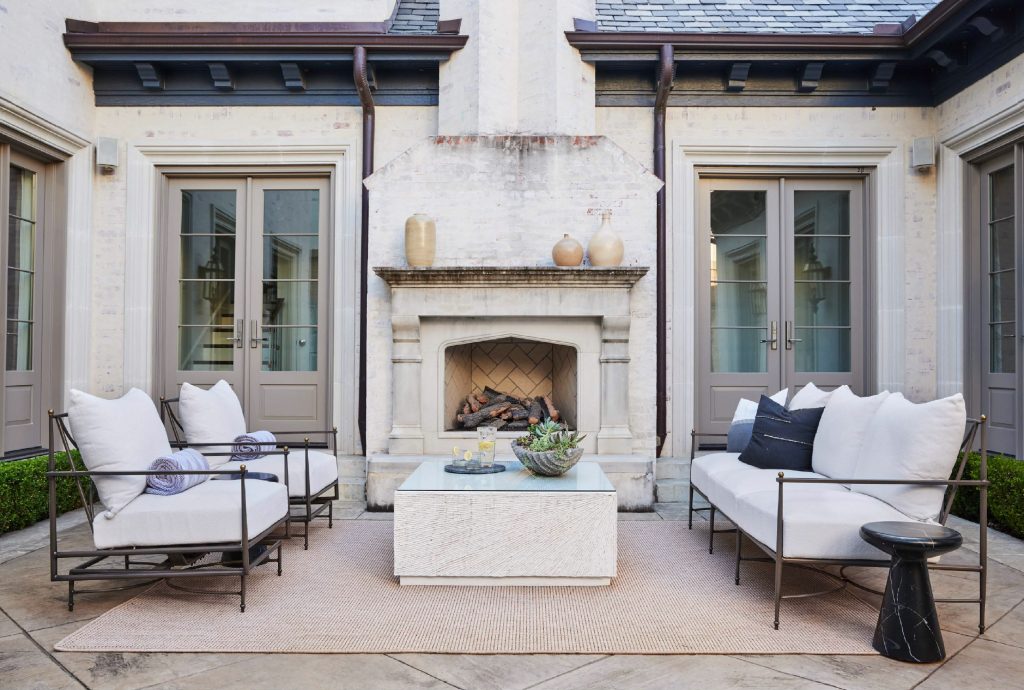 The home had a stunning outdoor terrace with an ornate and patinated fireplace. Rather than competing with the architectural details, we brought in furniture with sleek modern shaping. That lets the fireplace take the spotlight, while the furnishings become beautiful supporting players.
Do you want to see more of this lovely house? Just click here to view it on our portfolio! And be sure to follow us on Instagram (@pulpdesigns) by clicking here – that's where we give you all the latest info and sneak peeks at what we're up to.
Credits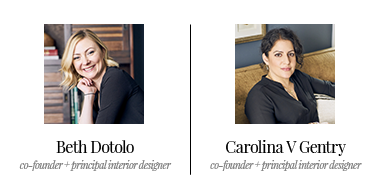 GET INSPIRED
SUBSCRIBE TO OUR NEWSLETTER TO
GET AN INSIDER LOOK IN YOUR INBOX