11/17/15
Spellbound – a Guildery Collection Styled by Pulp Design Studios
Pulp Design Studios was asked to style a collection by Guildery, a company that produces made-to-order products. Beth and Carolina curated a decorative fabric collection to have a look already styled for shoppers. For their Styled-By they chose an eclectic blend of three fabrics that express a bold, distinctive style.
Like art, pattern is subjective and it takes a trained eye to achieve those interesting balances that reflect the homeowner. We chose this combination because we love to have an eclectic blend in our projects that screams individuality. Unexpected pattern matches, like the Splotch pattern combined with the more geometric Fret Sketch, creates a balance that is warm and filled with personality. – Pulp Design Studios

Shop the entire collection here!
Credits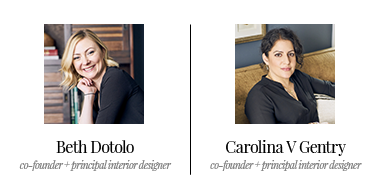 GET INSPIRED
SUBSCRIBE TO OUR NEWSLETTER TO
GET AN INSIDER LOOK IN YOUR INBOX