11/4/19
Pulp at Home: Beth's Custom Performance Dining Chairs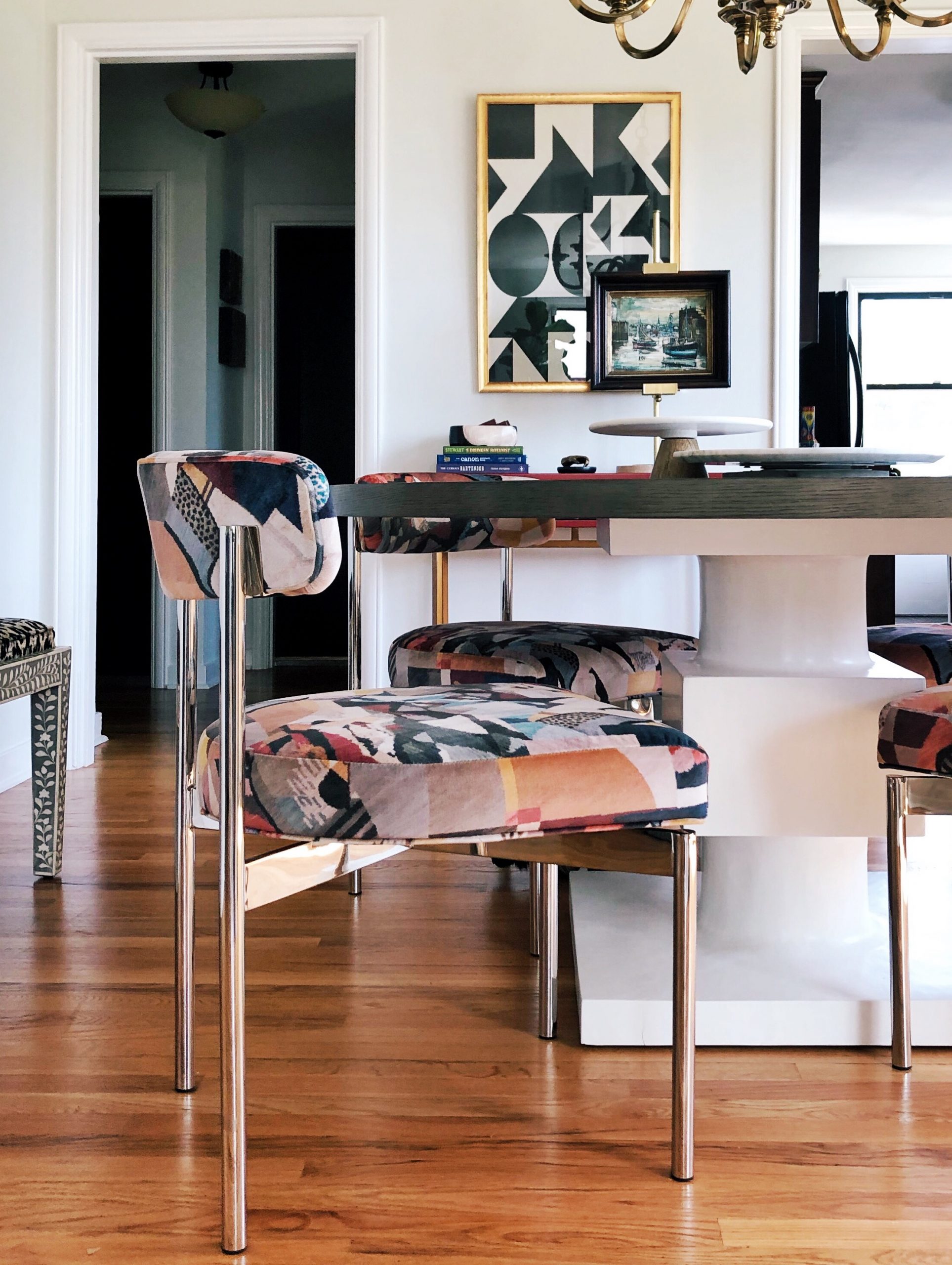 When it came to choosing the dining chairs for my own home, it was a decision I didn't take lightly. Funny enough, dining chairs can be one of the larger investments for a client's furnishing package. Depending on the size of your dining room, whatever chair you choose, you have to multiply that times 4, times 8, or sometimes… times 20! Luckily, I have a smaller dining room and can really only fit 6 chairs. Either way, it adds up.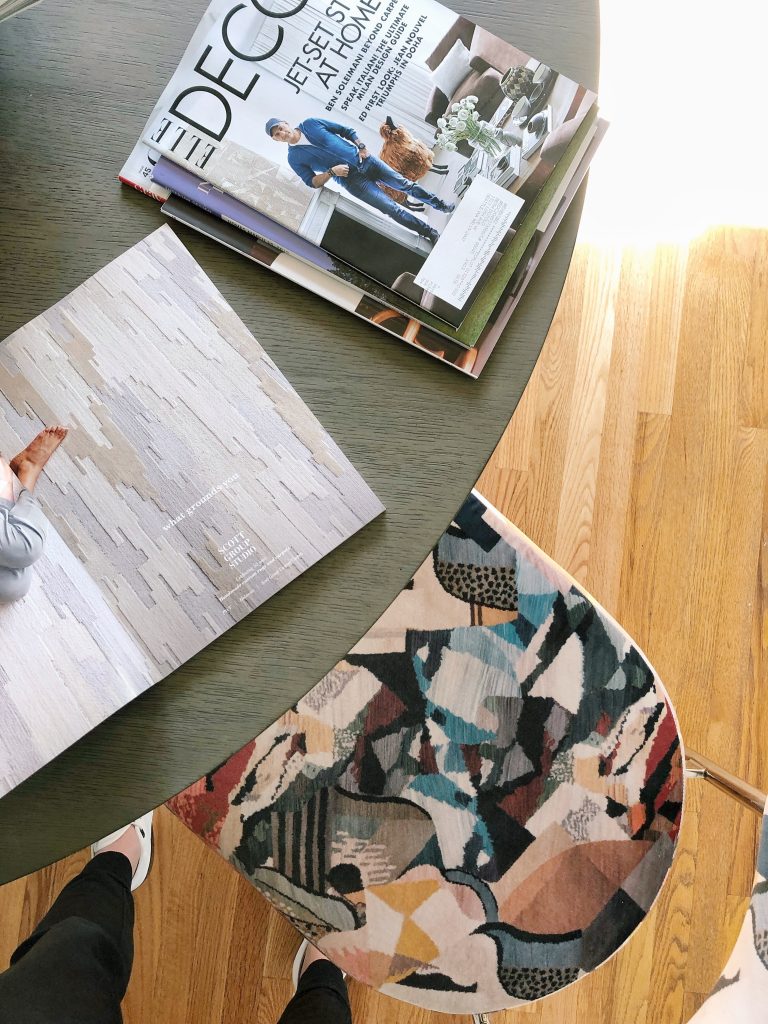 More importantly, is that I wanted my dining chairs to hold up to the every day wear and tear of my two kids and hold up to the use they often get when we're entertaining friends. Our dining room is also the main table we use for everyday meals… remember, I live in Seattle where space is at a premium! And, I love that we eat all of our meals together here.
So, I found a fabric that I absolutely loved from S. Harris… Godwin in color, Earthwind. You may remember that we have a liscensed collection with S. Harris, but this fabric is from another collection created by their creative director. So, we can't take credit for it. But, I was instantly smitten… and, strangely enough, a little unsure I wanted it in my home. It is such a funky pattern and a bold one, at that. But, when I thought through that question, I knew I needed that fabric.
First of all, you only live once. Secondly, it's always the items our clients are unsure of, that when they trust us and say 'Yes!'… it's the piece in their home they love the most!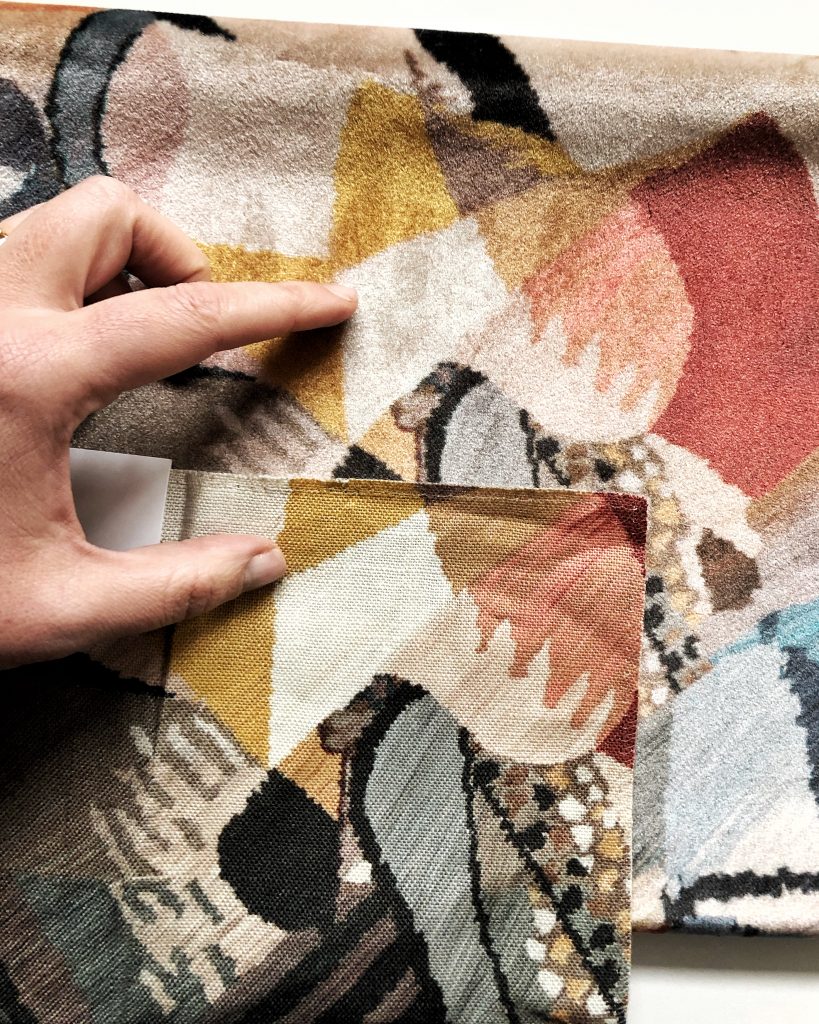 So, I decided to just go for it! There was only one problem… linen, food, and small children (and, drinking adults) don't mix. Since I knew the process we were going through to create our Pulp Design Studios for S. Harris Hospitality Collection (launching this month!), I took that fabric to the S. Harris creative director and asked if I could have it made into a performance velvet! And, it was absolutely possible. Sometimes you never know what can be accomplished until you push your collaborators. And, not only was it possible at small yardages… it was less expensive! Those are the kinds of hoops we love to jump through to push our projects and get amazing style and quality for our client's investment.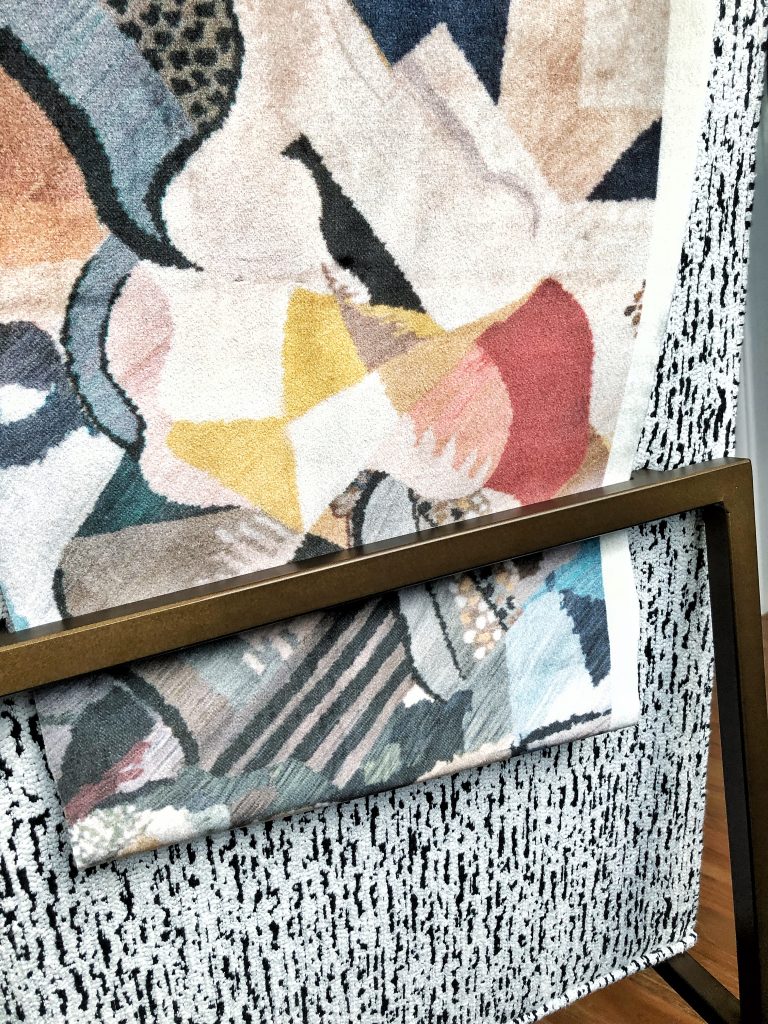 Now, to find a chair! We had recently installed some Mitchell Gold + Bob Williams chairs in one of our beloved client's high rise condo. I absolutely loved them! I knew they were comfortable before we even specified them for our client- because we always go high and low to sit test before we suggest anything to a client- and, our client confirmed that after living with them that they would spend hours hosting long dinners, game nights, and book clubs. They are always complimented  by guests for their comfort. So, I was sold.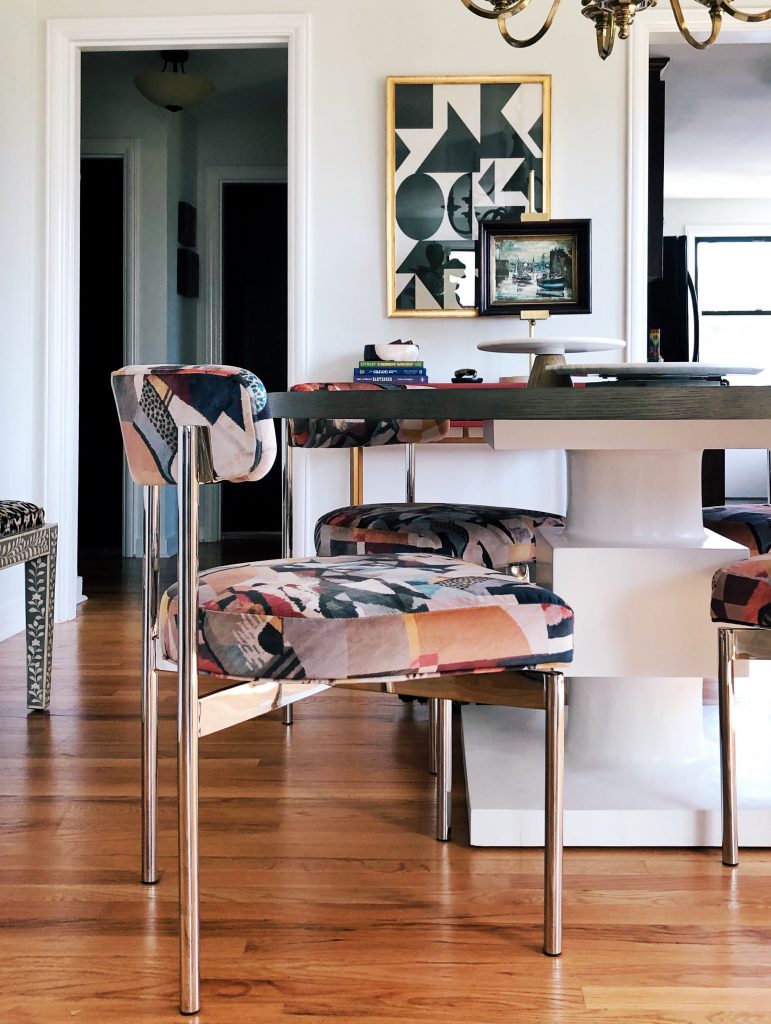 Our new chairs are incredibly comfortable and the lush velvet makes them feel absolutely buttery soft to sit in. And, perhaps, one of my favorite parts of my dining chairs is that I specified that they not pattern match when upholstering the chairs. Since the pattern repeat is so large, no chair is the same. I love how uniquely stylish they are!
WHAT'S NEXT IN THE #FIGTREERAMBLER DINING ROOM?
Before we tackle some of the larger Kitchen and Bath renovations, we're going to keep playing with getting the spaces we use every day happy and finished out with key furnishings.
Here's my checklist, for now…
A new chandelier
Art over the bench
Drapery for the windows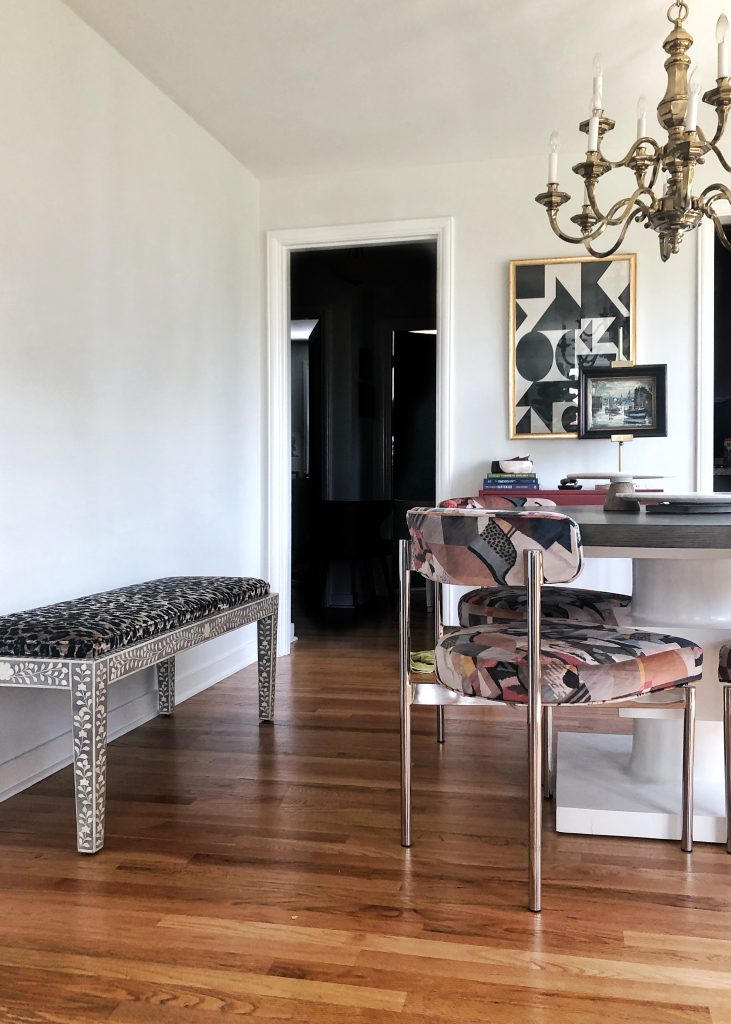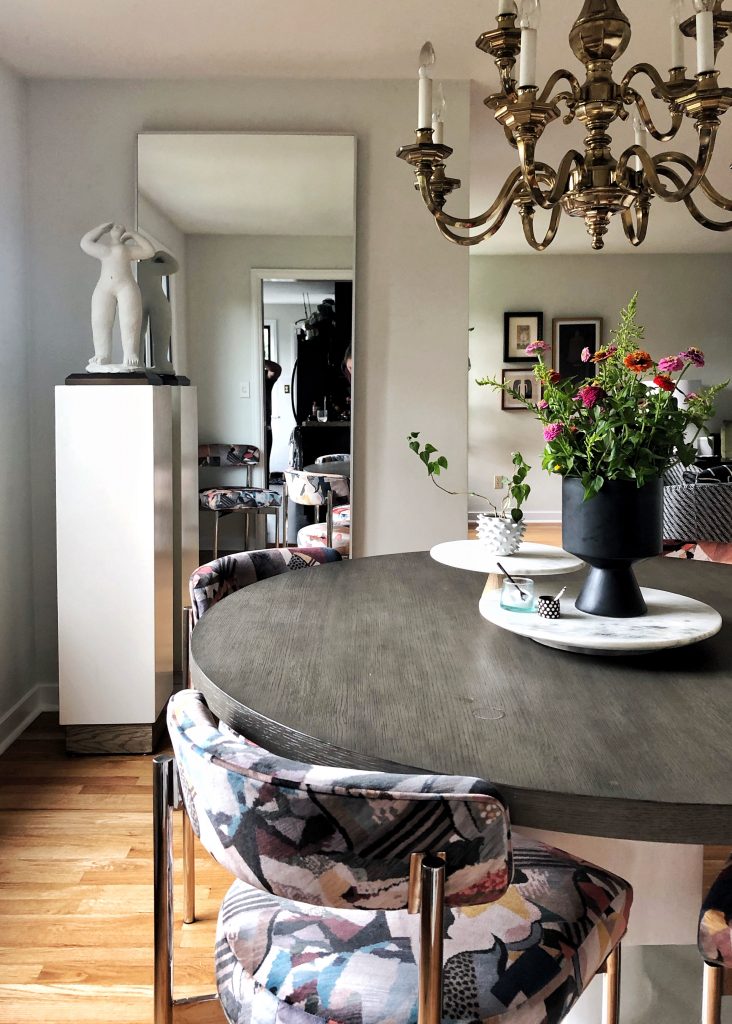 Stay tuned for my next post, where I'll reveal the design plan to finish out my Dining Room!
If you have any comments or questions, follow and direct message us over at our instagram accounts at @pulpdesigns!
Beth's #PulpAtHome:
Read the posts +  @bethdotolo on instagram + #FigTreeRambler on instagram
Carolina's #PulpAtHome:
Read the posts + @carolinavgentry on instagram + #TheValenciaProject on instagram

Credits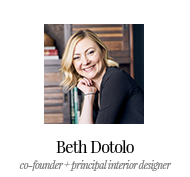 GET INSPIRED
SUBSCRIBE TO OUR NEWSLETTER TO
GET AN INSIDER LOOK IN YOUR INBOX