2/14/22
The 10 Best Restaurants in Palm Springs for Design Lovers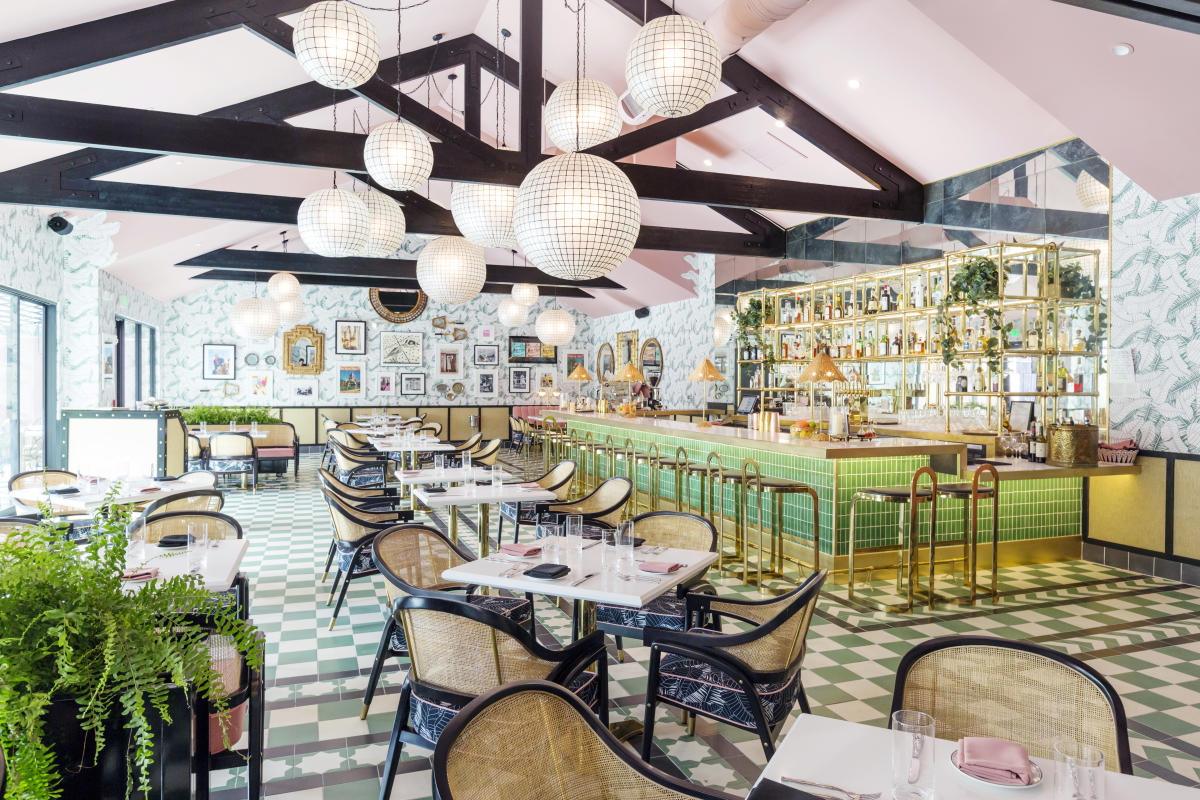 If you haven't heard… our sister company, Pulp Properties, is working on launching a new rental property in Palm Springs! Our design team has been busy putting the Pulp touches on this new house. We have been exploring all Palm Springs has to offer with restaurants, small businesses, and so much more. In fact, we are headed there for Modernism Week in just a few days! If you haven't heard of Modernism week, it highlights the architecture, interior, art, and the other culture surrounding Palm Springs. While we're there we plan to try all the new restaurants that everyone is raving about and revisit some of our favorites. We're breaking them all down for you here, so that when you book your first stay at The Pulp House: Palm Springs you have a great list to get you started…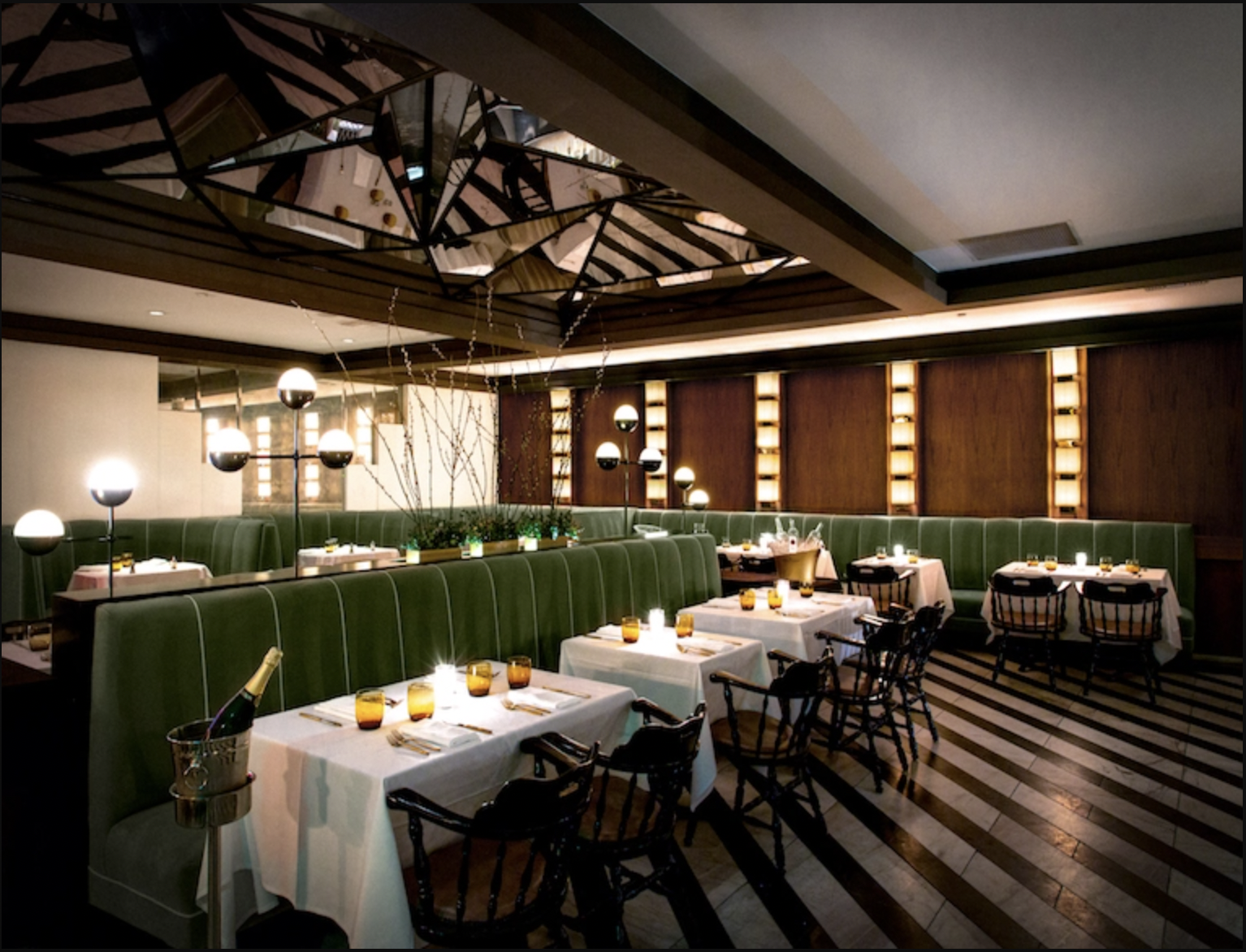 One of our personal favorites is Mr. Lyons, a modern steak house that has a great ambiance, but even better food and drinks. The interior is moody with dramatic black and white tile floors and green velvet seating. This will definitely be a revisit whenever we're there.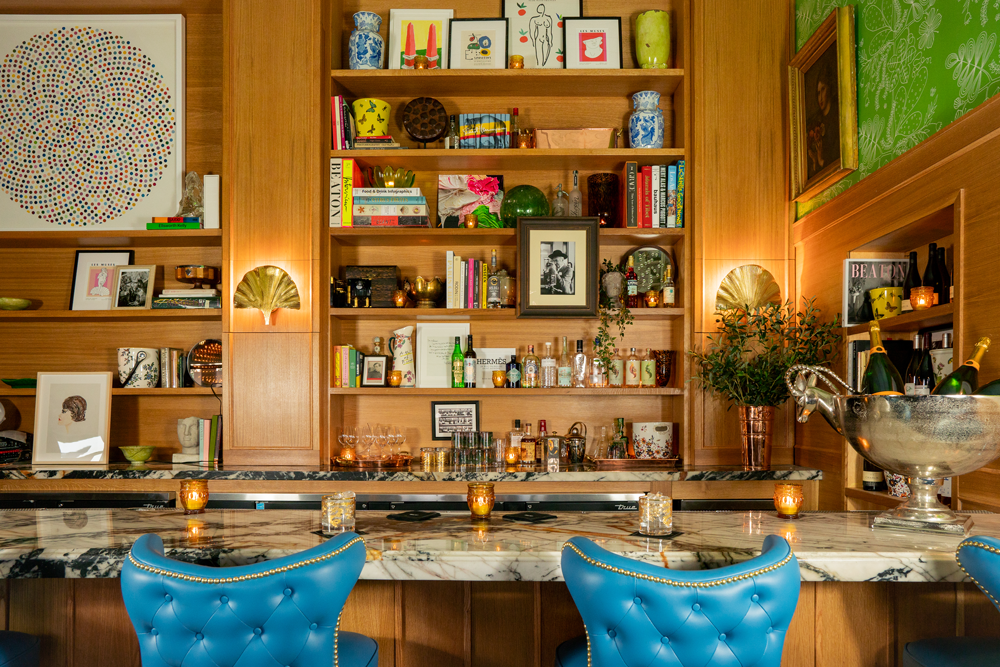 Another favorite is Bar Cecil, which has great cocktails and a variety of food. The crazy fun interior almost makes you feel like you're dining at home with bright blue barstools and multicolored wallcovering.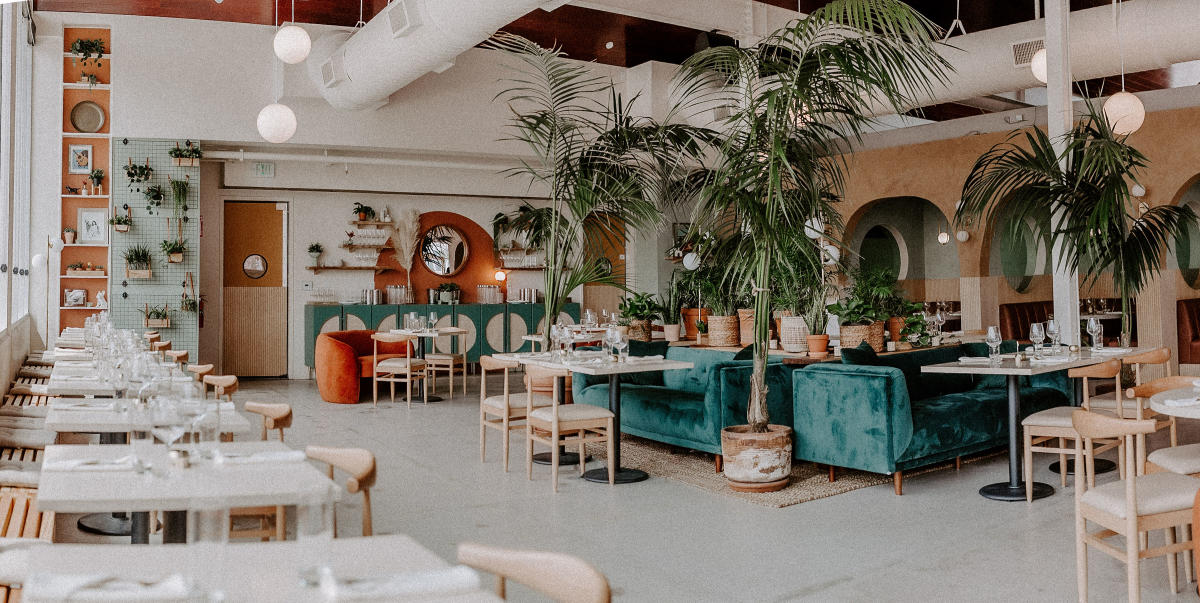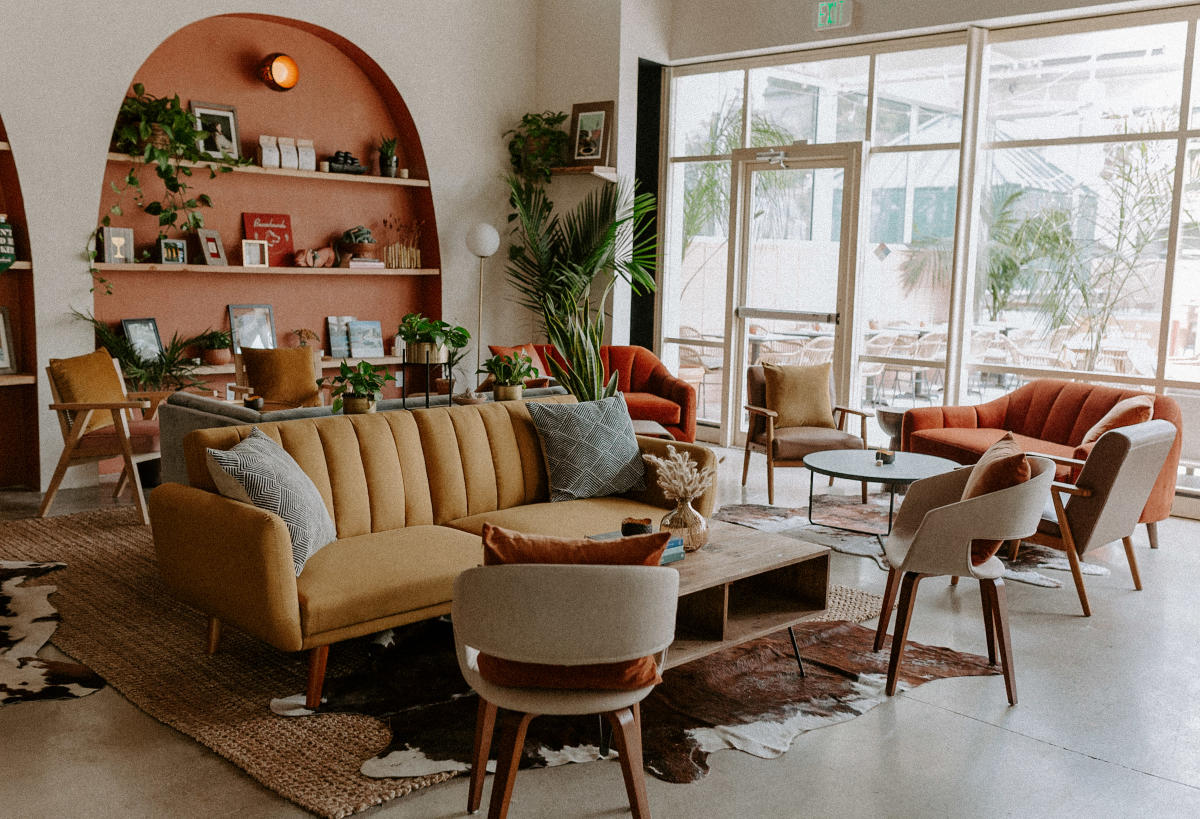 If you're looking for a great place to get a delicious brunch or dinner check out Boozehounds. The name says it all, they have great drinks and a bonus, you can bring your dog! We love all the pops of orange, green, and yellow and of course the plants that scatter the restaurant.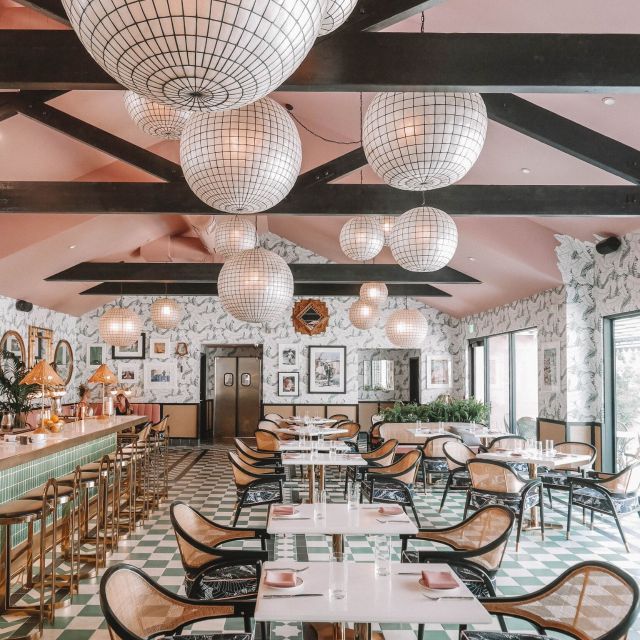 Love, love, love everything about The Pink Cabana! If you're looking for a totally insta worthy restaurant that also has great food and cocktails, this is the place to go. Every aspect of the interior is so fun with the wallcovering, green and white checkered floor, green tile bar and the disco ball esque lights. This is a must when visiting Palm Springs!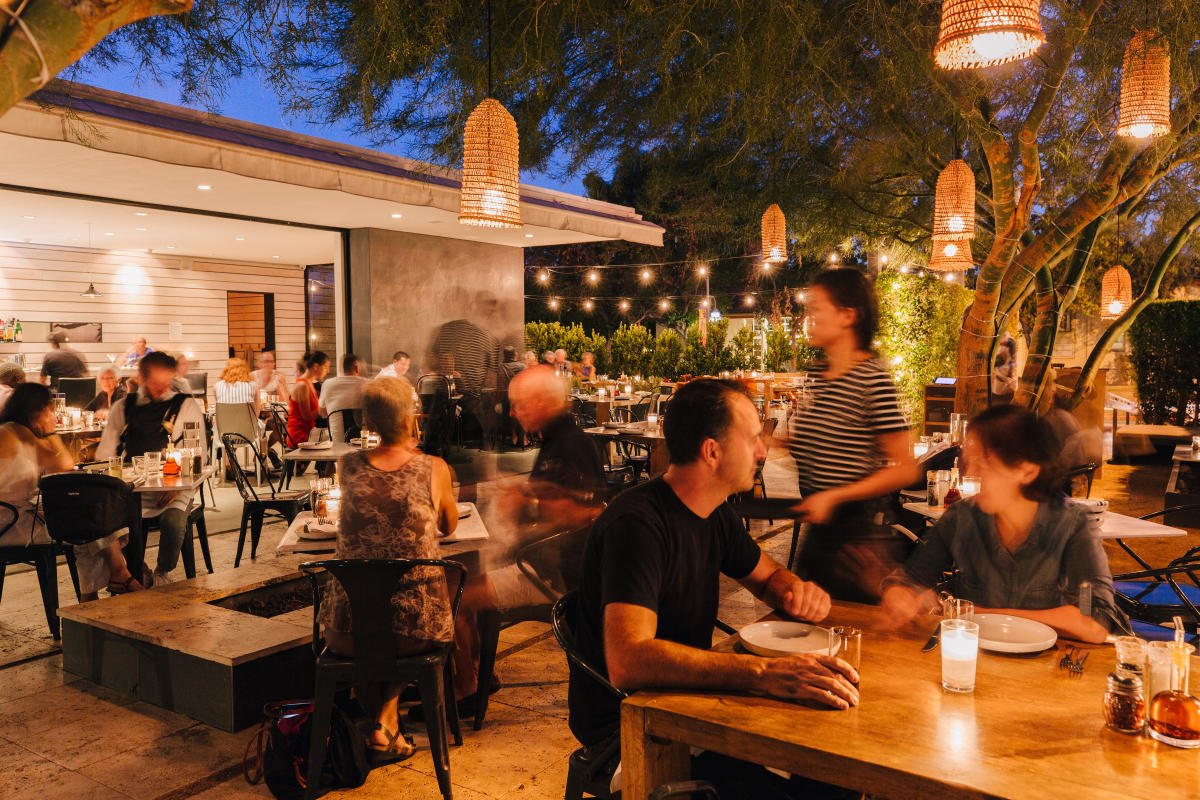 Every town needs a staple Italian restaurant and Birba is it, with their amazing pizza and pasta that will make anyone's mouth water. Their patio adds to the dining experience and is perfect for anyone who is looking for outdoor dining. We love the hanging lanterns and string lights that cover the whole patio to create an intimate dining experience. 
We're huge sushi lovers and Sandfish Sushi & Whiskey has the best sushi and cocktails around! The interior also ties in the seafood theme with the tiling that resembles fish scales and the wallcovering with waves crashing. We recommend checking this out when you have your next sushi craving.
Looking for the best tacos and margaritas? Check out Tac/Quila! It is the best place for amazing tacos and a unique twist on a margarita. The interior has bright red seating, a unique floor tile and mirrors all over the walls, which adds to the fun environment of the restaurant.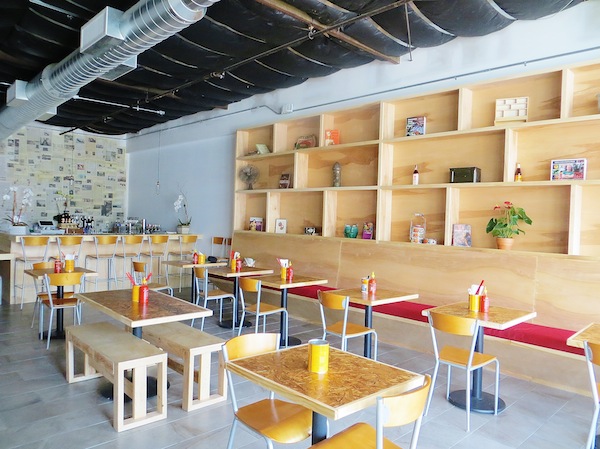 We have heard nothing but raving reviews about Rooster And The Pig, but haven't had the chance to try it. They're a Vietnamese-American fusion that sounds completely mouth watering! We love the simplicity of this interior with the red and yellow pops of color. We're hoping to try this place out soon!
Another moody restaurant is Del Rey, which has a unique mix of food and cocktails. We haven't been yet, but have only heard great things. The restaurant has an all black theme with the walls and chairs but has a statement fireplace with vibrant blue and white tile. I can't wait to try this place out the next time we're there!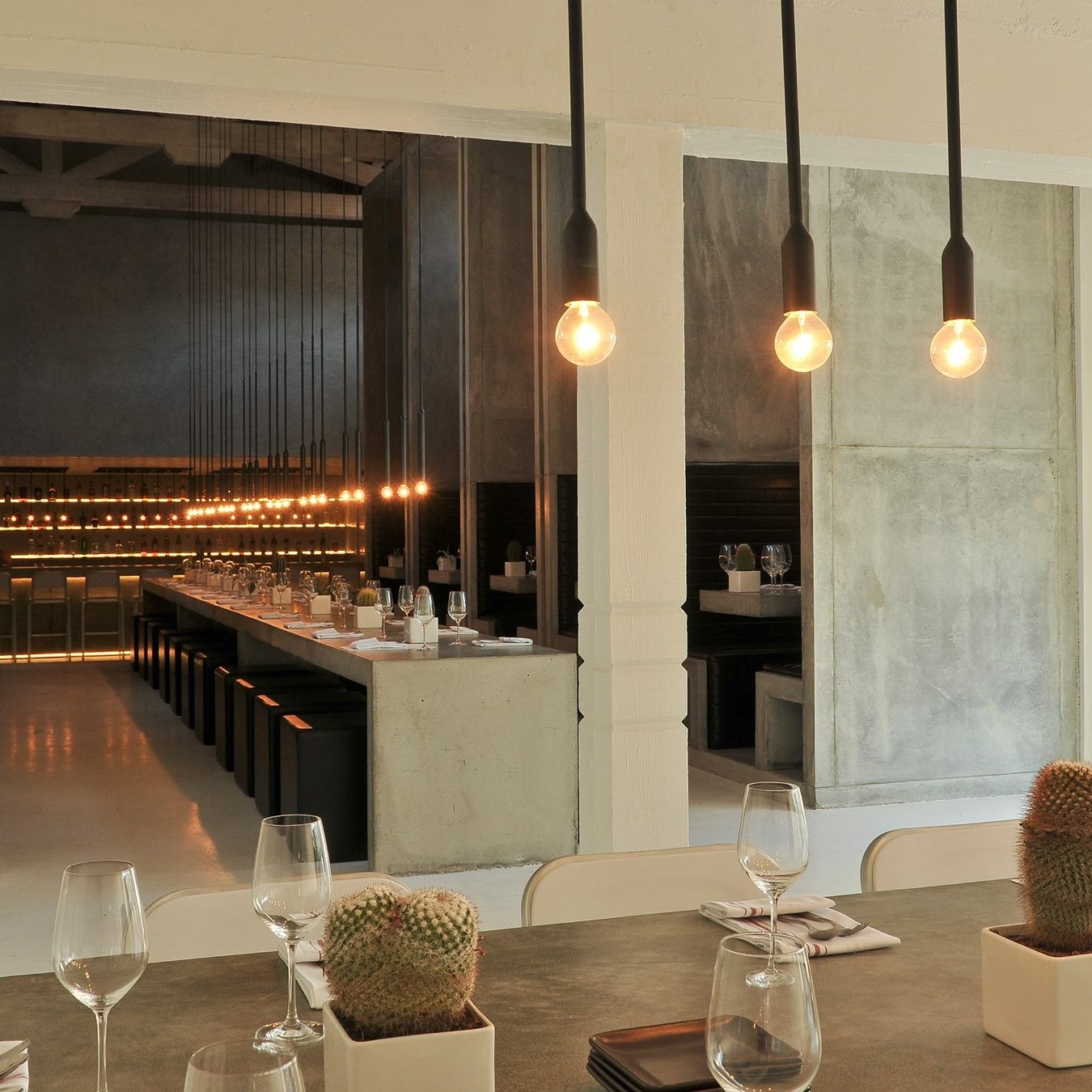 Last, but not least we have Workshop Kitchen + Bar is another place which is next on our list of places to try. The interior is everything! The use of the concrete gives off an industrial vibe that is so elegant. We've heard the food and drinks are newsworthy and we can't wait to check it out the next time we're there.
Stay tuned for the reveal of our Pulp Properties Palm Springs house that we have been working so hard to get ready!
Credits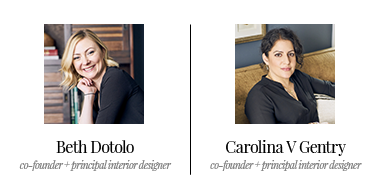 GET INSPIRED
SUBSCRIBE TO OUR NEWSLETTER TO
GET AN INSIDER LOOK IN YOUR INBOX