11/22/21
Pulp at Home: Carolina's Tips for Cozy Spaces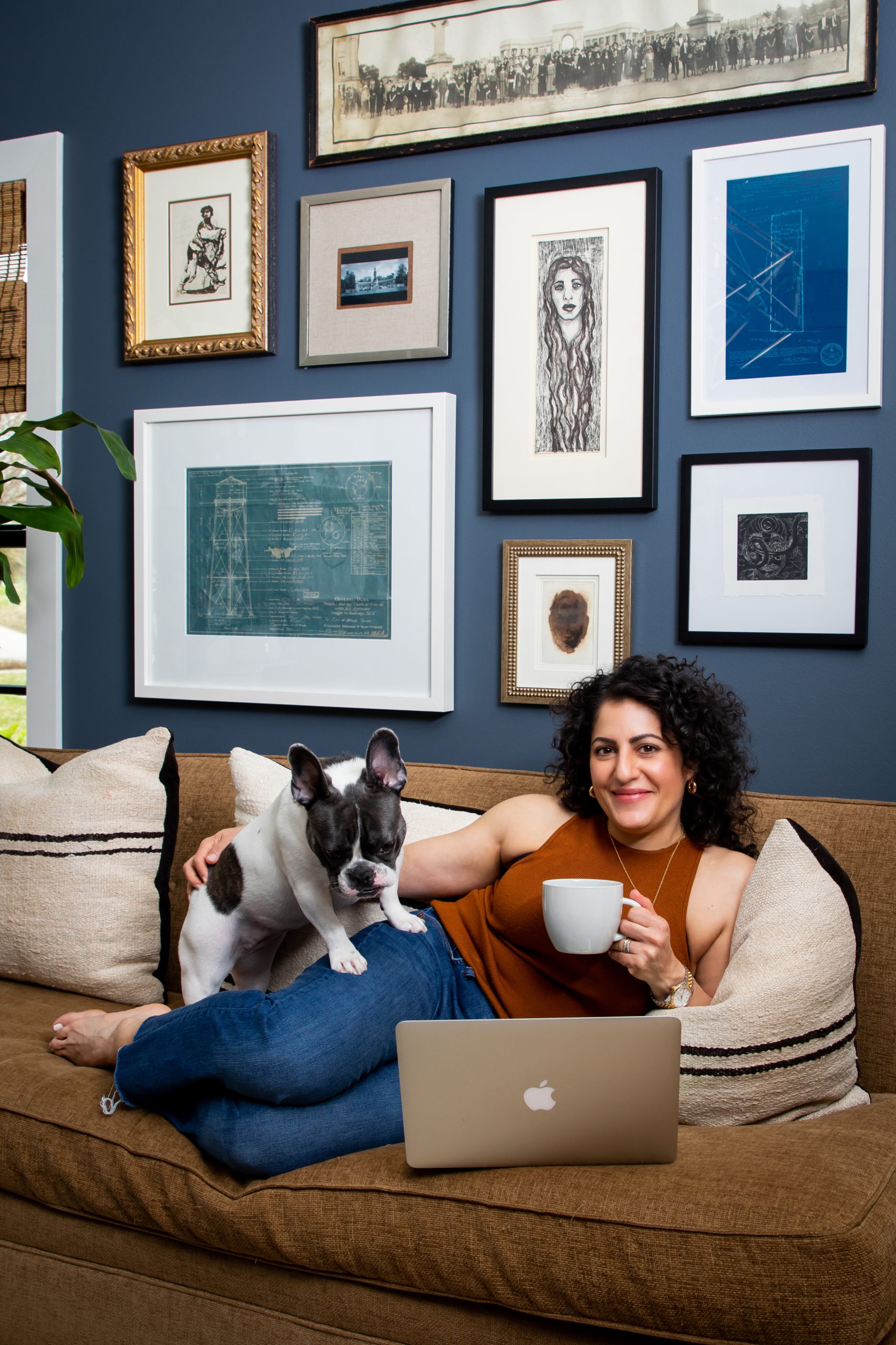 As the weather turns cooler and the days are shorter, there's nothing better than curling up in a cozy room in your home. The Pulp team loves to create these warm and inviting spaces for our clients, so we asked Pulp co-founder Carolina Gentry to give us her best tips for a cozy home. Here she walks us through her guest room makeover and shows us how she took it from boring to inviting!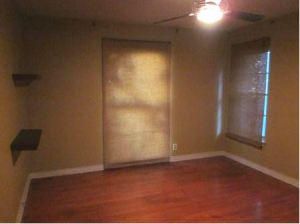 1. Find The Right Color
Color is SO key for setting the right mood. I wanted this guest room to have dark walls because that would create an immediate cozy feeling and would be a great background for our art. I chose Sherwin-Williams Outerspace for the walls (one of my faves). It's like a dark charcoal shade with blue undertones, so it's a deep color, but soothing at the same time. This room gets great light during the day, so I knew it could handle this shade without seeming too "heavy."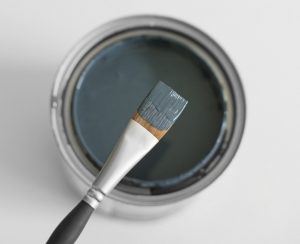 Then I complemented the wall color with black window casements and bright white on molding and the ceiling. It creates a really crisp look with the dark gray!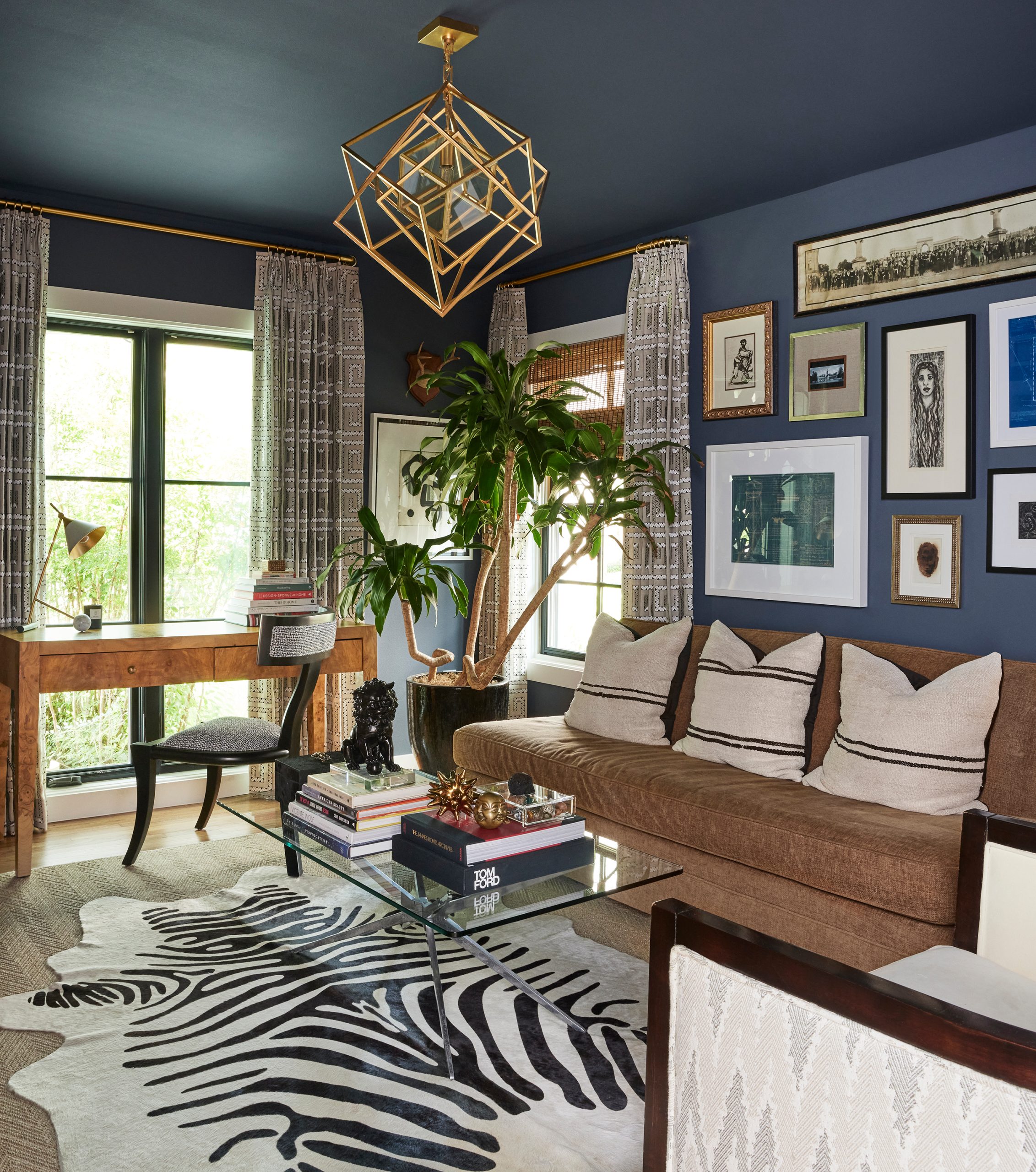 Define The Details
Anyone can bring furniture into a room and call it a day, but the details are where you create a mood and show your personality! I like bringing everything into the room so I can see what I have to work with. My husband and I had collected a lot of art and fabulous items through our travels together over the years, and I really wanted this room to be a space for all of those cool pieces to come together.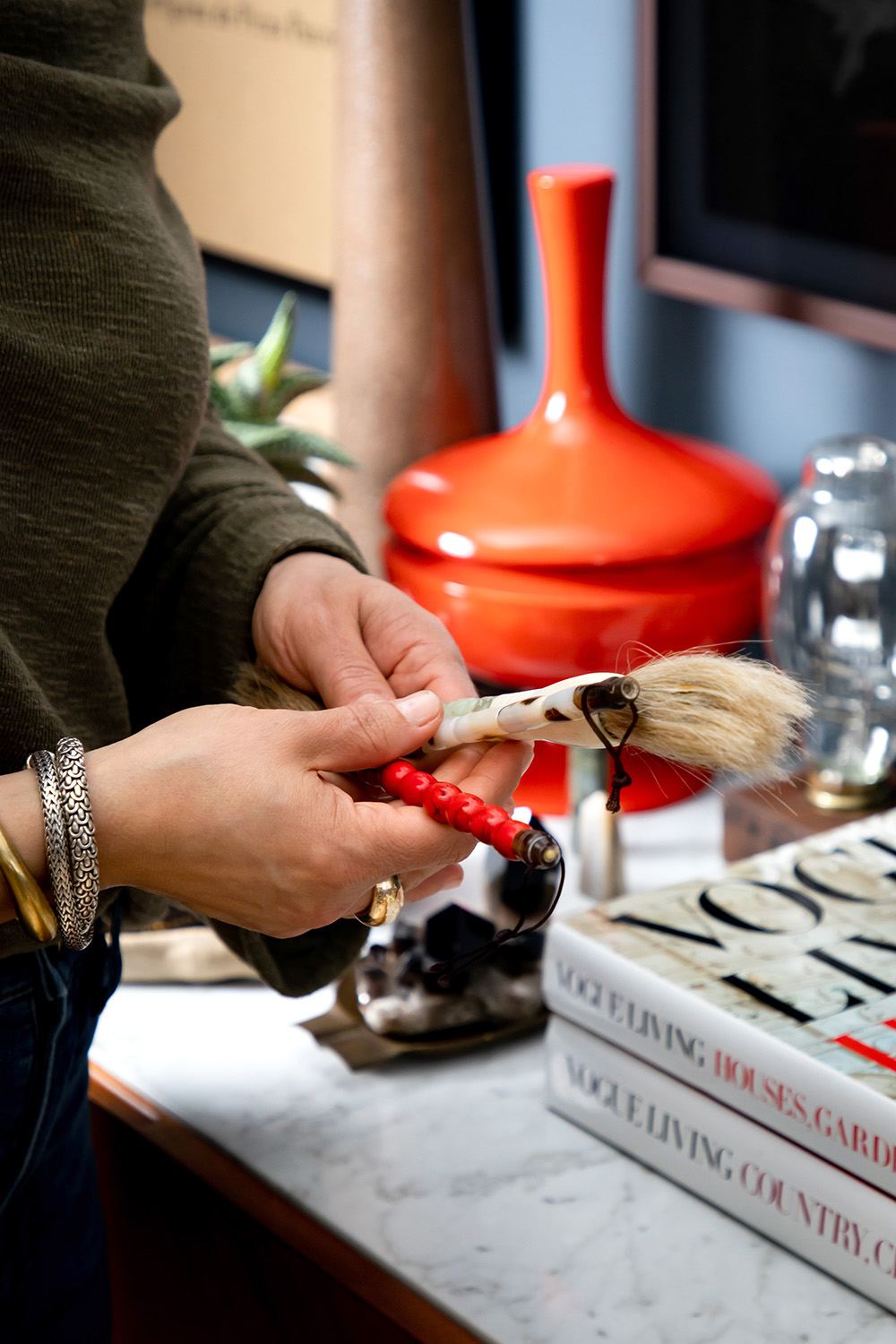 You can see how each unique and one-of-a-kind piece sets the room apart. It's an interior that isn't cookie-cutter and won't be like anyone else's. You want to use the shelves, walls, and tabletops as your personal canvas, to show people what you love and who you are!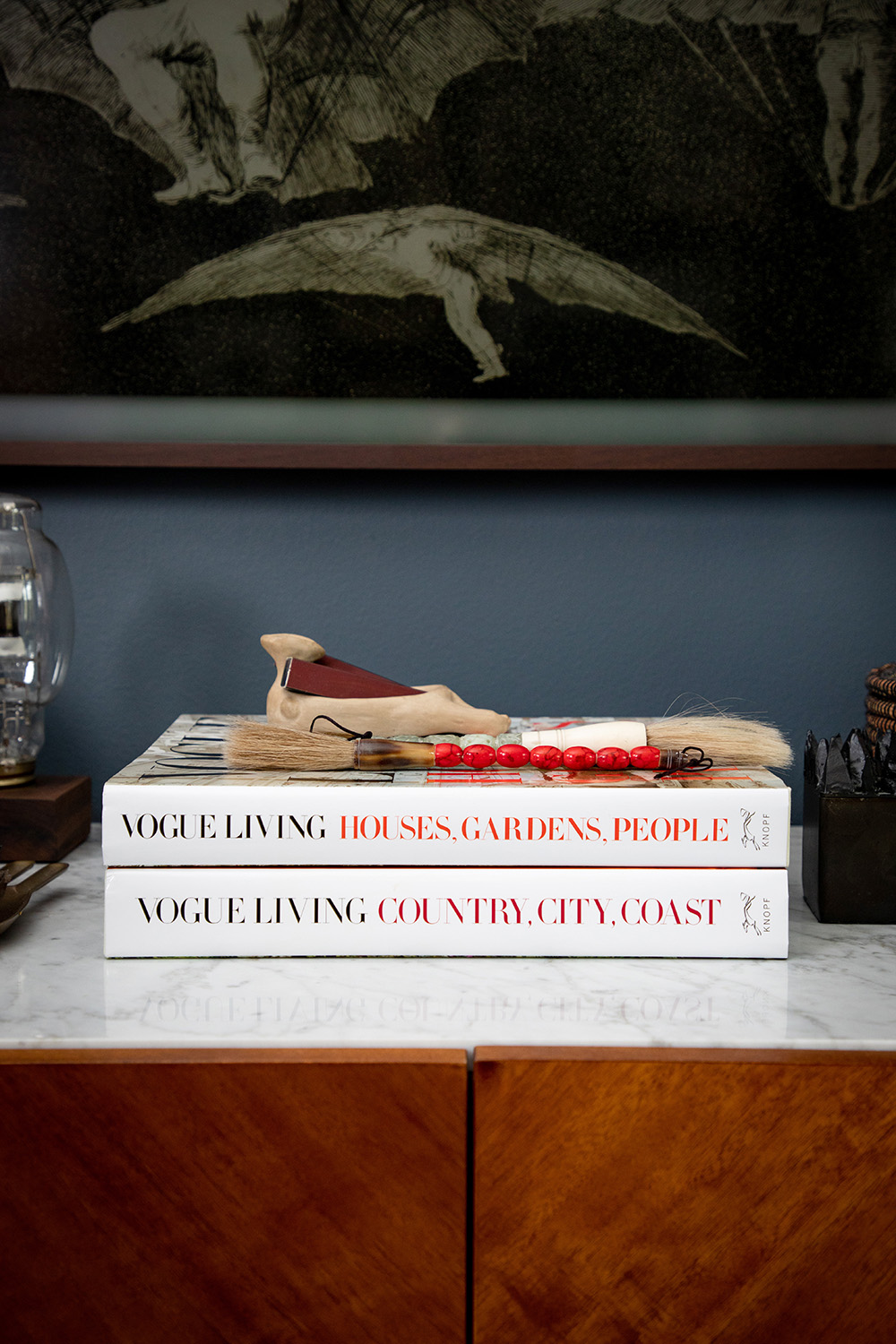 Add Cozy Layers
Layering in textures and accessories helped me create that cozy feeling I was going for. For example, I doubled up the rugs to add warmth and pattern. And I began putting in comfortable pillows to curl up with on the sofa. Each of those details creates a layering effect in the room, giving it depth and adding even more personality!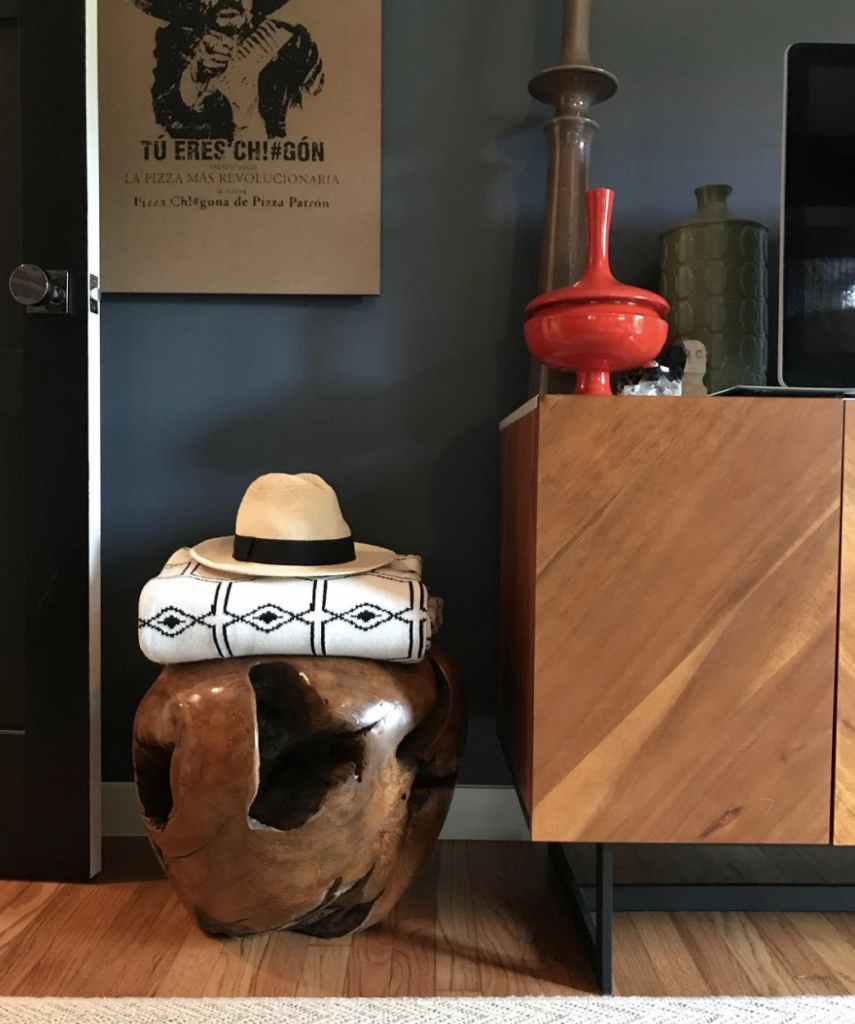 Textiles are a great way to add coziness as I did with our own Pulp Icon reversible throw blanket above. And the warm wood pieces bring in a natural element – they also look fantastic against the dark walls.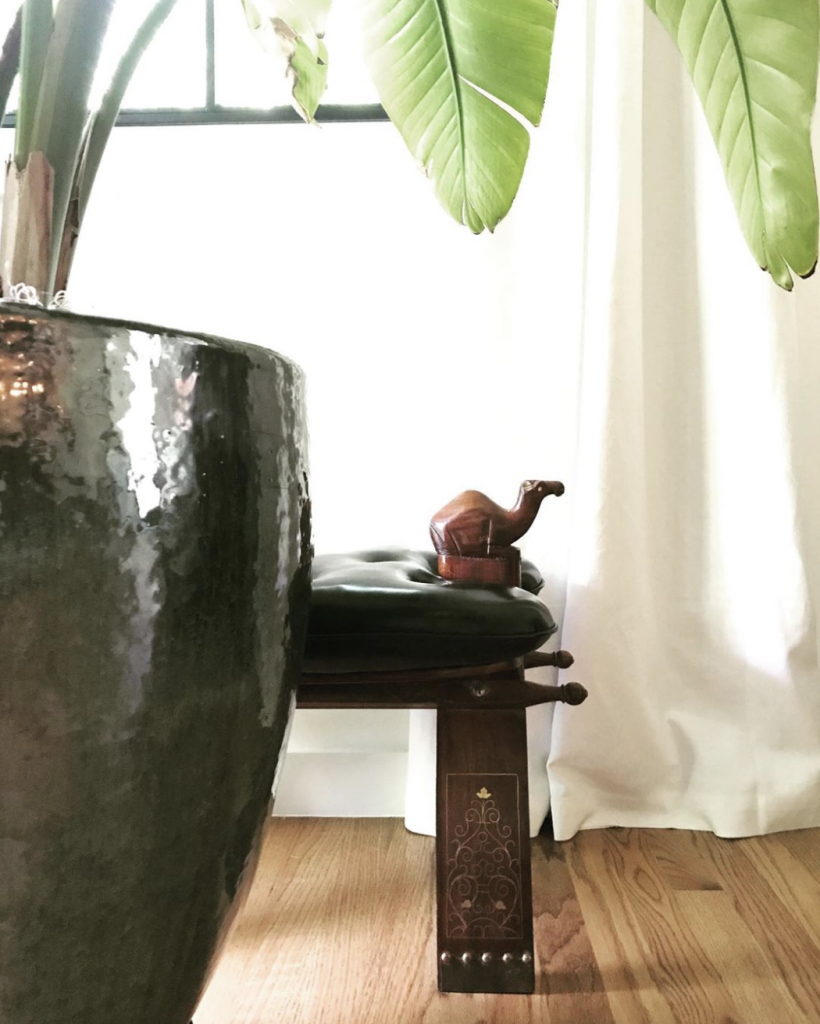 Search Out the Unique
Beth and I are always on the lookout for unusual and one-of-a-kind artisanal items for our clients – and for our own homes. You can do this, too! Look for things that are intriguing, different, and interesting. This den is the one room in the house that has most of the oddities and curiosities I have collected over the years, some creepy and some cool, but all of them are unique and very ME. That's the key!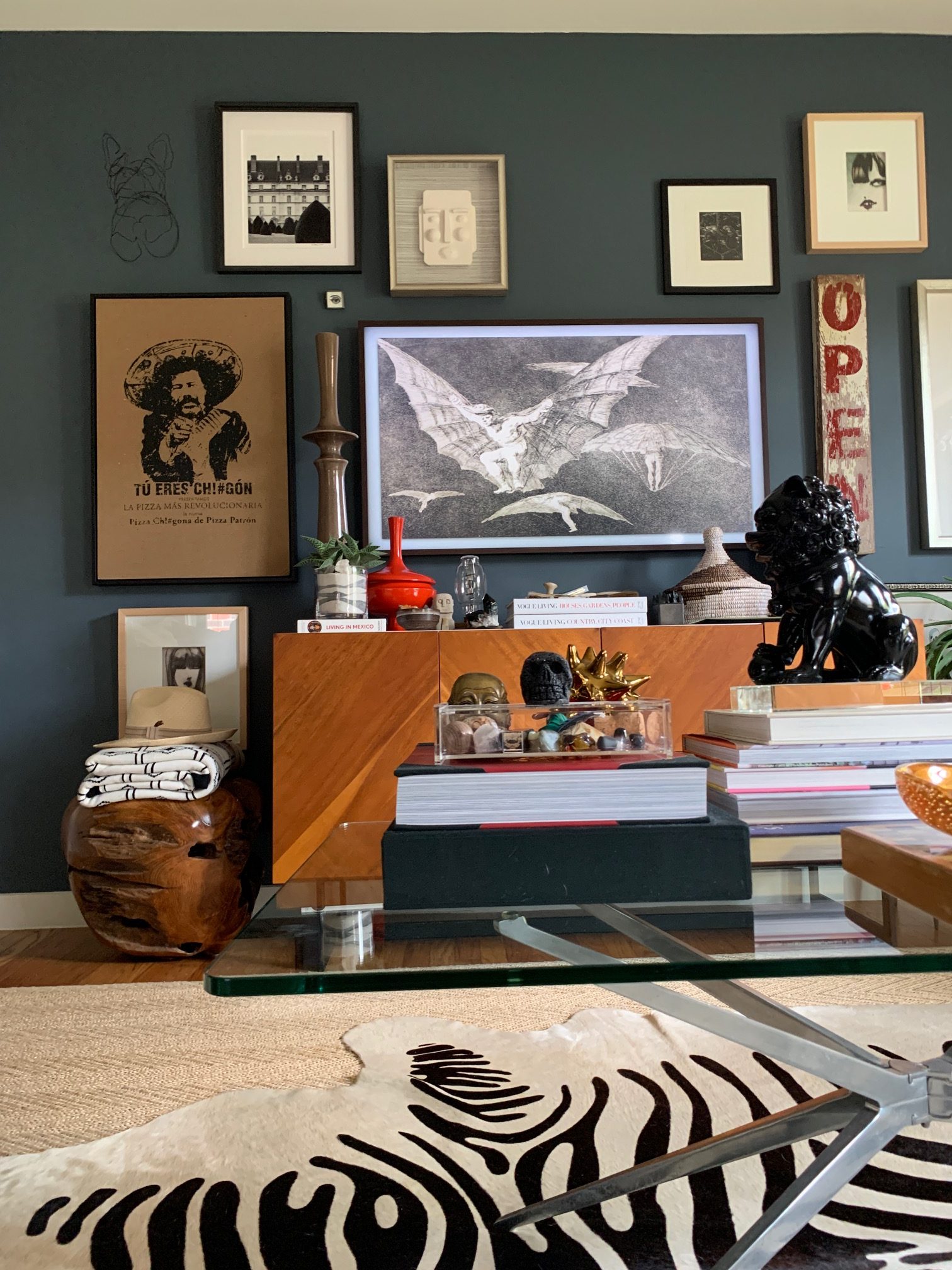 In the completed room, you can see how layers of textiles, art, and those personal details create a super-cozy and comfortable room that's chic and full of personality!
If you want to create coziness in your home, give our Pulp team a call! We'd love to give your spaces a design that's uniquely your own.
Credits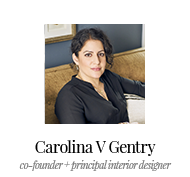 GET INSPIRED
SUBSCRIBE TO OUR NEWSLETTER TO
GET AN INSIDER LOOK IN YOUR INBOX