7/6/22
Snoqualmie Ridge Bathroom Renovation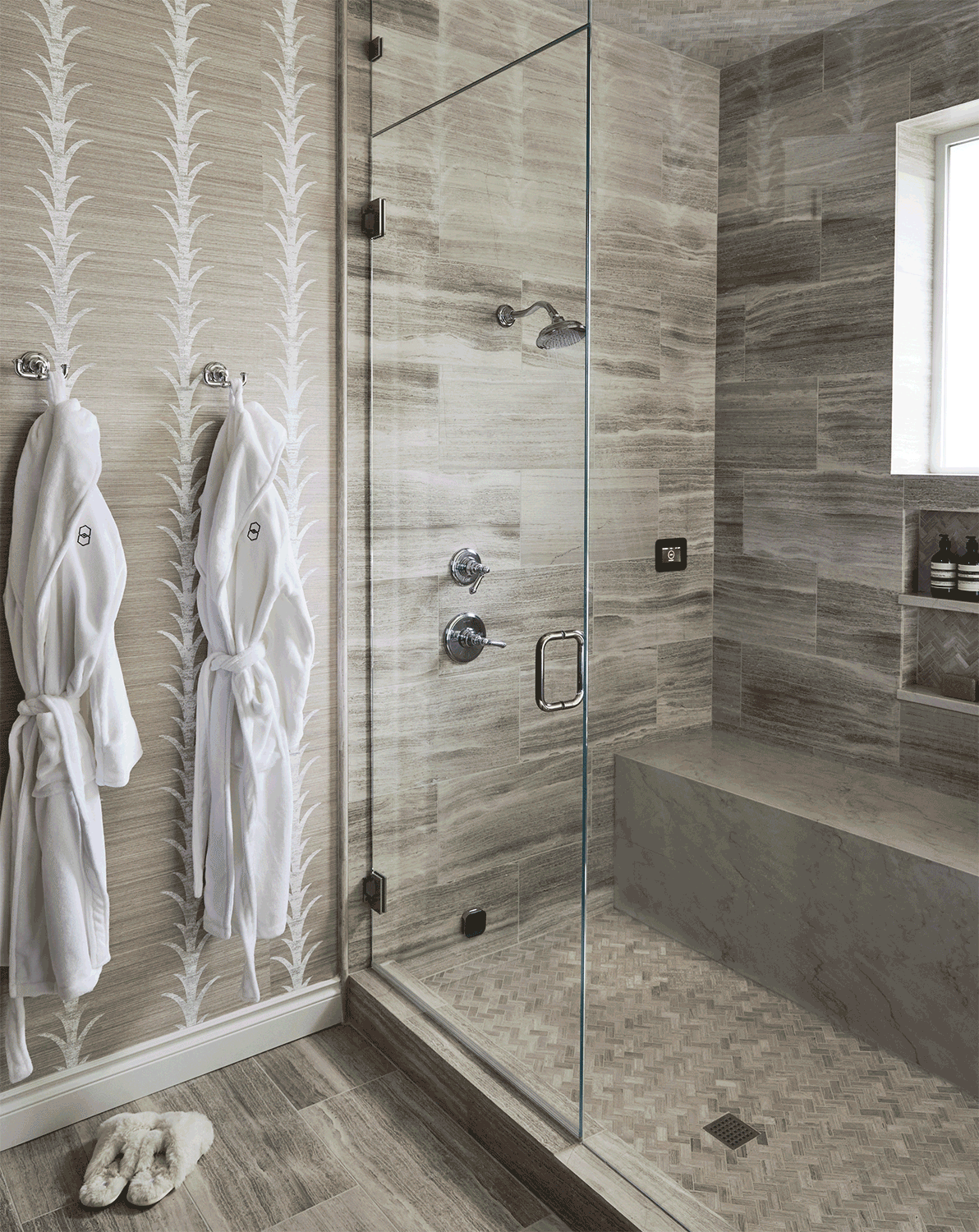 We recently showcased our Snoqualmie Ridge project on the blog, including a quick highlight of the primary bathroom. The overall home received our exclusive microrenovation service, but the bathroom was fully remodeled. It was such an amazing transformation that we wanted to walk you through the before-and-after photos. Let's go!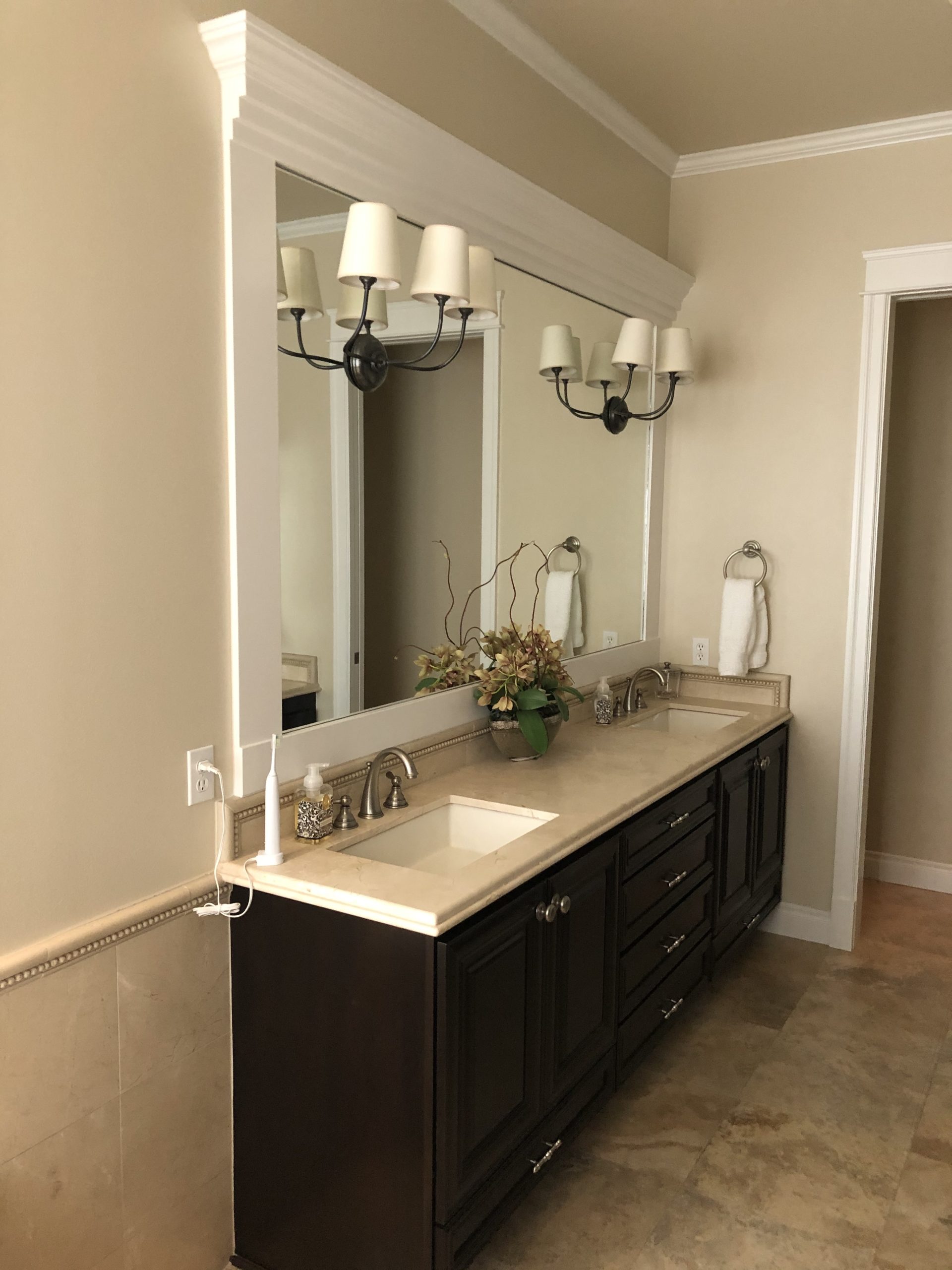 As you can see in the before photos above, this primary bathroom was crowded, awkwardly shaped, and DARK. We really wanted to open it up and bring life and luxury to the space. As you can see below, we used a grasscloth wallcovering with a simple but modern pattern to add warmth and texture in the room. The clients wanted to stick with dark woods, since those are featured in the rest of the house, and this wallpaper proved to be a great contrast with those darker finishes. Then we added a freestanding tub with a sleek shape. That helped to create much-needed air and space in the bathroom. A final touch of shine came from our own Starburst Pulls on the front of the cabinetry.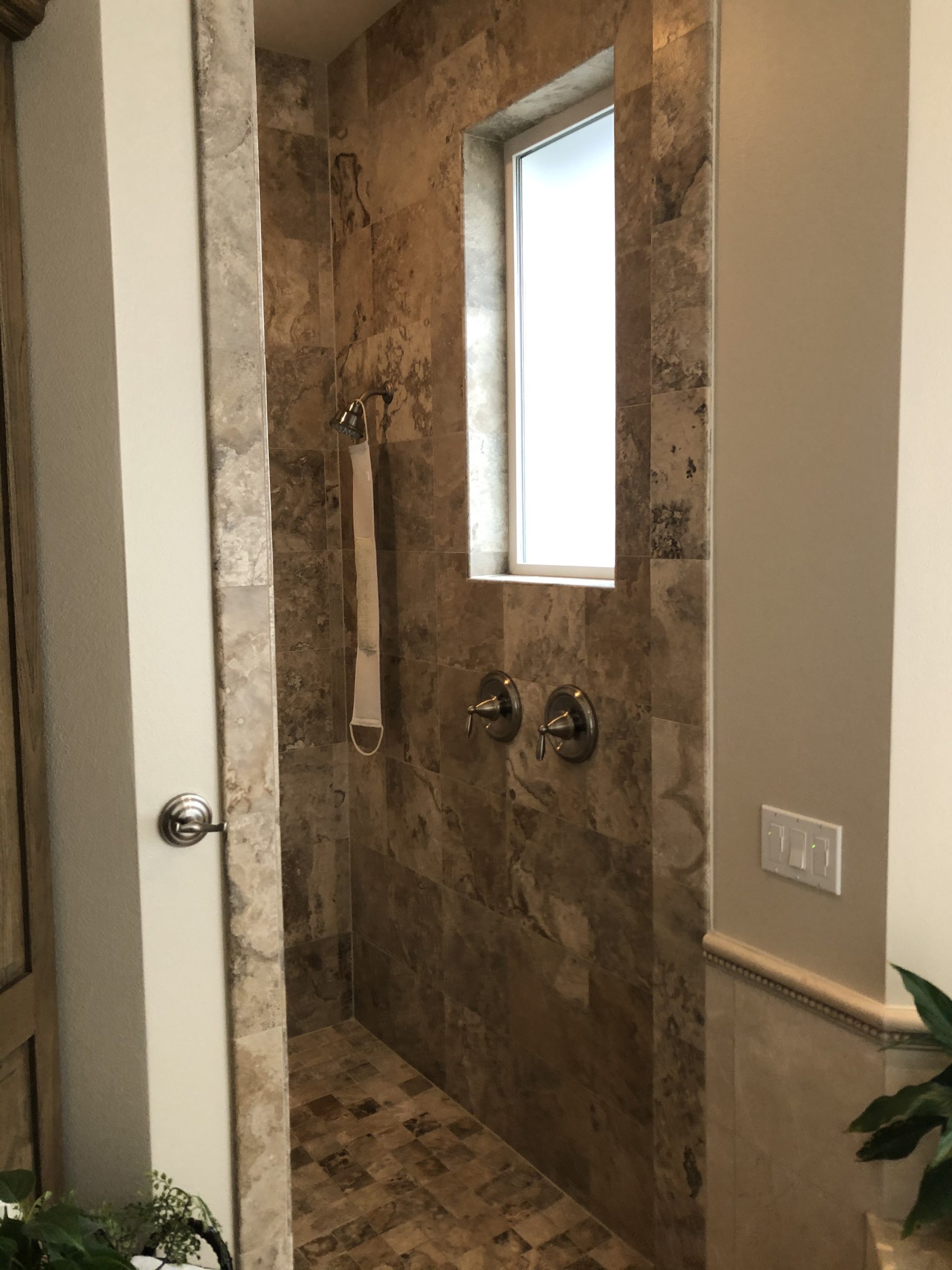 The old shower above was separated from the rest of the bathroom and felt very crowded in a tiny corner. So we made the shower the statement piece of this bathroom, which our clients loved! To give the room a spa feel, we included a steam shower that not only adds to the luxe look, but also has great health benefits. This turned out to be a total self-care and wellness space for our clients, rather than just a bathroom.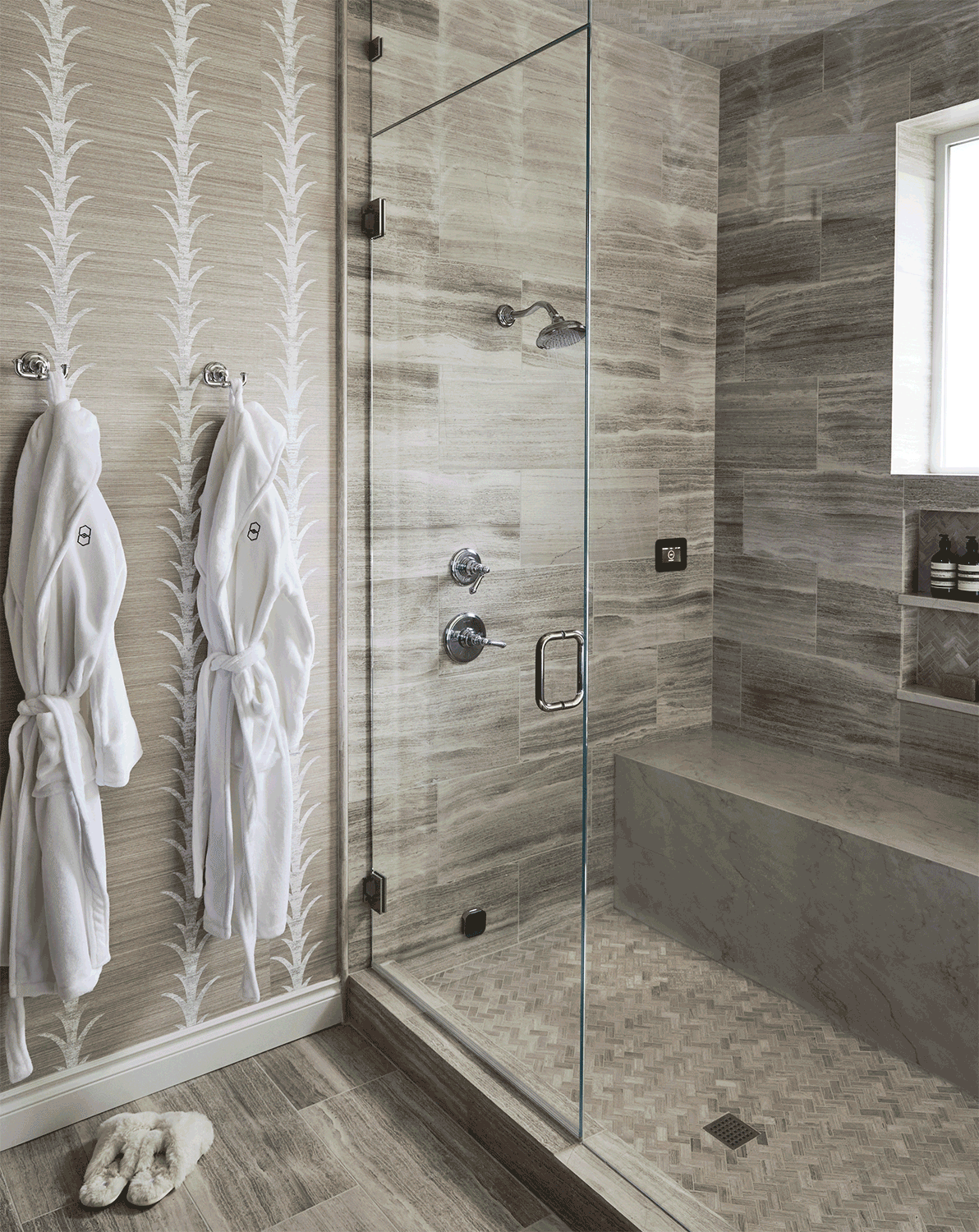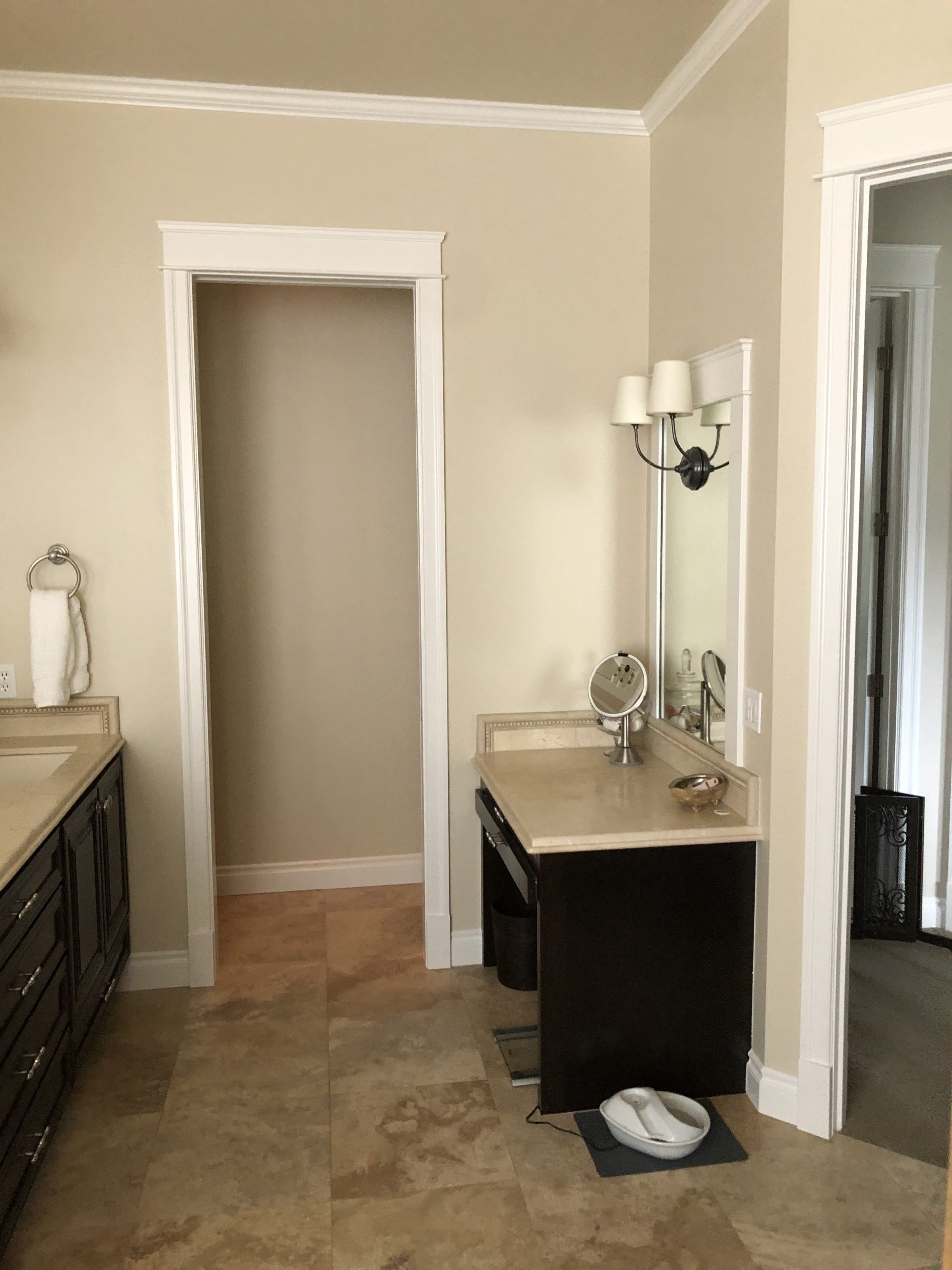 There was an original vanity in the primary bathroom, and we wanted to keep that functional space for our clients. We updated the cabinetry to match the more modern look in the space, and added a chic velvet stool for even more functionality.
Isn't that a stunning bathroom renovation? We love being able to create spaces that are gorgeous and that offer the functionality that our clients need in their homes. Need a renovation or our special microrenovation service? Contact us today!
Want to see the rest of the house? Check it out on our portfolio page along with our other projects!
Follow along with all of our projects over on Instagram at @pulpdesigns!
Credits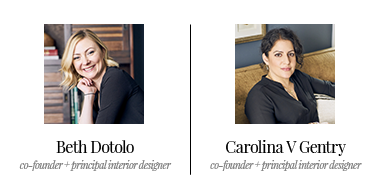 GET INSPIRED
SUBSCRIBE TO OUR NEWSLETTER TO
GET AN INSIDER LOOK IN YOUR INBOX